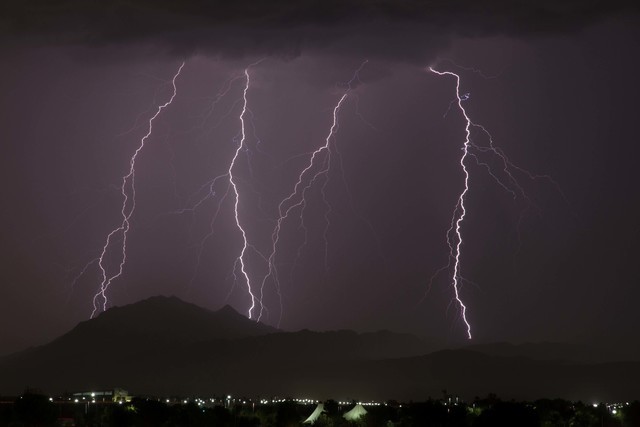 The Las Vegas Valley can expect to see wind and cooler temperatures throughout the week.
Tuesday registered a high of 93 degrees and a low of 71 degrees, meteorologist John Salmen said. Though the relatively cool day started calmly, it ended with a valley-wide severe thunderstorm warning until 11:45 p.m. for heavy rain and wind gusts of up to 60 mph.
Despite the threat of a late Tuesday night storm, Wednesday should bring a high of 102 degrees and a low near 80 degrees with light winds, according to the weather service.
Thursday's forecasted high is 101 degrees with light breezes ranging from 10 to 20 mph, Salmen said.
The weekend is expected to cool off and have highs below 100 degrees. Highs will likely be 97 degrees on Friday and 96 degrees on Saturday, which has a 10 percent chance of rain.
Sunday will likely see a 98 degree high, he said.
Review-Journal reporter Raven Jackson contributed to this report. Contact Lawren Linehan at llinehan@reviewjournal.com or at 702-383-0381. Find @lawrenlinehan on Twitter.