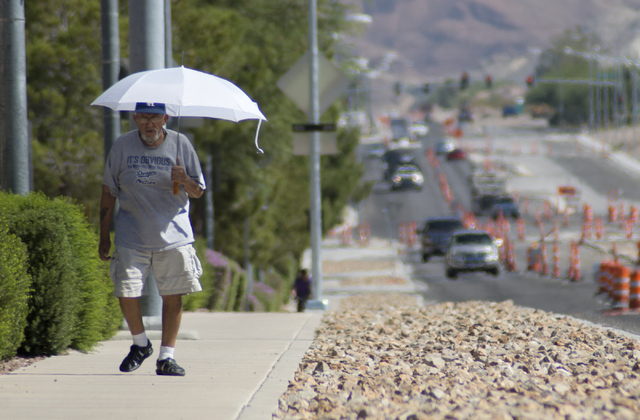 High temperatures for the month of July broke electricity records, and will be followed by a cool down of sorts as August begins.
Temperatures for July were about 3 degrees above the monthly average, according to meteorologist Caleb Steele. The hottest days were July 27-28 with record temperatures of 115 degrees.
The high temperature on July 28, "set a new all-time record demand for electricity that shattered a record set on July 5, 2007," NV Energy said in a statement Monday. "Due to recent consecutive days with high temperatures and nights that also stayed warm, a new peak demand of 6,124 megawatts was achieved during the hour of 4 to 5 p.m."
The statement said that is 258 megawatts more than the previous record of 5,866 megawatts, set on July 5, 2007, when temperatures at McCarran Airport were recorded at 114 degrees. A megawatt is enough energy to serve approximately 600 homes in southern Nevada.
Monday saw a high of 103 degrees, a low of 83 degrees, Steele said.
Tuesday's forecast high should be 103 degrees with a low of 85 degrees. Chances for thunderstorms increase to 25 percent on that day, he said.
Wednesday's high temperature will be about 5 degrees below normal at 99 degrees, according to the weather service. Chances for thunderstorms are highest Wednesday and Thursday at 40 percent.
Thursday also will see a high near 99 degrees, Steele said.
Contact Raven Jackson at rjackson@reviewjournal.com or 702-383-0381. Follow@ravenmjackson on Twitter. Contact Lawren Linehan at llinehan@reviewjournal.com or at 702-383-0381. Find @lawrenlinehan on Twitter.