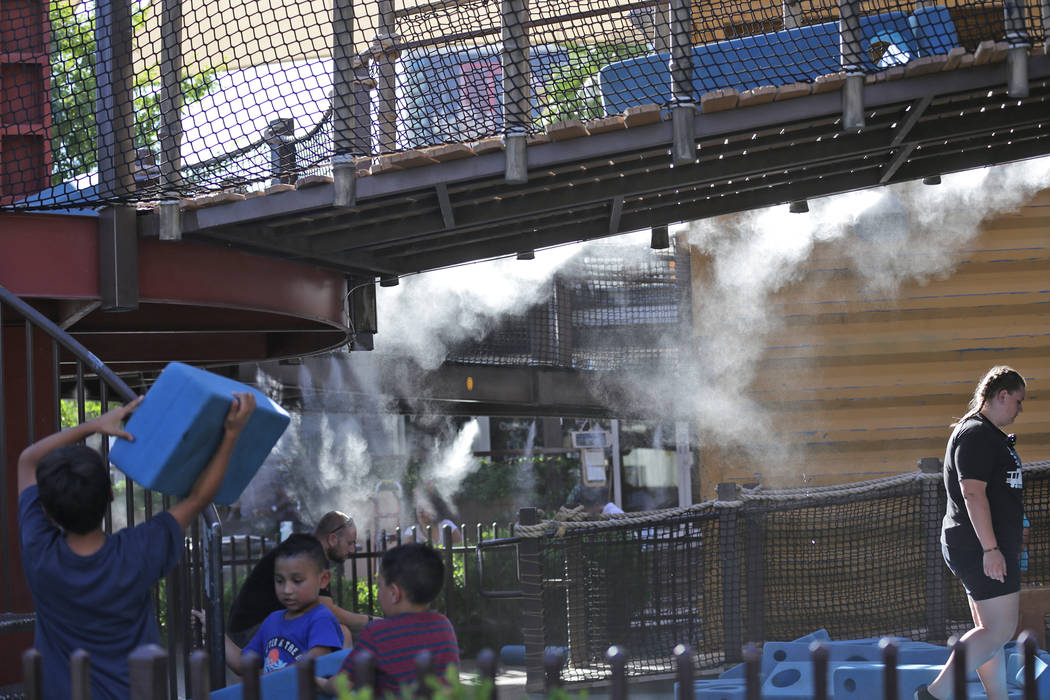 Monday's high temperature almost matched the previous record for June 19 in the Las Vegas Valley, the National Weather Service said.
The high was 113 degrees, 13 degrees above normal for this time of year, meteorologist Chris Outlier said.
The record temperature for June 19, 114 degrees, was set in 1940.
The weather service has issued an excessive heat warning that lasts until Friday. The heat wave should bring temperatures of 117 degrees on Tuesday, 115 degrees on Wednesday, 114 degrees Thursday, 112 degrees on Friday and 110 degrees Saturday, the weather service said.
Tuesday's high of 117 may beat a record in the Las Vegas Valley, the weather service said. The valley has reached 117 degrees only three times, records show: in 1942, 2005 and 2013.
By the weekend, temperatures may dip below 110, the weather service said. If not, Las Vegas may match the record of consecutive 110 degree and above days. The previous record was set in 1961, with 10 days meeting or exceeding 110 degrees in a row, meteorologist Ashley Allen said. Monday could tie the record.
"There may be relief by the middle of next week," Allen said. "We'll hope."
Review-Journal reporter Bianca Cseke contributed to this article. Contact Rachel Hershkovitz at rhershkovitz@reviewjournal.com or 702-383-0381. Follow @rzhershkovitz on Twitter.
Las Vegas cooling stations
Cooling stations open through the summer can be found at Catholic Charities, 1511 N. Las Vegas Blvd., the Salvation Army, 35 W. Owens Ave., and The Shade Tree, 1 W. Owens Ave. Veterans Village at 1150 Las Vegas Blvd. South will provide hydration 24 hours per day.
Open through Friday:
■ Black Mountain Recreation Center, 599 Greenway Road, 702-267-4070
■ Cambridge Recreation Center, 3930 Cambridge St., 702-455-7169
■ Downtown Recreation Center, 105 W. Basic Road, 702-267-4040
■ Dula Gymnasium, 441 E. Bonanza Road, 702-229-6307
■ Hollywood Recreation Center, 1650 S. Hollywood Blvd., 702-455-0566
■ Pearson Community Center, 1625 W. Carey Ave., 702-455-1221
■ Stupak Community Center, 251 W. Boston Ave., 702-229-2488
■ Walnut Recreation Center, 3075 N. Walnut Road, 702-455-8402
■ Whitney Ranch Recreation Center, 1575 Galleria Drive, 702-267-5850
Two cooling stations will be available in Laughlin: American Legion Richard Springston Post 60 and Colorado Food Bank.