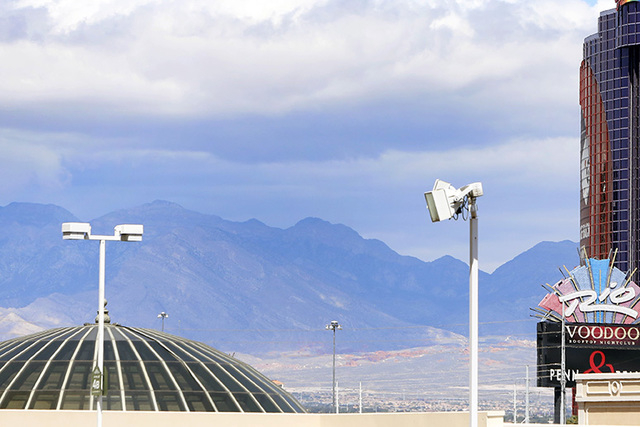 Clouds showed up on Sunday but rain wasn't expected until Monday, according to the National Weather Service.
High clouds rolled over the valley, accompanying high temperatures around 80 degrees, Steel said.
The official high and low temperatures were 62 and 82 degrees, Morgan said, noting that the low will be the same Monday and the high is expected to reach 77 degrees.
Monday will see chances of showers and thunderstorms starting in the afternoon and into the evening, meteorologist Caleb Steele said. Those chances are about 30 percent, meteorologist Clay Morgan said, adding that you "might hear a rumble of thunder."
Any remaining storms Tuesday will be to the north and east of the valley, and highs in Las Vegas will be back about 80 degrees, Steele said.
Wednesday is expected to be dry, Steele said. Las Vegas should see highs about 83 degrees with just enough high cloud coverage to filter sunshine.
Thursday should have increasing cloud coverage and high temperatures in the low 80s, Steele said.
The weather service forecast another chance for rain Friday and possible thunderstorms Saturday.
The valley is usually warmer and dryer this time of year, Steele said. Temperatures this week are forecast about 5 to 10 degrees below normal, he said.
Review-Journal writer Ricardo Torres contributed.
Contact Kimber Laux at klaux@reviewjournal.com or 702-383-0381. Find her on Twitter: @lauxkimber.