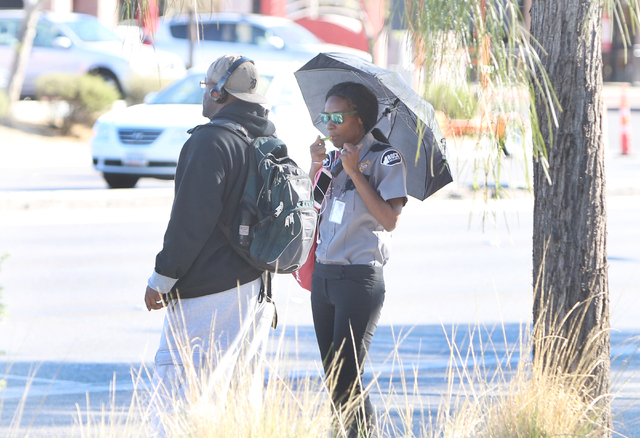 Temperatures are expected to warm back up with the emergence of Mojave Max, but clouds and a chance of rain lie ahead in Las Vegas this weekend.
Mojave Max, the famous Southern Nevada desert tortoise, officially emerged from his burrow Tuesday afternoon, Clark County said in a release.
Mojave Max is a desert tortoise who lives in Red Rock Canyon National Conservation Area. Like other Southern Nevada reptiles, he enters a burrow to brumate (the reptilian form of hibernation) every winter and emerges every spring.
This is the second-earliest emergence in the history of the Mojave Max Emergence Contest, which started in 2000.
"Through the years, Mojave Max has helped teach thousands of school children how to respect, protect and enjoy the desert ecosystem around us," Commission Chair Steve Sisolak said. "Mojave Max once again crawled out of his burrow after a long brumation, marking the unofficial beginning of spring in Clark County."
As part of this year 's Mojave Max Emergence Contest, students have been studying Mojave Desert weather, temperatures and conditions to scientifically estimate when Mojave Max would emerge from his burrow.
Wednesday's high temperature was 74 degrees, according to National Weather Service; its low was 55 degrees.
Thursday and Friday should see high temperatures of 79 degrees and lows in the 50s, meteorologist Chris Outler said.
Friday, the valley is expected to see "some clouds in the sky with a 20 percent chance of rain," Outler said.
Saturday and Sunday are expected to be partly cloudy, have light winds and highs in the 70s and lows in the 50s, the weather service said.
Review-Journal writer Raven Jackson contributed to this report. Contact Raven Jackson at rjackson@reviewjournal.com or 702-383-0381. Follow her on Twitter @ravenmjackson Contact Christian Bertolaccini at cbertolaccini@reviewjournal.com and 702-383-0381. Find him on Twitter: @bertolaccinic