More heat, rain expected in Vegas Tuesday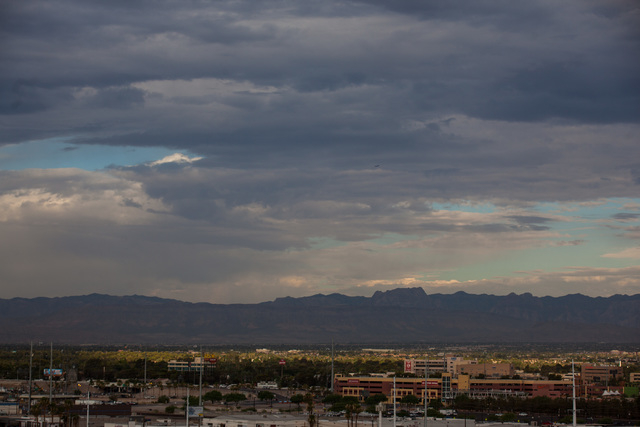 Residents across the Las Vegas Valley will be hoping Lady Luck is on their side, because without some rain to cool things down, Wednesday's high temperatures could peak at 109 degrees.
But this is Las Vegas, so of course, the deck is stacked. Meteorologist Reid Wolcott, of the National Weather Service predicted a 10 percent chance of showers hitting the valley.
"It's pretty unlikely," he said.
So far this week, precipitation has only been teasing the valley. Not even Monday's short stint of rain could cool down Las Vegas on Tuesday, which mirror Monday's weather: hot and cloudy with a lot of moisture.
Tuesday temperatures hit a high of 112 degrees and were expected to drop down to a low of 89 degrees by nightfall.
Similar weather conditions should last through the holiday weekend with high temperatures ranging from 105 to 110 degrees, with slight chances of thunderstorms.
Any rain that hits the Las Vegas valley will move in from Arizona, but it won't be much. Wolcott said Tuesday night that the areas around Phoenix and Tuscon were experiencing monsoons, which only occasionally make the jump to Southern Nevada.
"It's very hit and miss," he said.
McCarran International Airport, the Weather Service's official monitoring site, measured just a "trace" of rain on Monday.
Wesley Juhl contributed. Contact Cassandra Taloma at ctaloma@reviewjournal.com or 702-383-0381. Find her on Twitter: @CassandraTaloma.