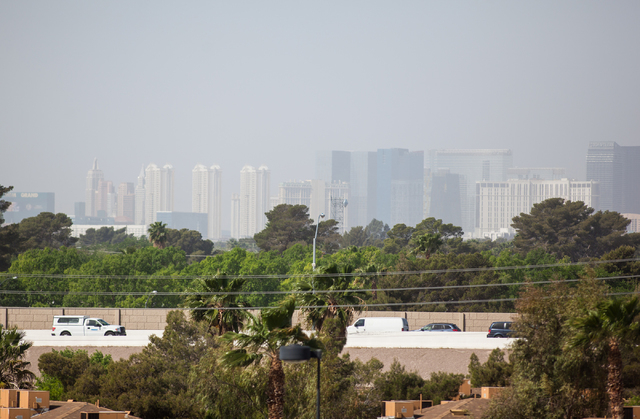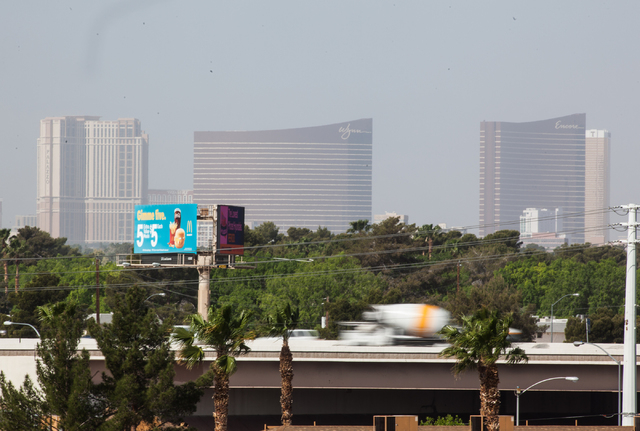 Mother Nature played the ultimate April Fool's prank by making the mountains disappear Wednesday morning.
Overnight wind gusts "kicked up" dust, lowering visibility throughout the Las Vegas Valley, according to National Weather Service meteorologist Chris Stchelski.
The Spring and Sheep mountain ranges, as well as the Strip skyline were nearly impossible to see from a distance, residents reported.
Gusts are expected to continue, reaching 25 miles per hour in the afternoon and 40 miles per hour after midnight, Stchelski said. The west valley is expected to see the strongest winds.
Clark County's Department of Air Quality on Wednesday sent an advisory saying children, the elderly and people with respiratory diseases should stay inside during dust storms. Valley dust counts were not at an unhealthy level, a news release said, but particulate matter has the potential to aggravate respiratory diseases such as bronchitis and asthma.
Officials sent notices Tuesday to construction sites asking them to take precautions to prevent blowing dust, the release said. The county advisory goes through Thursday morning.
Las Vegas will see a high of 81 degrees and a low of 56 degrees by evening. There is no rain in the immediate forecast.
It shouldn't take long to get back to normal.
"I wouldn't be surprised if it clears out tomorrow morning," Stchelski said Wednesday.
Contact Kimberly De La Cruz at kdelacruz@reviewjournal.com or 702-383-0381. Find her on Twitter: @KimberlyinLV.