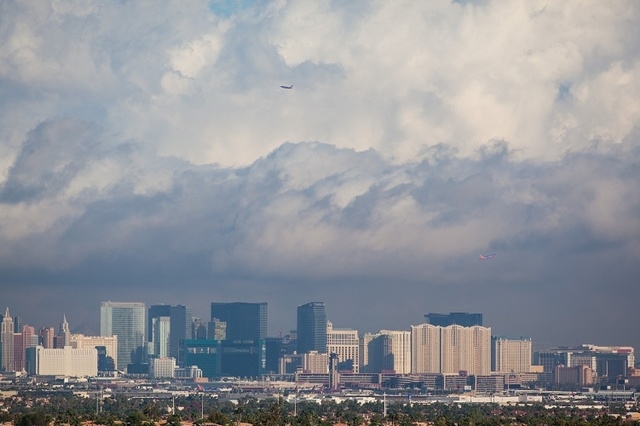 A weather system that is bringing heavy rainfall to Northern California and southern parts of Oregon is going to drop some moisture on the Las Vegas Valley before the weekend, according to the National Weather Service.
Southern Nevada is expected to get the "fringes" of the system causing flooding in Northern California, according to weather service meteorologist Chris Stachelski.
Thursday's cloud ceiling will lower and rain will start falling over the valley late Friday morning and continue into the late afternoon, the Weather Service said.
The band of rain, as described by weather service meteorologist Andrew Gorelow, is moving from west to east and will hit Northern Nevada, near Carson City and Reno, tonight. It is expected to move through Las Vegas by Friday afternoon.
Saturday in the valley will be cloudy but dry, Gorelow said.
The Las Vegas Ski and Snowboard Resort will start making snow Friday afternoon to prepare for the Saturday opening of Rabbit Peak and scenic chair lift rides and the Monday opening of the rest of the slope, according to resort spokeswoman Veronica Kawka.
Scenic round trips on the resort's new quad chair lift will run through Sunday, Kawka said. Depending on the amount of snowfall Mount Charleston sees over the weekend, the rest of the mountain's terrain is expected to open Monday and the lift will open to skiers and snowboarders.
The resort was originally set to open Nov. 28, but had to open two weeks later when weather would allow for man-made snow to stick, Kawka said.
Sunday is forecast to have clear skies and high temperatures in the mid 50s. Lows will stick around the low 40s, dropping to the mid 30s in some parts of the valley once the cloud cover is gone, Gorelow said.
While high temperatures will remain around the mid 50s and nighttime lows will stick around the low 40s through Wednesday, rain is expected to hit the valley again on Tuesday.
Clouds are expected to roll in again Monday night, with more rain expected Tuesday through Wednesday, Gorelow said. That system will come from farther south on the Pacific Coast, Stachelski said, and won't affect the weather conditions in Northern California.
Contact Kimber Laux at klaux@reviewjournal.com or 702-383-0381. Find her on Twitter: @lauxkimber