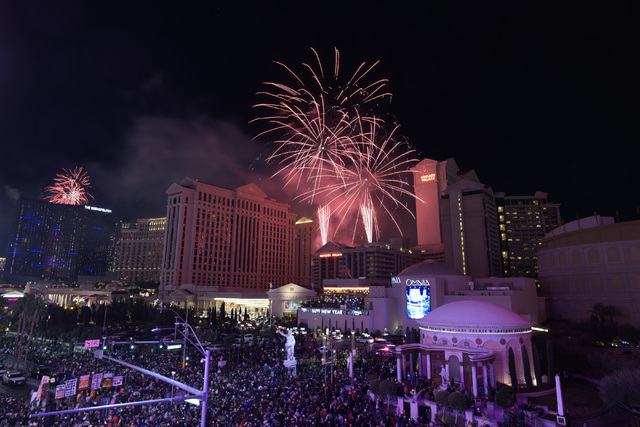 Chances for rain are expected in the Las Vegas Valley over the weekend, but showers should not affect Saturday night's fireworks, according to the National Weather Service.
Friday's forecast high is 54 degrees and chances for precipitation start in the afternoon. The chances increase to about 40 percent by the evening and rain could make for a messy evening commute, meteorologist Chris Outler said.
Chances for precipitation will remain at 40 percent Friday night as one storm moves out and another moves in, according to the weather service.
New Year's Eve has an expected high of 53 degrees and a low of 43 degrees. Chances for rain ramp up to about 30 percent in the afternoon and evening, according to the weather service.
There will be lingering chances for rain at midnight, but the peak of the storm should pass before residents and visitors ring in the new year in the valley, meteorologist Reid Wolcott said. At midnight, the temperature should be about 45 degrees and winds will be light. The storm isn't expected to affect the firework display.
About a tenth of an inch of rain is expected between the two storms, according to the weather service.
New Year's Day will be mostly sunny with a high of 54. Winds are expected to pick up Sunday evening and Monday will be gusty with a high of 50 degrees.
Contact Lawren Linehan at llinehan@reviewjournal.com or at 702-383-0381. Follow @lawrenlinehan on Twitter.