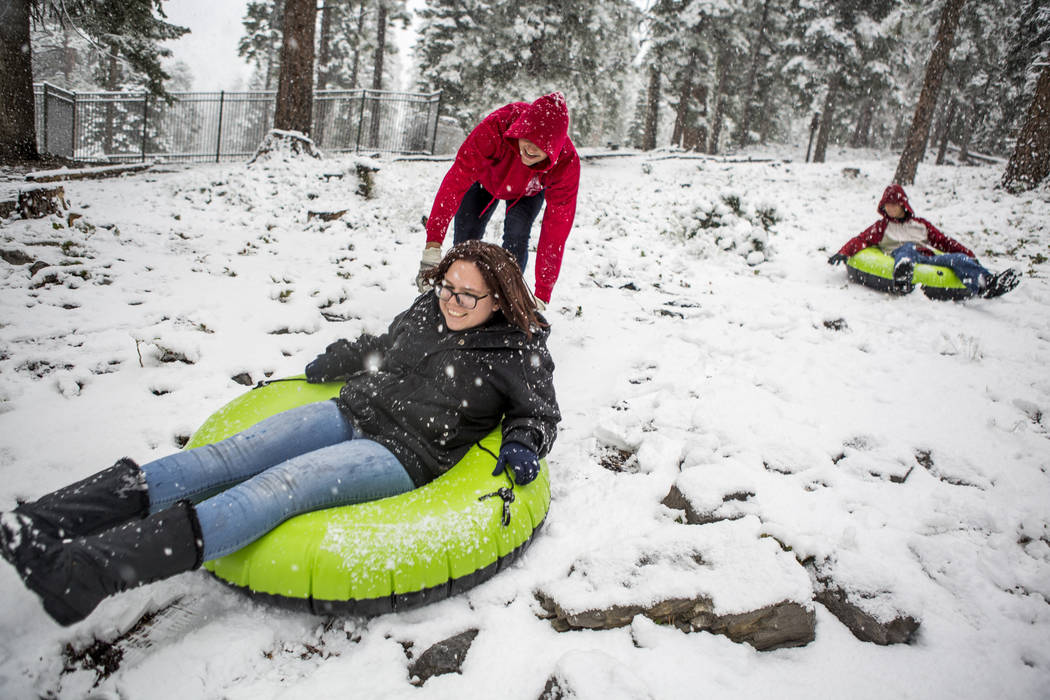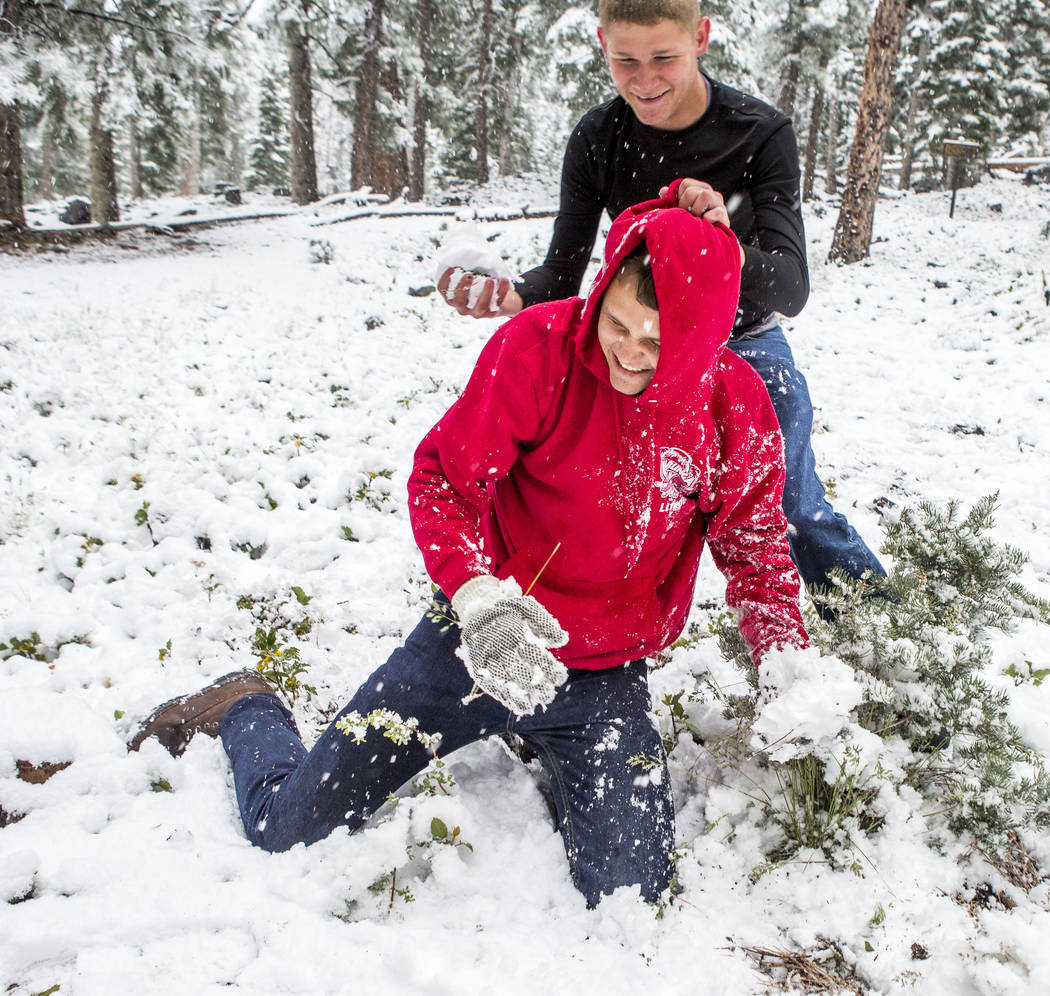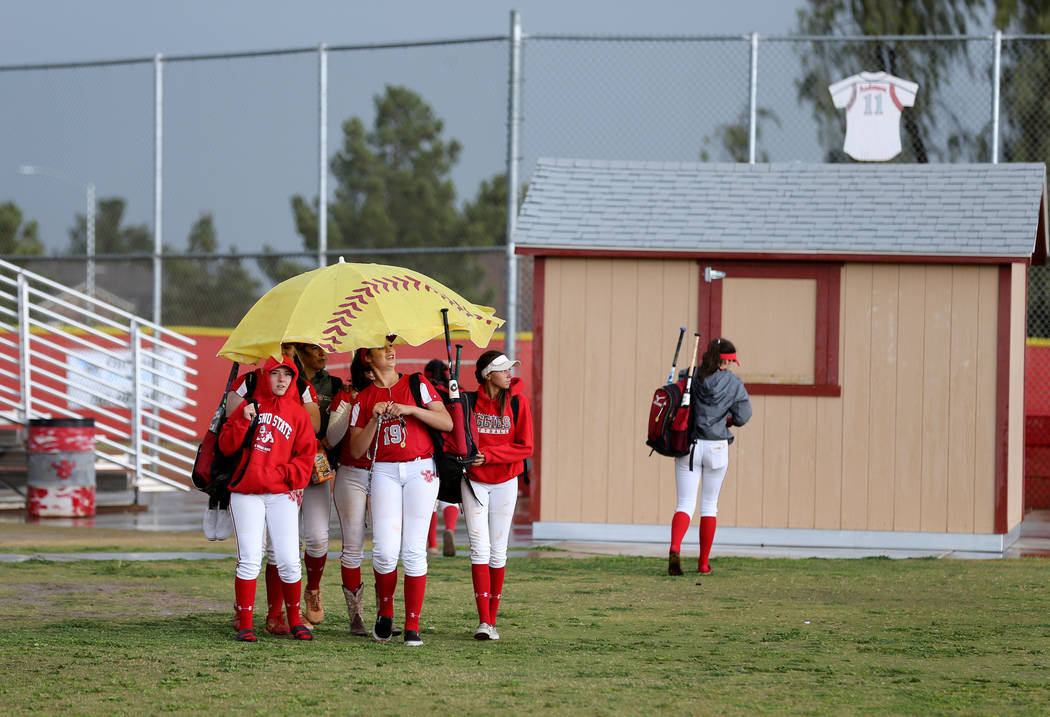 May came in like a lion Tuesday, as lightning flashed and thunderstorms pelted parts of the Las Vegas Valley, and snow covered higher-elevation areas on Mount Charleston.
Lightning was seen throughout the western valley, and flashes also were reported with storms over the central and south valley, the National Weather Service said.
"So it's basically everywhere," meteorologist Chelsea Kryston said.
McCarran International Airport received about 0.24 inches of rain in a 24-hour span, Kryston said. Rain fell harder in other parts of the valley, however, as Summerlin saw about 0.27 inches, Centennial Hills recorded about 0.31 inches and southeast Henderson received 0.42 inches.
The weather service issued a flood advisory late Tuesday that was set to end at 10:15 p.m.
Snow also fell on Mount Charleston, although the weather service said it will not have a measurement for Tuesday's snowfall until Wednesday morning.
Over the last 30 years, more than 5 inches of snow has accumulated on Mount Charleston just six times during the month of May, meteorologist Ashley Wolf said.
"We might get close to that," Wolf said earlier Tuesday.
The mountain's record for snow in May was 10 inches, which all fell on May 7, 1986, Kryston said.
The snowfall record for May 1 is 3 inches, measured in 1983, she said.
Wednesday's forecast calls for a 60 percent chance of rain. Isolated thunderstorms could form into Wednesday evening, Kryston said.
Wednesday's morning low should drop to 54 degrees, the weather service said, and the high for the day should be 69. After the rain passes, the valley skies are expected to clear up with light winds.
Warmer temperatures will return to the valley with a 81-degree high Thursday and an 88-degree high Friday, the weather service said.
Hot, partly cloudy weather will return by the weekend. Saturday's high is expected to be 93, and Sunday's high could climb to 96 degrees.
"It should be a warm, nice weekend," Kryston said.
Contact Max Michor at mmichor@reviewjournal.com or 702-383-0381. Follow @MaxMichor on Twitter. Review-Journal staff writers Mike Shoro and Blake Apgar contributed to this report.