Storms ready to strike California; Las Vegas Valley to see more rain
December 14, 2014 - 11:07 pm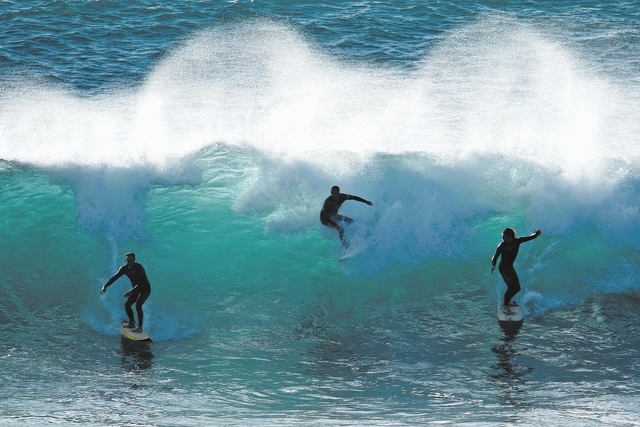 Another storm system is forecast to hit California early today, the National Weather Service said, days after heavy rains in the drought-stricken state caused mudslides and flash floods that damaged dozens of homes and left roads impassable.
Friday's storm had spawned a small tornado in Southern California — a rare occurrence there — that touched down in South Los Angeles, tearing the roof off one structure and damaging at least five others, meteorologists and local officials said.
The state got a break from the wild weather on Sunday but a new storm system is approaching from the Pacific Ocean, the National Weather Service said.
One person was found dead on Friday in a rain-swollen flood-control channel in Orange County, officials said. It was the third known storm-related fatality on the West Coast since a band of Pacific storms hit the area earlier in the week.
The rainfall Friday dumped 5 inches on San Marcos Pass, just north of Santa Barbara.
The rainfall was a boon to Southern California's water supply, as the state endures its worst drought on record.
Los Angeles County collected 1.7 billion gallons of water in its reservoirs, enough to serve 42,000 people for a year, according to the Los Angeles County Department of Public Works.
"Before the rainy pattern takes a break, cumulative rainfall will have taken a huge slice out of the long-term drought," said AccuWeather meteorologist Alex Sosnowski.
A second weather front is also making its way to California, and there will probably be more rain on Wednesday in the San Francisco area, the weather service said. Southern California may get more rain Thursday.
Wet week for Las Vegas
The same storm systems hitting California this week are expected to have a rainy impact in Southern Nevada.
The Las Vegas office of the National Weather Service said showers may move into the valley as early as Tuesday night, with the greatest chance for rain on Wednesday.
In the nearby mountains, including Mount Charleston, snow is expected above 5,000 feet starting Tuesday. After several inches of snow last week, the Las Vegas Ski & Snowboard Resort opened over the weekend.
Forecasters say the valley may get more rain (and snow for the mountains) by Saturday.
The Las Vegas Review-Journal contributed to this report.