Strong winds expected into weekend in Las Vegas Valley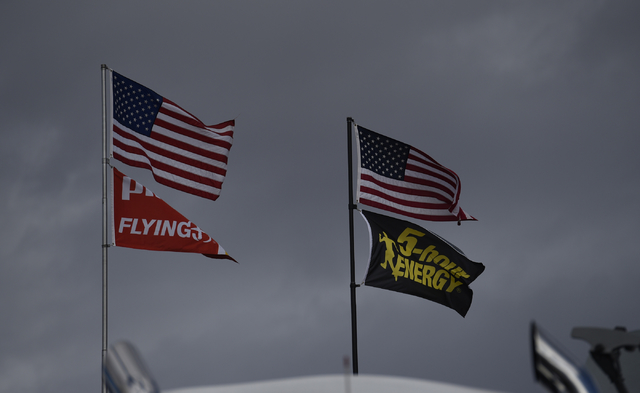 The strong winds that whipped the Las Vegas Valley Friday aren't done yet.
The National Weather Service issued a wind advisory for the Las Vegas area starting 10 a.m. Friday and lasting through 4 a.m. Saturday, but later extended it through 9 p.m.
Winds will calm overnight but pick up again Saturday morning. Sustained winds are expected to remain between 25 and 35 mph, the weather service said, but could gust as high as 45 mph in the afternoon.
Clark County's Department of Air Quality issued a dust advisory for Friday, to advise residents and local construction sites of the possibility of elevated levels of blowing dust due to the high winds.
Winds also were strong enough in the Las Vegas Valley to cause delays of more than two hours for some arriving flights at McCarran International Airport in the afternoon, according to the Federal Aviation Administration.
Despite the blustery weather, Friday's high temperature reached 67 degrees. Saturday's high should reach 61, with a slight chance of showers in the evening.
Friday's fiercest winds arrived around 1:30 p.m., when gusts of 64 mph were recorded at the Desert Rock Airport, about 60 miles northwest of Las Vegas. Multiple gusts between 55-60 mph were recorded in the area Friday afternoon.
The weather service warned drivers to watch for strong crosswinds on U.S. Highway 95 between Las Vegas and the Amargosa Valley.
High winds also were reported to the north of the valley from Pahrump to Tonopah, the weather service said.
Sunday's high is expected to be 58 degrees and winds should dissipate in time for the Monster Energy Cup Series Pennzoil 400 at the speedway and day three of the USA Sevens Rugby Tournament.
Temperatures will start to rise again early next week, the weather service said. Monday's forecast high is 61 and Tuesday should be slightly warmer with a high of 63.
Winter storm and winter weather advisories remained in effect Friday for much of Northern Nevada, including Elko, White Pine, Eureka, Lander, Lyon and Douglas counties, as well as the northern half of Nye County, the weather service said. The Washoe County School District called off school on Friday because of wintry weather.
Reno and Lake Tahoe are under blizzard warnings, the weather service said, and Lake Tahoe was forecast to receive up to 5 inches of snow on Friday.
Contact Max Michor at 702-383-0365 or mmichor@reviewjournal.com. Follow @MaxMichor on Twitter. Contact Madelyn Reese at mreese@reviewjournal.com or 702-383-0497. Follow @MadelynGReese on Twitter.