U.S. highways 95, 93 reopen
December 31, 2014 - 8:46 pm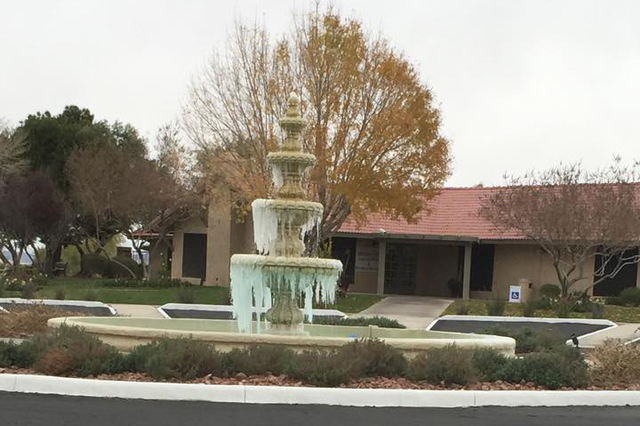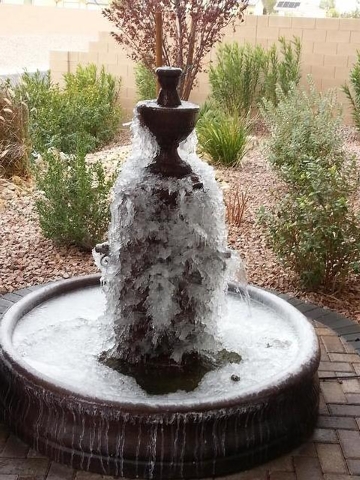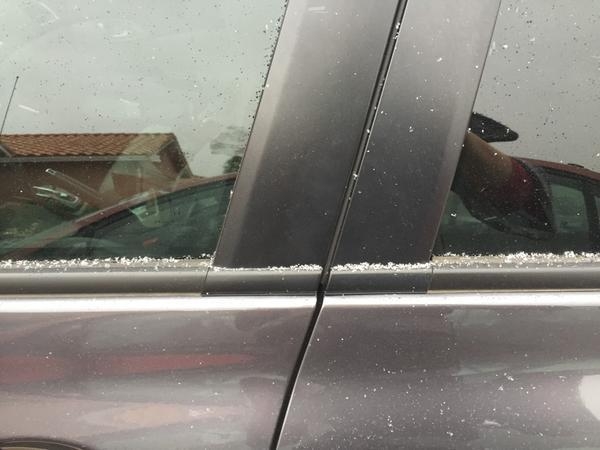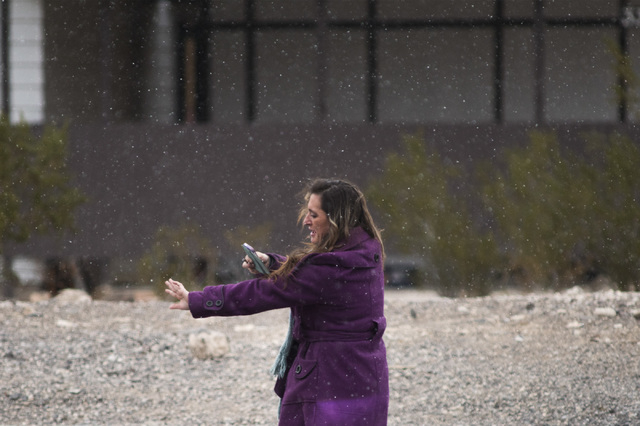 Las Vegas didn't have to wait until nightfall for New Year's Eve excitement.
Extra wintry weather caused enough of a stir to make for a memorable goodbye to 2014.
The National Weather Service reported that the valley tied the record for the most snow on New Year's Eve: a whole trace. The last time that much was seen on the date Dec. 31 was 1964.
Flurries were spotted around Anthem, Red Rock and the central valley, according to NWS meteorologist Barry Pierce.
Mount Charleston and the Las Vegas Ski and Snowboard Resort each reported receiving 2 inches of snow that morning.
In Northern Arizona, about a half-inch to 2 inches of snow was recorded from Bullhead City to Lake Havasu, NWS meteorologist Caleb Steele said. Searchlight received about an inch.
Ice also caused transportation hassles for vehicles approaching and leaving the Las Vegas Valley.
U.S. Highway 95 was closed for about three hours at the Nevada-California line in southern Clark County after it was shut down because of ice on the road, according to the Nevada Highway Patrol.
Both states' highway patrols shut down the route at Laughlin about 12:35 p.m. It was reopened just before 3 p.m., NHP spokesman Loy Hixson said.
A main route connecting Phoenix to Las Vegas, northbound U.S. Highway 93, in Wikieup, Ariz., also was closed for about two hours during the afternoon because of poor driving conditions, according to the Arizona Department of Transportation.
Kingman, Ariz., received more than 3 inches of snow by 10 a.m. and numerous weather-related traffic accidents were reported in the area, according to local law enforcement agencies.
McCarran International Airport spokeswoman Christine Crews said ice was reported in and around the airport connector tunnel to the 215 Beltway, but not on the runways. No weather-related flight delays were expected.
With or without snow, the first day of 2015 began with chill temperatures expected to hit the low 20s.
A hard-freeze watch is in effect until 8 a.m. Friday.
At least one instance of unintended consequences from trying to keep warm was reported.
A space heater located too close to curtains caused a bedroom fire Wednesday morning that displaced a family of five in Las Vegas, near Lamb Boulevard and Bonanza Road. No injuries were reported.
As a reminder, the Las Vegas Fire Department said to make sure space heaters are at least 3 feet away from flammable objects.
Clark County issued an air quality advisory through Thursday. Smoke caused by fireworks can aggravate respiratory diseases.
"It may be best for children, the elderly and people with respiratory diseases to stay indoors," a Clark County news release said.
Reporter Dave Hawkins and CNN contributed to this report. Contact Kimberly De La Cruz at kdelacruz@reviewjournal.com or 702-383-0381. Find her on Twitter: @KimberlyinLV. Contact Cassandra Taloma at ctaloma@reviewjournal.com or 702-383-0381.