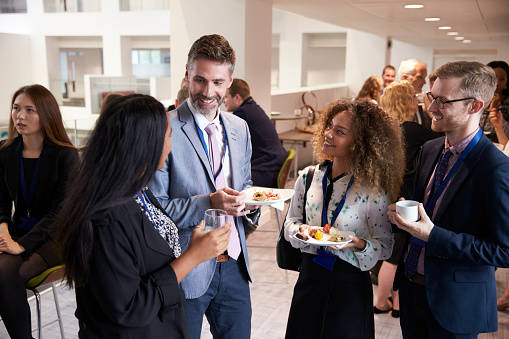 When faced with having to seek a new job, most people focus on the pure act of the job search itself. Usually, nothing else matters other than "getting that job."
However, in this day and age, components of the job hunt go past being able to walk into a place of business and meet the actual hiring manager. As a matter of fact, seldom are you able to even do that now.
The days of open doors to an office for strangers to just simply walk in are over. Today, creativity can be more of a component of meeting a potential hiring manager than before, and an astute individual must realize that to take full advantage of any opportunities that come his or her way.
This brings me to the importance of networking. Depending on why one is looking for a new position and the circumstances that brought that person to this point, self-esteem or embarrassment can really wreak havoc on the mind. Sometimes in these circumstances, one can almost become a hermit, not wanting to talk to anyone or let anyone know what has occurred.
However, this is actually the perfect time to get out and do something other than job-seeking. This is the time to join an organization, participate in a meetup group or get involved with some church activities so people can actually see the fantastic individual that is behind that cloak.
Invariably it is during these times that you meet someone and conversations ensue. When you mention you are in the process of changing careers, it's amazing how a person all of a sudden "knows" someone who "knows" someone who is hiring at their company. It's not luck, but it is using all of your options in order to get out, get a new perspective and, maybe in the process, get a new job.
Some of you may say, "Well, to join an organization, I'm going to have to pay dues, which I don't have because I don't have a job." No excuse.
There are plenty of organizations that have nominal or no dues. In addition, meetup groups are available with no monies necessary to put out. The point is that networking is fun, and while you may believe that this is not the time for you to go out and smile, the timing really couldn't be better.
When in the midst of a job search, you can't possibly meet too many people. Networking is a crucial and beneficial element by increasing your communications and presentation skills, improving self-esteem and giving you an opportunity to get out and mingle. It's always amazing that when you relax and try to enjoy life, the job search is not as grueling. You establish some kind of balance while increasing your chances of obtaining new and exciting employment.
Remember the old adage "It's not what you know, but who you know"? Well, it's changed: "It's not what you know, but who knows you!"
So, take the time to seek out some great organizations in the industries that appeal to you or in the same professions as you. Then join. Meet other like-minded people who are positive and take you in.
Show off your worth to that organization and get known for your expertise. It will be simply amazing as to what can and will happen.
Ready. Set. Go!