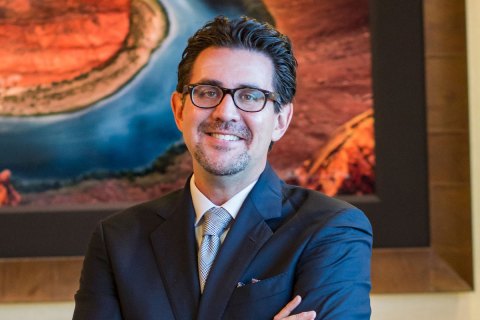 Sponsored Content
Jeremy Aguero for Nevada State Bank
There is no shortage of positive news for Nevada's economy these days, which is certainly more than welcome, given where the state's economic fortunes sat not all that long ago. Statewide annual employment growth is first in the nation, a spot Nevada has held for seven consecutive months, and for 19 of the past 36 […]
Clark County Fire Department investigators say it will be weeks before they determine and release an official cause or damage estimate of a fire that burned for more than 12 hours on June 17, reducing The Park at 3900 to burnt rubble.
The Canadian center was projected as a possible top-10 pick by multiple analysts until he suffered a partially torn Achilles tendon during training this month.
The first day of summer was cooler than average, a trend that should continue through the weekend, according to the National Weather Service.
Monitor the progress of the Las Vegas stadium with this view looking south toward the construction site.
NEWSLETTER SIGN UP
Quality journalism sent to your inbox
each morning and afternoon.
Unsubscribe at any time.