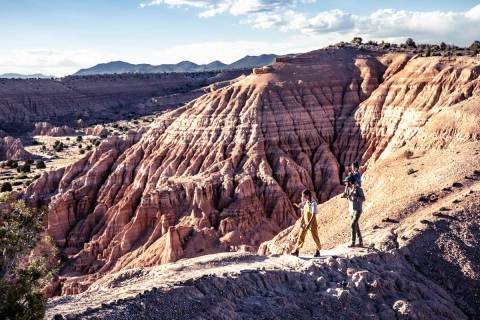 Sponsored Content
Sponsored Content for Travel Nevada
Park-packed Weekend It doesn't get much more out-of-town-for-the-weekend than this wild trip. Marked by stunning contrasts around every bend, this route blasts out of Vegas, winding through wide-open country to several spectacular Nevada state parks—each completely different—and a couple of classic, historic, small-town-Nevada towns. Pro Tip? Pack all the things; this route is replete with […]
President Donald Trump criticized Nevada Gov. Steve Sisolak — without mentioning him by name — during a rally held across the border in Arizona because of Nevada's coronavirus gathering limits.
The Vegas Nation crew breaks down the latest with the Raiders.
A driver charged in the death of a Las Vegas bicyclist had been released from prison less than four months ago.
Monitor the progress of the Las Vegas stadium with this view looking south toward the construction site.
Quality journalism sent to your inbox
each morning and afternoon.
Unsubscribe at any time.