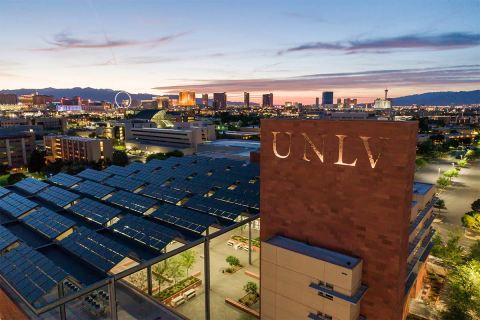 Sponsored Content
By President Keith E. Whitfield, Ph.D. University of Nevada, Las Vegas || Guest columnist for Nevada State Bank
On Sept. 10, 1957, Southern Nevadans marveled as UNLV (then called Nevada Southern University) launched its first classes in a single building — the 13,000-square-foot Frazier Hall — which housed classrooms, offices, science laboratories, and a library. Surrounded by acres of untilled land, the new school served about 500 students, but more importantly, it stood […]
Women who worked for the NFL team alleged a pattern of forced demotions, unequal treatment and retaliation if they voiced concerns.
The Legends Bay Casino in Sparks was licensed Thursday by the Nevada Gaming Commission in a unanimous vote.
The losing hand was quad queens and the winning hand was a queen-high straight flush.
Three Square Food Bank received a large donation on Tuesday afternoon from InTouch Credit Union.