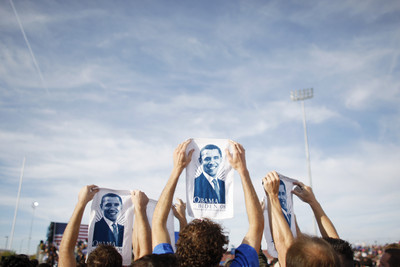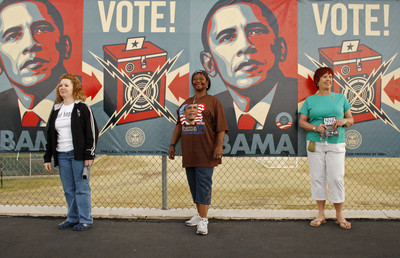 Democratic presidential nominee Barack Obama has come a long way since he first campaigned in Nevada nearly two years ago.
The end is finally in sight.
"I've just got two words for you today: three days," the Illinois senator told a crowd of supporters at Henderson's Coronado High School on Saturday. The campaign estimated the audience gathered on the school's football field at 15,000.
"After decades of broken politics in Washington, after eight years of failed policies from George W. Bush, after 21 months of a campaign that has taken us from the rocky coast of Maine to the sunshine of Nevada, we are three days away from change in the United States of America."
Obama has spent a lot of time in Nevada since he announced his presidential candidacy. In February 2007, just a week after beginning his campaign in Springfield, Ill., he drew about 3,000 people to the Clark County Government Center.
Between then and Saturday's rally, which he said would be his final stop in Nevada before the election that will either make him the nation's 44th president or send him back to the U.S. Senate, Obama traveled to Nevada 20 times as he evolved from a long-shot contender for the Democratic nomination to the pundits' odds-on favorite to win it all.
And yet his message was remarkably similar to the one he began with as Obama circled back to the grounding themes of his candidacy, in a speech billed as a closing argument to the jury of millions that will decide his fate.
"We knew how steep our climb would be," Obama said. "But I also knew this: I knew that the size of our challenges had outgrown the smallness of our politics. I believed that Democrats and Republicans and Americans of every political stripe were hungry for new ideas, new leadership, and a new kind of politics — one that favors common sense over ideology, one that focuses on the values and ideals we have in common as Americans."
In his 25-minute speech, Obama vowed to bridge partisan divides and find consensus toward the goals of creating jobs, educating the next generation of children, fixing the health care system and ending the war in Iraq.
He spent relatively little time on his Republican opponent, John McCain, who also plans to have a last word with Nevadans when he campaigns in Henderson on Monday.
While McCain has departed from President Bush on some issues, he has stood by the economic policies that have led to the current crisis, including tax cuts for the wealthy and further financial deregulation, Obama said.
"After 21 months and three debates, John McCain still has not been able to tell the American people a single major thing he'd do differently than George W. Bush on the economy," Obama said. "When John McCain wants to give a $700,000 tax cut to the average Fortune 500 CEO, you know, that's not change."
A spokesman for the McCain campaign denied that McCain has been part of the problem.
"John McCain is looking to advance a pro-growth, pro-job agenda that frankly hasn't been advocated by the (Bush) administration," Rick Gorka said. "The administration has been very absent on all of this. When John McCain was calling for reforms, they fell on deaf ears."
Gorka also said Obama's promises to transcend partisanship weren't believable. Obama's positions, Gorka contended, are extremely liberal, and his record of reaching across the aisle is scant compared to McCain's.
"You can't reach across the middle when you're on the furthest left flank," Gorka said. "His rhetoric doesn't match his record. That's an illusion even David Copperfield couldn't pull off."
Obama's speech was punctuated several times by spontaneous chants of "Yes we can" and "O-bam-a" from the crowd.
The candidate called for unity and a higher purpose to face the challenges ahead.
"Despite what our opponents may claim, there are no real or fake parts of this country," he said. "The men and women who serve on our battlefields may be Democrats and Republicans and independents, but they have fought together and bled together and some died together under the same proud flag. They have not served a Red America or a Blue America. They have served the United States of America."
Audience member Teri McNabb, 37, a stay-at-home mother who home-schools her three children, said she has been entranced by Obama and his message from the beginning. Over the many months of the campaign she has followed passionately, she has finally won over her Republican husband and her apolitical parents, who were initially wary of Obama's exotic background.
Her mother Darla Conner, 55, said she appreciated the consistency of Obama's message and the breadth of issues he promises to address.
"One thing about Obama is he doesn't just talk about taxes, like McCain," Conner said. "It's not only about taxes. It's about all the other things we have to fix. If we don't have educated children, they're not going to make any money to pay taxes anyway.
"But McCain is all about money because Washington runs on money."
Lauren Potter, 46, attended Saturday's rally with her husband Bruce. "I think the fact that people from all walks of life are standing behind this man is remarkable," the Henderson housewife said.
Potter said this will be her first election voting for a Democrat for president.
"I was a Republican for many years," she said. "I loved Ronald Reagan. I loved George Bush Sr. But it all changed when I realized what an angry, aggressive man John McCain is."
In particular, Potter said, she thinks McCain would take away women's right to choose whether to have an abortion.
Craig Knight, 43, was seeing Obama for the third time on Saturday. He had brought his wife and two children, ages 10 and 12.
"This is history in the making," said Knight, who said he's convinced Obama will win.
The Henderson resident and radio station manager voted for the first time two weeks ago, on the first day of early voting.
Knight, who is black, said that's not the only reason he believes in Obama.
"I like the way he thinks," he said. "I see that before I see skin color. He speaks for everybody: middle-class Americans, all races and colors."
Contact reporter Molly Ball at mball @reviewjournal.com or 702-387-2919
VideoSlide show