Anesthesiologist calls Murray's statements false
August 27, 2009 - 9:00 pm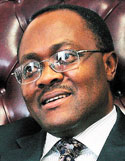 A Las Vegas anesthesiologist linked by Dr. Conrad Murray to the drug use of Michael Jackson did administer a sleeping drug to the pop star four times, but not under the conditions that Murray told investigators.
That account by Las Vegas attorney Libo Agwara came days after a search warrant was unsealed that revealed new details about the Los Angeles Police Department's investigation.
The warrant includes statements made by Murray, the Las Vegas doctor at the center of the investigation, who told authorities he administered propofol to Jackson minutes before he died. Murray told investigators that in March or April he witnessed Dr. David Adams administer the same drug to Jackson in a cosmetology office, according to the Los Angeles Times.
Agwara, Adams' attorney, said Murray's claims were false.
"My client has never been to a cosmetologist to do anything," Agwara said. "That doesn't make any sense."
Adams did administer the powerful drug to Jackson four times last year and did meet with Murray in March, Agwara said from his office on Sahara Avenue.
Adams, a roving anesthesiologist, has used the drug on more than 6,000 patients since he started practice in 2003. "All 6,000-plus people woke up," Agwara said.
Physicians in hospitals, medical centers and doctors offices contact Adams to put people under for surgeries and other medical procedures.
In 2008, a surgical dentist in Las Vegas contacted Adams for his services regarding a "VIP," Agwara said. The VIP was Jackson, and Adams was made to swear to confidentiality before doing the work. Agwara wouldn't say who the dentist was.
Jackson was undergoing "extensive dental work," Agwara said. Over the course of a few months, Adams administered the sedative four times for the dental procedures.
Adams didn't have contact again with Jackson until Murray called him in March. He did not know Murray, according to Agwara.
"Dr. Murray called, said 'Can we meet?'" Agwara said. "My client said, 'Who are you?' He said, 'Well, I'm Michael Jackson's personal doctor.' … He said, 'Mr. Jackson remembered you from when you assisted in one of his surgical procedures.'"
Adams met with Murray and Jackson at Murray's office that month, Agwara said.
Agwara wouldn't say what took place during the meeting, but he said his client did not administer propofol or anything else to Jackson during the meeting. "Murray has never witnessed my client administer propofol to anyone," Agwara said. "He's never witnessed my client administer anything to anyone."
Authorities have subpoenaed medical records from Adams, the warrant states, according to the Los Angeles Times. But Agwara said his client has not been given a subpoena and has not been asked for medical records.
"The authorities have assured me time and again that my client has never been a target of any investigation, has never been under investigation, and they have not uncovered anything that will make him a target of any investigation," Agwara said.
Jackson died in June. A law enforcement official told The Associated Press this week that a coroner ruled the pop star's death a homicide and that a combination of drugs was the cause.
Agwara said Adams has not had any complaints or disciplinary action against him. The Nevada Board of Osteopathic Medicine's Web site shows Adams has not had any reports of malpractice or disciplinary issues.
Agwara said Murray has given propofol a bad name.
"It is a wonderful, wonderful drug for professionals who know how to use it in a medical setting," he said.
Contact reporter Lawrence Mower at lmower@reviewjournal.com or 702-383-0440.