October 28, 2010 - 11:00 pm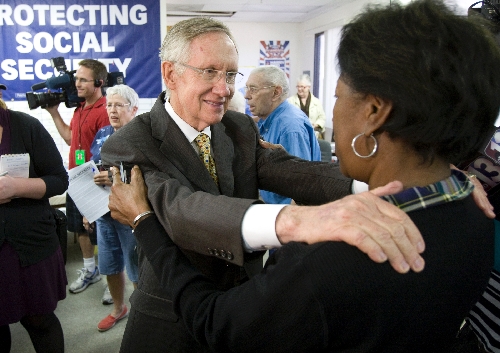 Positioned to pull off the biggest upset in the nation, GOP challenger Sharron Angle heads into Election Day leading Democratic incumbent Sen. Harry Reid by 4 percentage points, says a new poll for the Las Vegas Review-Journal and 8NewsNow.
The Mason-Dixon Polling & Research survey has Angle with 49 percent support compared with 45 percent for Reid in its first survey since the Tea Party favorite and the Senate majority leader held their only debate Oct. 14. The findings match two other post-debate polls in the race and show momentum for Angle, who two weeks ago edged out Reid, 47 percent to 45 percent, in the last Mason-Dixon survey.
The latest statewide telephone poll of 625 Nevadans likely to vote on Election Day, taken Monday through Wednesday, has a margin of error of plus or minus 4 percentage points.
The survey shows both Reid and Angle having most of their party bases, with the incumbent picking up 84 percent of Democrats and the GOP challenger 85 percent of Republicans. But Angle is winning the all-important independent voters by double digits, 55 percent to 38 percent, as Nevadans not aligned with either major political party swing her way as they settle on a choice.
"Reid just can't get much above 45 percent, and she's carrying the independents," said Mason-Dixon pollster Brad Coker. "I haven't seen a poll showing him up since the debate. That might have been when things started to lock in. I think the odds are pretty good that Angle's going to win."
Most analysts still deem the Senate race too close to call; Reid is pulling out all the stops in a multi-million-dollar effort to get all his voters to the polls. He's using union supporters to help knock on doors and make phone calls. And he's counting on a string of big name Democrats, celebrities and sports stars — from President Barack Obama and first lady Michelle Obama to actor Kal Penn and boxer Manny Pacquiao — to help drag the unpopular Reid across the finish line first.
Larry Sabato, director of the Center for Politics at the University of Virginia, is one of the few national pundits to risk predicting Angle could pull off the biggest upset of the 2010 election. On Thursday, he put out his "crystal ball" picks that has the Nevada race leaning GOP for the first time.
"Of all our predictions, I'm least certain about the Senate race in Nevada," Sabato acknowledged in an interview. "Our assumption is, independents around the country have moved solidly behind the Republicans. But the Democrats are throwing everything they've got at the effort to save Reid. If Reid survives, it will be an escape worthy of Houdini. If Angle wins, it's a measure of the strong anti-Democratic trends of the 2010 mid-term elections.
"This is a referendum on Reid and Obama."
The Mason-Dixon poll showed only 3 percent remain undecided ahead of Tuesday's election — 4 percent of independents — while 2 percent chose the "none of these candidates" option and the remaining 1 percent picked another contender on the crowed ballots that has nine options.
The other contenders weren't named in the latest poll, including Scott Ashjian, the former Republican running under the "Tea Party of Nevada" banner. He launched the party to take advantage of the anti-big government movement, although its leaders have denounced him as a poser and have put all their money, endorsements and enthusiasm behind Angle, a staunch conservative.
Previous surveys have shown Ashjian getting about 1 percent of the vote, but most analysts believe that Reid benefits from every third-party ballot that doesn't go to his challenger Angle.
"I don't think there's going to be any dramatic movement, but even a slight movement in favor of one candidate can make a difference in this race," said Nathan Gonzales of the Rothenberg Political Report. "It remains a question in my mind of how many votes will go for none of the above or Ashjian."
The Reid campaign is placing a lot of confidence in the ability of Democrats to get Hispanics, minorities, union members and other reliable voters to the polls, especially in vote-rich Clark County. He also hopes to pick up moderate Republicans uncomfortable with Angle.
The poll showed him ahead of Angle in Clark, 49 percent to 45 percent. But the former Reno assemblywoman is ahead of him in her home Washoe County, 49 percent to 45 percent. And Angle is cleaning up in rural Nevada where Reid is highly unpopular, 64 percent to 31 percent.
The Mason-Dixon poll oversampled Republicans on the presumption they will turn out at the polls at a higher rate than Democrats. The sampling, made up of 42 percent Republicans though the GOP represents just 37 percent of Nevada registered voters, reflects a turn-out edge typical for a normal mid-term election and roughly reflects turnout trends during early voting.
The Reid campaign called the Mason-Dixon poll "meaningless because the fact is that more Democrats have voted than Republicans so far." In sheer numbers, that's true, with Democrats out-voting Republicans by at least 10,000 among the more than 300,000 ballots cast as of Wednesday night.
"Senator Reid is in a strong position to win this election because Nevadans of all political stripes are rejecting Sharron Angle's extreme agenda to kill Social Security, privatize the VA and ship jobs overseas," said campaign spokesman Jon Summers in an e-mail.
Coker said Democrats enjoyed a higher turn out in the last two elections, especially in 2008 when the party voted in record numbers for Obama.
But now the political tide has turned toward the GOP. This stems from the still sour economy and unhappiness with the new health care law, industry bailouts and the $787 billion stimulus bill that didn't halt the rising unemployment rate as promised.
"Early voting is considerably better for Republicans everywhere — there is an enthusiasm gap," Coker said. "Reid may have a little more of a ground organization than the typical Democratic candidate, but at the end of the day, you've got 14 percent unemployment in Nevada and unpopular programs and they can't sell it. They may not be crazy about Angle, but they're still voting for her."
Reid's also more unpopular than ever, according to the latest Mason-Dixon survey, with 56 percent of those polled saying they have an unfavorable opinion of him compared to 39 percent with a favorable opinion. Another 5 percent said they had a neutral opinion of Reid, a four-term senator.
Nevadans were deeply divided about Angle with 45 percent holding an unfavorable opinion of the former Reno assemblywoman, 43 percent favorable and 12 percent neutral.
While Reid boasts a better turnout machine, the Angle campaign said it has been working closely with the state and national GOP to get voters to the polls, as well as with Joe Heck, the Republican candidate trying to unseat Rep. Dina Titus, D-Nev., in Congressional District 3. Heck's work to pull in more support could boost Angle's chances as well, just as Titus could profit from Reid.
Coker said the Mason-Dixon poll shows Angle "slightly ahead" of Reid in CD3, which could be key to her staying competitive in Clark County, which is Reid and Democratic country.
The Angle campaign dismissed the Democratic boasting that its get-out-the vote efforts will outmatch the Republican challenger's and GOP enthusiasm for retiring Reid. Spokesman Jarrod Agen also said the debate, which most observers say Angle won by not stumbling, gave undecided voters and nonpartisans a reason to pick her.
"There's always been a question of whether we would get the independents," Agen said. "I think the debate proved she's more fit for office than Harry Reid. It gave her the momentum. It showed the ads are not true. It showed that the caricature that Harry Reid has tried to create of Sharron isn't true."
Reid's most recent TV ad continued to hit on his main campaign theme that Angle has "dangerous, scary" views. It notes Angle has said she wants to phase out Social Security, although the ad is misleading since it wrongly claims she wants to cut off seniors. The spot also references her Assembly votes opposing mandated insurance coverage for some procedures as well as one against subsidizing background checks, which non-profit agencies had to pay for themselves.
"In Sharron Angle's Nevada, there are no background checks to catch sex offenders working with kids," it says. "There's no Social Security for seniors. Insurance companies don't cover cancer tests."
"Sharron Angle's Nevada? No," the ad ends.
In Angle's closing TV ad, she hits on her favorite theme, saying Reid and Obama failed to fix the economy as promised. Reid is pictured with Obama and House Speaker Nancy Pelosi, a trifecta that has riled Republicans this year, although the Democrats blame the Bush administration for the recession.
"They promised change, but they delivered unprecedented spending, overwhelming debt, heartbreaking job loss, astounding foreclosures, skyrocketing bankruptcies," the ad says.
"Now, it's our turn," it ends.
Contact Laura Myers at lmyers@reviewjournal.com or 702-387-2919.
Sen. Harry Reid on the campaign trail
Early voting sites
Early voting ends today
COMING SATURDAY
The race for governor and the two judicial ballot measures.
COMING SUNDAY
3rd Congressional District and state constitutional officers.