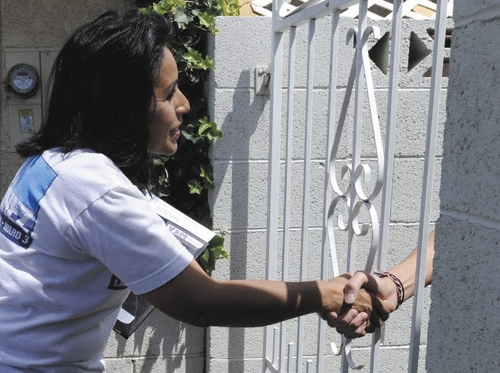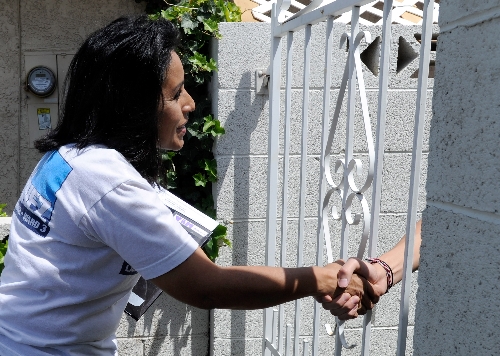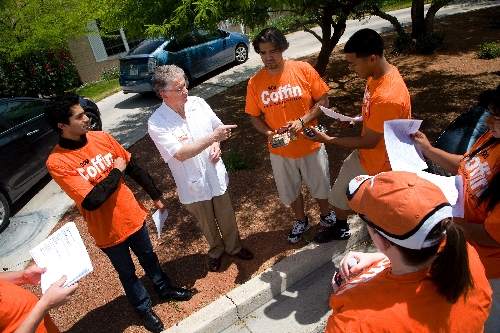 A challenge to Adriana Martinez's candidacy for the Ward 3 Las Vegas City Council seat is still moving through the court system, and what could be a final set of legal arguments was submitted to the Nevada Supreme Court on Monday.
Since February, Martinez has faced allegations that she doesn't live in a house she owns in the ward, a charge she has dismissed as baseless. Martinez is in a runoff race with former state legislator Bob Coffin for the open council seat.
Her viability was challenged by Bob Bellis, a property owner in the ward, and Kent Dagnall, who lives a couple of blocks from Martinez's Ward 3 house, and the entire enterprise has turned on legal standards and contested deadlines.
Martinez owns two houses: one in Ward 3 at 812 Sweeney Ave., the other at 1499 Sunair Circle, which is outside the city limits.
She bought the Sweeney property in 2009 and changed her voter registration to that address in January 2010, according to county records. The property required a lot of work, and her residence is a casita in the back, Martinez said.
An investigator, however, contends that other people lived on the property and that Martinez was rarely seen there.
"I live on Sweeney Avenue; my opponents are trying to smear me, and it won't work," Martinez said Friday, adding that the time she supposedly was not at her residence was when she was juggling long hours at work with caring for her mother, who has had several surgeries in the past year.
"There is something very wrong when strange men follow us around in the middle of the night, and some unknown source is paying for it," she said.
Terry Coffing, the attorney representing Bellis and Dagnall, said the investigator worked for him.
In the primary, Martinez's main challengers were Coffin and Steve Evans, who came in third. Coffin and Martinez each got a third of the votes in the seven-candidate race, and only 49 votes separated them: He had 1,247 to her 1,198. They both have Hispanic backgrounds, meaning whoever wins will be the council's first Hispanic member.
Bellis, president of the John S. Park Neighborhood Association, and Coffin are "very good friends," Coffin said, but Bellis supported Evans in the primary. Coffin and Evans said they are not involved in the residency challenge. Coffin raised the issue in a campaign mailer before the April 5 primary.
Bellis originally filed his challenge on Feb. 16. City Attorney Brad Jerbic disqualified it because Bellis listed a home address outside the city limits.
The challenge was amended to add Dagnall and resubmitted Feb. 17, which Martinez's camp argued was past the deadline to file challenges.
District Court agreed with the conclusions, and the case went to the state Supreme Court.
The lawsuit contains a report from private investigator David Groover, who said Martinez's house at 812 Sweeney was checked several times a day from Jan. 5 to Jan. 26, particularly in the early morning and evening hours. He reported that her car was never observed there.
On Jan. 26, a surveillance camera was set up to monitor the house 24 hours a day. Other people were seen staying at the house, Groover said, but Martinez was not seen until 12:54 p.m. Feb. 3.
"As you go through the report," Groover wrote, "you will note that when she did arrive at the residence, she never spent any significant time at 812 Sweeney Avenue."
To be qualified to run for a City Council seat, the candidate must have lived in a residence inside the ward for at least 30 days prior to the end of the candidate filing period. This year, filing ended Feb. 4.
When asked about the specifics of the report, Martinez said, "It's a dead issue now. It's over." She said only she and her daughter live on the property.
Martinez also said she updated her property records Thursday, and on Monday, her Sweeney Avenue address was listed as her contact address instead of the Sunair one. Both of her properties were listed Monday as subject to the 8 percent property tax cap, which is placed on properties that have not been declared a primary residence.
She said that is an oversight that she has corrected, and Clark County spokesman Dan Kulin said it's actually a common one. Because property values have fallen so steeply, people don't feel the effects of a higher cap: "You can't really tell anything from that information."
Though the Supreme Court case is considered to be on a "fast track," it's still ongoing with early voting's start less than a month away. That brings up strange hypotheticals, such as, what if she wins the race but her residency is still challenged in court?
"It's conceivable, but I think unlikely," Coffin said. "I think they were trying to bet that she wouldn't get through the primary and they wouldn't have to rule."
At this point, if Martinez is disqualified, only Coffin would be eligible on the ballot. Evans' supporters started a Facebook effort to see whether Evans could be reinstated in the runoff should that happen, but he called them off.
"While I appreciate the support, I'm moving on," he wrote to supporters. "I'm trying to determine if, and who, I should support … our 788 votes may be relevant in deciding a winner."
Early voting for city elections starts May 21, and the general election is June 7.
Contact reporter Alan Choate at achoate@reviewjournal.com or 702-229-6435.
WARD 3 FORUM
A forum for the Ward 3 Las Vegas City Council race will be held at 6:30 p.m. May 10 by the Mesquite Club, 702 St. Louis Ave.