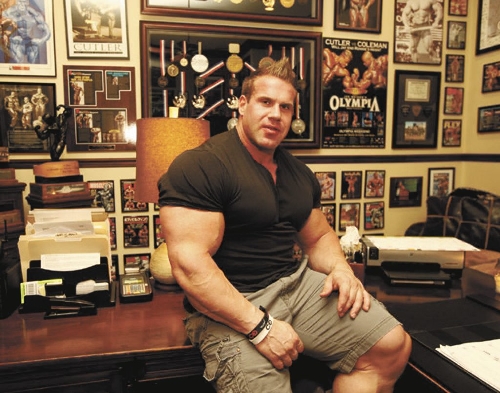 Jay Cutler sits at his throne, a colossal dark wood desk.
It would make most men seem minuscule, but Cutler — leaning forward on his elbows, hands clasped together to support his chin — isn't most men. His biceps are double most men's thighs, and his thighs the size of most torsos. He's 270 pounds, but his waist remains 34 inches.
Magazine covers plaster the walls of his home office from floor to ceiling all the way around, some in foreign languages like Arabic and Japanese. They chronicle the 35-year-old's climb to power — the world's reigning bodybuilding champion. No bare spots remain, except one just below the ceiling — an empty black case. It's for his fifth Mr. Olympia gold, the Super Bowl ring of bodybuilding, which he is favored to win at The Orleans next week , along with a $200,000 purse.
Despite being the best and all his endorsements, Cutler is still — to a great extent — alone ruling over this intimate empire attracting few followers, usually just fellow bodybuilders. He trains alone and eats chicken breasts that his wife prepares. He's always eating, always training, weight lifting under the same regimen as 20 years ago when he was nobody.
Unlike many sports, the life of a bodybuilder does not become easier or much more lavish the higher one rises. The rigorous, life-consuming routine remains the same.
"I make no plans in my day. It's a very selfish business," Cutler says.
Bodybuilders sacrifice all else — careers, family and friends — because there's no room for temptation. It doesn't fit the schedule.
"I eat, sleep and train," Cutler says while leaning over a plate of chicken breasts at his desk. He feasts every 2½ hours, even throughout the night. "I eat around the clock but am only hungry for three meals a day. You got to feed the machine."
He spends much more time lifting a fork than iron plates, doing two hours of weight training a day and an hour of cardio but consuming between 4,000 and 7,000 calories.
"It's a fringe sport, a cult sport. Misunderstood," Cutler says. "They think we work out eight hours a day, and they have that theory, 'If I took steroids, I'd look like him.' "
That couldn't be more wrong, he says.
For that reason, though, it's also a sport standing on the precipice. Change is imminent as event organizers start playing to the masses, lifting the limelight off the Hulk physiques in favor of the slimmer Spiderman look.
THE PRICE OF BUILDING A BODY
Most of Las Vegas' bodybuilders, amateur or pro including Cutler, train at the same places — the utilitarian Gold's Gyms at Lake Mead Boulevard and Buffalo Drive or Flamingo Road. They commit every waking and sleeping hour to the same thing: their bodies. Daily routines differ only slightly from Cutler to the amateur female bodybuilder.
But, like the weights they lift, the odds are stacked against them.
"We're all broke except Jay," said 44-year-old figure competitor Kelly Decolati, a friend of Cutler's.
Most bodybuilders in town know "Jay" and receive pointers from the pro, which is a difference between this sport and most. There's no separation between up-and-comers and their idols. "Whether an amateur, pro, or Mr. O, it's a life commitment."
But when amateurs like Decolati win a show, there's no pay day. Just a plastic trophy and a spot at nationals. If they win there, they'll be one of only a handful in the country that year to receive their pro card and then have a chance to win money.
But the sport doesn't favor the young. First of all, men must be genetically gifted with easy muscle growth. Even then, most don't turn pro until 30, if at all, making second jobs a must. Many are also personal trainers.
Going pro takes so long because muscle isn't packed on overnight, said Ron Stevens, a 42-year-old bodybuilder who has been an unpaid amateur for 15 years competing at the national level.
Plus, muscle is more easily retained as people reach their 30s and metabolism slows, said the 275-pounder who ran track and played football for San Diego State University. He turned to bodybuilding after college to satisfy his lifelong appetite for a competitive sport.
NOT AS SIMPLE AS STEROIDS
"Eating is the most important thing," said Stevens, who has to bring his meals everywhere he goes. "That's the thing that shocks everybody."
No matter the bodybuilder — amateur or pro, male or female — the food remains the same and the key ingredient. Chicken breasts, vegetables and complex carbohydrates like rice or granola. Proportions change per person like a working science experiment.
The closer the show, the fewer the carbs and the less they can stray. At 2 percent body fat for the stage, just a mouthful of the wrong food can blow the ripped, vascular look needed to win. Unlike most sports where one bad game is quickly replaced by the next in a week, bodybuilders intensely diet for 12 weeks, for just 30 seconds on stage.
Stevens spends $200 on groceries every three days. Then, add in the usual supplements like protein powders, amino acids, testosterone boosters, diuretics and creatine.
"I've never totaled it up, thank God," said bodybuilder Phil Tedesco, whose wife is a bikini competitor at bodybuilder shows.
The women — from bodybuilders to the less muscular but toned figure contestants — also return to their local supermarket every couple days.
It takes a commitment, a compulsiveness most people don't have, Decolati said.
"It's a totally different mindset from normal people. I say normal people, because we're a little abnormal."
Whereas others put money into a boat or other toys, Stevens pours any extra money into his body.
"People have different hobbies," he said.
But Stevens realizes bodybuilders' physiques aren't attractive to most. They're freaky.
"Most people don't like this look, especially not girls," Stevens said. "Guys look at me more than girls. The 'Men's Health' look is what girls like. Less muscle."
After 15 years in the business, he has realized the look comes with criticism more than praise.
"At the movies, people will come up to me and ask if I take steroids," he said. "It's kind of intrusive. I wouldn't ask them if they do coke or smoke weed."
But the truth is, steroids are "commonplace" at the higher levels of bodybuilding, he said. It's accepted. Competitors aren't tested.
"You can't compete without it," he said.
But he tells young bodybuilders to be cautious.
"Train for a couple years," he tells them. "Do a few shows. See how you do with no supplements."
Then, he advises a question to be asked of themselves.
"After a few shows, I had to make that decision," he said. "Do I want to be a bodybuilder?"
If the answer to that question is yes, the answer's the same to steroids, he said.
SCENE IS SHIFTING
Word is quickly spreading that the International Federation of Bodybuilding is entirely cutting women's bodybuilding by 2012, forcing those like Jeannie Paporone into retirement.
"I'm very sad," said the bodybuilder of 20 years. "The news took a toll on me."
It's already beginning. Shows that the 43-year-old was to compete in have cut her division.
"They're not attracted to that look anymore," said Paporone, who stands 5 feet 4 and weighs 148 pounds with 5 percent body fat. She admitted that many fellow competitors are too muscular. "They go overboard."
Even male bodybuilder Stevens said the female bodybuilder look is "disgusting."
The Physique category will replace female bodybuilding, serving as a compromise between the bulging muscles and slimmer Figure competitors.
But Paporone isn't willing to lose 20 pounds of muscle to compete in Physique. She worked years to put it on. She placed ninth in Mrs. Olympia in 2008 but now won't ever have a shot at the title. Still, she trains the same — for herself.
For many women, there's no going back if they wanted. Testosterone has forever changed their bodies.
Even men's bodybuilding is enduring an evolution as more and more shows add the Physique category. These men wear board shorts instead of the bodybuilder's "banana hammock" and resemble slim magazine models – Brad Pitt instead of Arnold Schwarzenegger. Decolati calls it the GQ look.
"It's an achievable goal instead of those monstrous guys, like Jay," she said, acknowledging the mass appeal that promoters are trying to play on. "It's relatable, attainable."
Does this foreshadow an end to men's bodybuilding, the same as the now extinct bicep-boasting action movies of Arnold Schwarzenegger and Sylvester Stallone?
For now, Cutler is still king. He is making the most of his reign, spending the majority of the year traveling the planet for guest posings, and lending his name to any product he can.
"Look at what you see here in this room," says Cutler, pointing to a pile of boxes on his office floor to be mailed out. "Clothes, videos, books, shake cups. All things endorsed by Jay Cutler."
He and his wife run the mail-order business out of their house and on their own. Boxes full of Jay Cutler T-shirts cover half the garage floor. In the back sit a pair of four-wheelers. He bought them in 2005 but has never ridden either. His sponsors won't let him. His body is worth too much. He also bought a Ferrari F430 but sold it. Can't fit.
"People could survive off my mail order," he says.
In fact, most of his bodybuilder friends live off less, like Tedesco tending bar at the Hard Rock Casino and Nikki Beach in the Tropicana with a child on the way. Multiple jobs isn't unusual. Bodybuilding is a career itself, taking all the time but without a paycheck. That's how it was for Cutler starting out.
"I worked two jobs, had a crappy car, spent every dollar I had on bodybuilding," says Cutler, who looked to his idols for inspiration.
Just the same, Tedesco is looking at Cutler a few bench presses down the aisle at Gold's. He can't be king forever.
But will there still be a king to overthrow when Tedesco is ready?
Contact reporter Trevon Milliard at
tmilliard@reviewjournal.com or 702-383-0279.