Budget-cut proposals fail to materialize
November 20, 2008 - 10:00 pm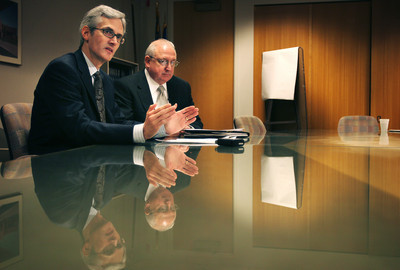 Clark County officials have refused to provide child welfare budget-cutting proposals to the state, calling the request from the governor's budget office "short-sighted" and "outrageous."
By refusing the request, county officials hope to send a message to Gov. Jim Gibbons that the county's child welfare system can ill afford any budget cuts, especially now as it emerges from years of dysfunction that jeopardized the safety of local children.
"The state of Nevada, as it looks over its budget, shouldn't tell the world that its children are expendable," Clark County Commission Chairman Rory Reid said at a Wednesday press conference.
The request for possible cuts came Friday via an e-mail from Diane Comeaux, administrator for the state Division of Child and Family Services. Saying child welfare and juvenile services "will not continue to be exempt from cuts," Comeaux asked Tom Morton, director of the county's Department of Family Services, to prepare budget-cutting proposals of 4 percent, 7 percent and 11 percent for the current budget, which runs through June.
The e-mail also warned of cuts of 24 percent and 34 percent for 2009-11.
The request surprised county officials because Gibbons had pledged to spare child welfare programs during the first wave of budget cuts, Reid said.
"When we recovered from the shock, we quickly concluded that this request was simply outrageous," Reid said.
The state pays about $55.5 million, or 57 percent, of Clark County's $97.1 million child welfare budget. The county pays for "front-end" services, such as child protection case workers, and the state pays for "back-end" services, such as adoption and foster care.
Because various laws prevent the county from cutting foster-care payments or adoption subsidies, any cuts in state funding would mean slashing "back-end" employees, such as foster-care case workers and support staff, county officials said.
An 11 percent cut would mean 187 full-time workers being laid off. That would more than double case loads to 68 children per worker, according to county figures. A 4 percent cut would mean 78 layoffs and case loads of 33 children per worker.
"It would be an illusion of child protection and not a reality," Morton said.
State lawmakers and county officials have pumped "substantial resources" into the county's child welfare system in recent years to fix widespread problems that put children at risk. Under Morton's Safe Futures program, the county added about 120 positions to reduce case loads, one of the main problems. The 2007 state Legislature added another 85, the last of which were filled last week.
The extra employees put the case load ratio at 23 children per worker, down from about 39 per worker when in 2006, Morton said.
The department has made strides in the past two years, and cutting employees now would undo that progress and put more children at risk, especially when more children are likely headed to the system as the economy worsens, officials said.
Cutting the child welfare services could also jeopardize mediation in a pending federal lawsuit by the National Center for Youth Law, which is suing the county and state to overhaul the child welfare system. Going backwards could also lead to fines for failing to meet federal standards. Those penalties could potentially eclipse any short-term savings from budget cuts, officials said.
"We will not make budget reductions to child welfare services," said Reid, who sent a letter to Gibbons Wednesday outlining his objections. "We recognize that these children are the most vulnerable in our community."
A spokesman for the governor said Gibbons remains committed to child welfare.
The budget-cutting proposals were intended only for demonstrational purposes when the governor meets with legislators for budget talks, Ben Kieckhefer said.
"If we decide we're going down that route, we need to be clear what we're talking about," he said. "That doesn't mean there are going to be cuts."
Donna Coleman, a longtime critic of the county's child welfare system, said it is still rife with under-trained caseworkers and other problems that put children at risk.
"If you cut, it's only going to get worse," she said.
Contact reporter Brian Haynes at bhaynes@reviewjournal.com or 702-383-0281.