Candidates count on surrogates to get out the vote
October 18, 2010 - 11:15 pm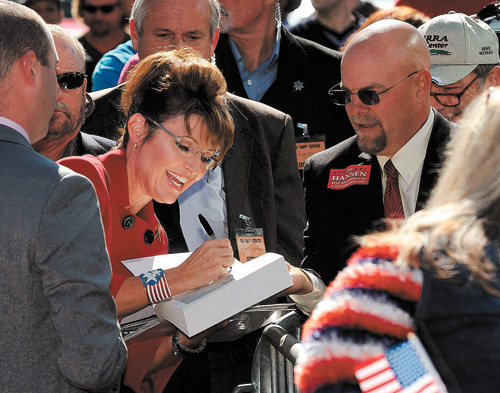 Swooping into Nevada, Sarah Palin on Monday kicked off the last pre-election Tea Party Express bus tour across the country and urged voters to replace U.S. Sen. Harry Reid with Sharron Angle, the GOP challenger in a dead heat with the Senate majority leader.
"Don't be thinking we have victory for America in the bag yet," Palin said at a rally of up to 1,000 people in Reno as Nevadans continued early voting. "We can't let up. We can't get cocky about this."
Both Angle and Reid are counting on big-name surrogates this week to help them get out the vote by firing up Republicans and Democrats because turnout will win the race. Early voting began Saturday across Nevada and ends on Oct. 29, four days before Election Day.
Palin, Arizona Sheriff Joe Arpaio and former House Speaker Newt Gingrich are each headlining separate events for Angle, who plans to appear with Gingrich in Las Vegas on Thursday.
Reid is bringing in the big Democratic guns. Vice President Joe Biden will hold a rally with him Wednesday at the University of Nevada, Reno. On Friday, President Barack Obama will visit Las Vegas for the third time this year for Reid to hold an outdoor event at Orr Middle School Park.
Surrogates such as Palin, Gingrich and Obama can be politically divisive, but they help candidates energize voters.
"Even though Obama's approval rating might not be very high and Gingrich and Palin may be controversial figures, for the very few people you might alienate in the middle, you're drumming up your base," said Ken Fernandez, a political science professor at the University of Nevada, Las Vegas. "Turnout of your base is more critical than maybe trying to woo the small percentage of undecided voters."
Ryan Erwin, a GOP operative, said the use of surrogates can cut both ways, but in the end, the goal is to get more voters interested in the election during a non-presidential year.
"Whoever gets their side more excited, especially in the Senate race, may mean the difference between winning and losing," Erwin said. "And this may be a margin of error race."
Reid played down Palin's visit, saying she did not draw much of a crowd.
He said he hoped people would take the advice of Palin, who urged voters to use common sense.
"I agree with Sarah Palin for once in my life," said Reid, talking with reporters at his campaign headquarters in Las Vegas. "I hope that they use their common sense."
Reid also minimized the significance of appearances by other GOP speakers.
"I wouldn't compare the president of the United States and the vice president of the United States with Newt Gingrich," Reid said.
Reid criticized Angle for saying Social Security and Medicare should be "phased out," although she has softened her rhetoric since the GOP primary and now argues that people should be allowed the option of opening personalized retirement accounts. Reid accused her of trying to "weasel out" of her position.
The Angle campaign said Obama's visit will not be enough to save Reid's political career.
"Harry is behind, and he needs all the help he can get, but it's not going to help him at this point," said Jarrod Agen, spokesman for Angle. "Nevada has the worst unemployment in the nation. Bringing in the administration that caused this mess is going to hurt Harry more than it helps."
In Reno, Palin, the 2008 GOP vice presidential nominee, also told cheering Tea Party Express supporters that Reid should be defeated by Angle because of Nevada's dismal economy.
"You have 14.4 percent unemployment, highest in the nation," said Palin as the Tea Party Express began a 15-day tour to support conservative candidates. "Why in the world won't you fire him?"
Angle did not appear at the event because federal law prevents her from coordinating with the Tea Party Express. The group endorsed Angle and has spent more than $1 million to oppose Reid.
Palin did call Angle to "wish her luck," according to the Republican's campaign.
Palin put in the call after her 25-minute speech, but the crowd of mostly senior citizens was not able to hear the conversation. Palin, who has become a GOP cheerleader backing Tea Party candidates, signed books, hats and T-shirts, petted dogs and held babies as her supporters beamed.
The scene might be different today in Las Vegas when the Tea Party Express rolls into Stoney's Rockin' Country bar for a 6 p.m. rally with Arpaio.
The last time the tough-on-crime sheriff visited the joint, he was met by about 200 protesters who did not like a new Arizona law that gives police more authority to check for illegal immigrants.
Angle backs the law, and Reid backs a federal government lawsuit to stop it.
The Tea Party rally in Reno was held outside Washoe County Republican Party headquarters.
Rep. Dean Heller, R-Nev., was the only major Nevada politician to attend but did not speak.
Palin said Angle is her choice for Reid's Senate seat. And she identified more than a dozen other conservative candidates for U.S. Senate and governor seats that she and the Tea Party support. But she did not mention either Republican gubernatorial candidate Brian Sandoval or Joe Heck, the Republican 3rd Congressional District candidate, in the list of contenders she backs.
Amy Kremer, chair of the Tea Party Express, said several times during the two-hour event that the movement backs conservatives, not necessarily Republicans.
"Our objective is not to send Republicans to Washington," Kremer said. "Our objective is to send conservatives to Washington."
Taking the stage 90 minutes into the show, Palin told the audience members they were like the patriots of old who dumped tea in Boston Harbor in 1773. She cracked jokes about the funny signs she has seen and urged them repeatedly to get out and vote and encourage others to vote on Nov. 2.
She praised those gathered for not backing down in the face of what she called the liberal media. She said the news media have been dismissive of the Tea Party movement .
"You didn't retreat," she said. "You came out stronger. You reloaded and turned this country around."
To cheers, Palin said America has turned toward socialism under "Obama-omics," mentioning deficit spending, the new health care law and stimulus spending as examples.
"Russia called," joked Palin, parodying statements from her 2008 campaign for vice president. "They want their socialism back. Speaking of Russia. I can see November from my house."
She also said she "can see 2012" from her home, suggesting she could be talking about her own political future as well as that of the conservative Tea Party movement.
After Palin spoke, several in the crowd said they want to see her run for president in 2012.
"She is hitting it right on the nail," said Bernie Juran, a Reno resident. "I used to be a Democrat, but I voted for her and (John) McCain. "It is about time we got a woman in there."
Reno resident Audrey Davidson wore a Reagan for President T-shirt and said she was tired of politics as usual and wanted to see Palin run for president.
But her husband, Jeff, said he has grown cynical about politics.
"It is never voting for the best candidate anymore," he said. "It is voting for the better candidate."
Contact Capital Bureau Chief Ed Vogel at evogel@reviewjournal.com or 775-687-3901. Contact Laura Myers at lmyers@reviewjournal.com or 702-387-2919.
Sarah Palin visits Reno
RALLYING THE VOTE
At 6 p.m., today, Arizona Sheriff Joe Arpaio joins the Tea Party Express for a public rally at Stoney's Rockin' Country, 9151 Las Vegas Blvd. South.
At 7 p.m. Thursday, Former Republican House Speaker Newt Gingrich will rally with U.S. Senate candidate Sharron Angle and radio host Mike Gallagher at the J.W. Marriott, 221 N. Rampart Blvd. Visit AmericanSolution.com for free tickets.
At 4:30 p.m. Friday, President Barack Obama holds a rally with U.S. Sen. Harry Reid at Orr Middle School Park, 1562 E. Katie Ave. The event is free and open to the public. Tickets are not required, but an RSVP is encouraged. RSVP at:
my.barackobama.com/ page/content/MAF- LasVegas-RSVP/