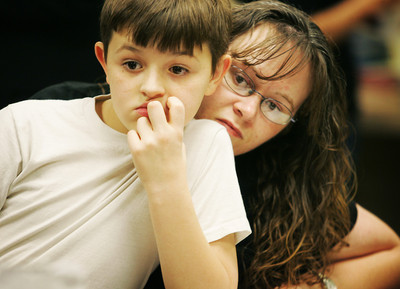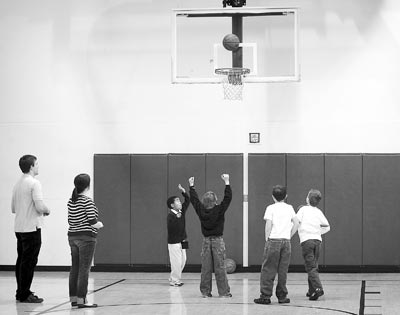 Edward O'Connell walked outside his Las Vegas home and began to play with some boys in his neighborhood.
It might sound like your typical after-school or Saturday morning neighborhood activity.
It's not.
Edward, 9, has autism. And until that particular day, he had shown no desire to play with other kids. It's a task just to get him to show interest in his own family, said his mother, Sue O'Connell.
But through a new social skills training group offered at Touro University's Center for Autism and Developmental Disabilities, Edward and other children with autism spectrum disorders are starting to reach out.
"I just want him (Edward) to be as normal as possible," O'Connell said one Wednesday night following a social group session at Touro. "I want him to know the rules, that there are other people in the room. I want him to look people in the eye. I want him to understand that people have feelings. I want him to have friends."
O'Connell believes Touro's social skills group, known as Children's Friendship Training, has provided him help that no other autism program has yet to match.
The training, modeled after a program at the University of California, Los Angeles, is a 12-week program designed to provide children with tools to help them communicate.
Those tools include teaching children how to interact with others by having back and forth conversations. The group also aims to teach children how to be good sports and offer praise to others.
What's unique about the group is that parents are involved.
As their children are in one room, parents take part in their own social skills class where they learn how to assist their children in acquiring the social skills they lack.
"If you think about the general way society is structured, language and communication is what drives us. We have to be able to communicate, and yet social skills are never really ever taught," said Nicole Cavenaugh, director of clinical neuropsychology at Touro's Center for Autism and Developmental Disabilities.
"It's not like you take a class to learn appropriate social interaction. But one of the core features of children with an autism spectrum disorder is that they have major deficiencies in the area of social communication. Right away, the deck is stacked against them."
Autism spectrum disorders are developmental disorders that cause substantial impairments in social interaction and communications. Many children don't respond to their names.
Children who are autistic typically begin showing signs by age 3. They often lose their ability to make sounds and walk, and their social skills disappear. Some exhibit more severe symptoms than others.
In some situations, children with autism don't know how to determine if someone is happy or upset.
"We can show a child with an autism spectrum disorder a photo of someone who is smiling and ask them to tell us what that person is feeling, and they can't. They're just not in tune with other people," Cavenaugh said. "They lack interpreting skills."
Lawmakers are pushing health insurance providers to cover autism treatment and therapies, something they haven't always done.
Nevada legislators are considering Assembly Bill 162, which would require insurance companies licensed in the state to cover autism treatment. The bill is being presented to the Assembly today at 1:30 p.m.
At 1 p.m., members of the Autism Coalition of Nevada, family members and advocates have scheduled a news conference at the Sawyer Building, where the meeting is being videoconferenced.
Nevada lawmakers and advocates are pushing for more state funding toward autism, which already has been cut in the state's current budget proposal.
Autism therapy can require 30 to 40 hours of intervention weekly, and can cost families tens of thousands of dollars per year. Touro's program costs $75 per session.
The program doesn't accept health insurance but is in the process of becoming credentialed to do so, officials said.
During a recent legislative hearing, Jan Candy of the Autism Coalition of Nevada said the state is serving fewer than 6 percent of children with autism.
There is no known cause of autism nor is there a cure. As of 2005, the state's Health Division estimated Nevada has about 4,000 autistic children.
Cavenaugh, who also recently met with lawmakers to discuss autism, said there's a lot of interest in Carson City.
Because the children's training program has already proven successful at UCLA, where Cavenaugh trained, she believes it will be a success in Nevada. UCLA operates one of eight National Institute of Health Centers of Excellence in autism research.
The social group meets weekly and addresses common problems associated with children who have behavioral disorders.
Weekly group sessions involve role-playing, discussions or home assignments. A lot of emphasis is placed on home assignments.
One home assignment involved the children calling another child in the group, or a friend or relative, by telephone. The following week the children were asked to share their telephone conversations, which most were able to do successfully.
In another home assignment, called "slipping in," parents were asked to take their children to a location where other children play and drop them off. The objective was to encourage their children to join play groups and make new friends.
Exercises like that have proven successful for some of the kids in Touro's program, Cavenaugh said.
She said some are now having conversations with their parents without abruptly ending them. In other situations, like Edward's, the children are making friends.
"Literally every week we're seeing progress. Edward is probably one of our biggest success stories," Cavenaugh said.
"The first two weeks I didn't know if he was going to make it. He's become one of the group's stars. But all of them are doing so well."
Contact reporter Annette Wells at awells @reviewjournal.com or 702-383-0283.
For more information about the Children's Friendship Training 12-week social group call 702-777-4808.
The program's cost is $75, and it is for children ages 6 to 12 who've been diagnosed with high-functioning autism, Asperger's disorder, attention deficit hyperactivity disorder or fetal alcohol exposure. Space is available on a first-come, first-served basis.