Clark County Commission challengers will need some oomph to beat three incumbents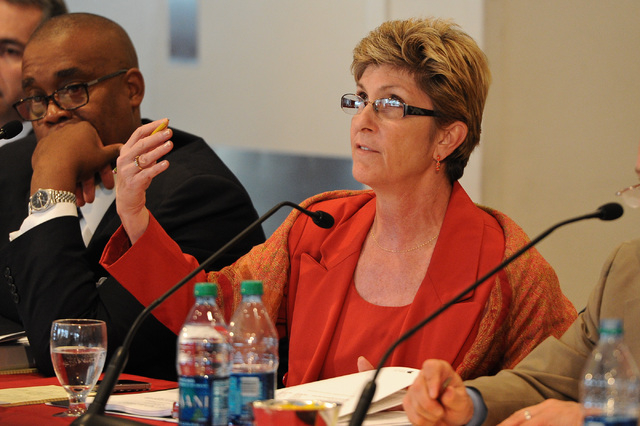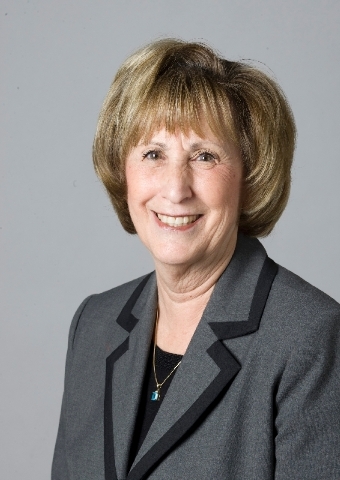 Those angling to become new Clark County commissioners will have to raise campaign war chests and their profiles in an election that includes three incumbents.
Commissioners Susan Brager, Chris Giunchigliani and Mary Beth Scow plan to run for re-election. Two Republican candidates so far have signaled their intentions to run for commission seats, which have four-year terms. All the incumbents are Democrats.
The filing period for candidates begins Monday and ends March 14, after which the full landscape for the commission races will emerge. Primaries are June 10 for any seat that attracts candidates from the same political party. The general election is Nov. 4.
It's a race poised to be dominated by talk of taxes and spending at a time when government agencies are no longer making sweeping, recession-triggered cuts. In the past year, commissioners have voted to raise the fuel tax for road projects. They also have considered and failed to pass a sales tax increase to pay for police officers.
For Republicans, it's been 10 years since a GOP candidate beat a Democrat running for commissioner. That last happened in the 2004 election, when Chip Maxfield and Lynette Boggs won. Republican Bruce Woodbury won a third term that year, with no Democratic opponent.
The last Republican to win one of the three seats up for election this year was Mark James, who was elected in 2002 to District F, the seat Brager now holds.
Randy Rose, a real estate agent, is running on the Republican ticket for the District E seat, which Giunchigliani represents. Mitchell Tracy, an insurance field claims adjuster, is running for the seat in District F, which Brager occupies.
It's Rose's first run for office.
For Tracy, it's a rematch of the 2010 election, which he lost to Brager. In that three-way race, Brager won with 56 percent of the vote, while Tracy garnered 38 percent. A third-party candidate, Jeff "Sarge" Durbin, picked up the remaining 6 percent.
Tracy said he'll need to raise plenty of cash to get out the word about his run.
"I've got to get out there and show people there's a difference between us," he said.
Instead of raising the sales tax to pay for police officers, as commissioners have considered and rejected, Tracy said a simpler solution would be increasing the room tax.
Brager helped defeat the More Cops sales tax proposal, voting against the full 0.15 percentage point increase for officers in favor of a scaled-down increase of half that rate, with Metropolitan Police Department reserves helping with the shortfall. Commission supporters haven't found enough votes to pass a scaled-down increase.
Tracy casts himself as a candidate who favors small, limited government, lower taxes and water rates, and isn't concerned with projects such as parks.
His fundraising goals are modest: $30,000 to $50,000, he says, would make a difference and give him a chance.
Rose said he doesn't support raising the sales tax in Clark County. His opponent shares the same belief and has voted against all versions of the More Cops sales tax proposal that have come before the commission.
Rose promises to offer plenty of scrutiny if elected. "Before every vote, I'll ask: 'How does this benefit the people of Clark County?' " he said.
If the question cannot be answered, he said, he'll reject it.
Though running in a county race, Rose said he would use his commission seat to educate the public and drum up support for the proposed Fair Tax Act. The federal bill would simplify the tax code.
Brager, first elected to the commission in 2006, is seeking a third term. She's also worked as a real estate agent and sat on the Clark County School Board.
Brager said she wants to continue to help the region grow, including road improvements and traffic safety projects.
"We want to be sure we do growth in a well-thought-out manner," she said.
She also said she's working with the Regional Transportation Commission on ensuring that bus stops are in safe locations, with further setbacks from streets.
She's already amassed donations for a well-funded campaign, an effort that started last year. She has raised about $480,000 so far. With about $100,000 already in her campaign account, she's starting out with nearly $600,000, Brager said.
"People were fantastically generous," Brager said.
Giunchigliani said she wants to continue working on potential transportation improvements in her district, most notably along Maryland Parkway. Possibilities there include light rail or bus lines.
She is running for her third term. Previously, she had a career as a special education teacher in the Clark County School District and was a state legislator from 1990 to 2006.
She pointed to her work during her current term to get the public arts ordinance passed in 2012. That fund was set up with existing room tax revenues to fund public arts projects, such as painting utility boxes.
Scow, who is running for a second term, also completed three terms on the Clark County School Board.
Scow said her approach is to do outreach to individual neighborhoods.
In her district, she pointed to plans for a new Siegfried and Roy Park near McCarran International Airport. Commissioners recently approved spending $4.57 million for the $7 million park; the rest of the funding comes from the airport enterprise fund.
She said it's important to stay on top of the medical marijuana issue and make sure the county goes in a direction in which the community is comfortable.
"I've really worked hard to go into neighborhoods," she said.
Candidates can file from 8 a.m. to 5 p.m. Monday through Friday in the Pueblo Room at the Clark County Government Center, 500 S. Grand Central Parkway. The filing fee is $100.
For more information, call the registrar of voters at 702-455-2784.
Contact reporter Ben Botkin at bbotkin@ reviewjournal.com or 702-405-9781. Follow him on Twitter @BenBotkin1.