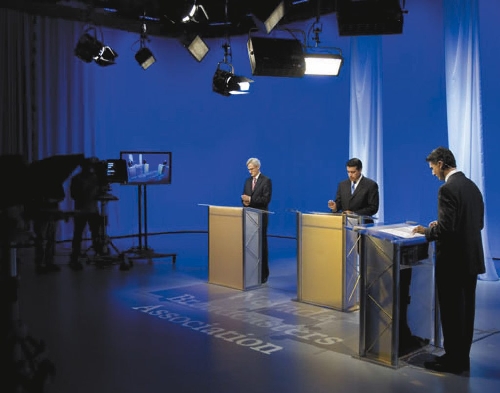 Republican Brian Sandoval and Democrat Rory Reid exchanged barbs and traded quips Thursday night in a gubernatorial debate that appeared to do little to change the dynamic in a race led by the GOP candidate.
Reid, chairman of the Clark County Commission, continued to stake his claim as the candidate of substance with "plans that are the size of a small novel." He's ready to lead Nevada out of its economic malaise, he said.
Sandoval, a former federal judge and attorney general, accused Reid of wanting to raise taxes and making plans that include state revenue that budget experts say is unlikely to materialize.
Neither candidate seemed to emerge as a clear winner, according to political observers who watched the debate broadcast throughout the state. By default, that might favor Sandoval who leads Reid in various polls by anywhere from 6 to more than 20 percentage points with less than a month before Election Day.
Unlike the candidates' first debate on Aug. 29, Sandoval did more than play defense against an aggressive Reid. He took shots at the Democrat throughout the night.
"You would be laughed out of the Legislature if you presented a budget with $615 million in fantasy money," said Sandoval, a reference to a Reid proposal to balance the budget that relies on revenue beyond what budget forecasters predict will be available.
Reid responded by repeatedly reminding viewers that Sandoval still hasn't delivered on his campaign promise to present his own specific proposal to balance a budget that could be $3 billion in the red for the 2011-13 biennium.
"What is a fantasy here is Brian's budget," Reid said.
Reid also compared Sandoval to unpopular Republican incumbent Gov. Jim Gibbons whose policies have been criticized as being nothing more than a mantra of no new taxes.
The Democrat described Sandoval as "Jim Gibbons in a more expensive suit."
While Reid sought to tie Sandoval to Gibbons, he didn't distinguish himself from either Republican on the issue of taxes.
Both candidates said they won't raise taxes, with Reid seeming to rely on rosy revenue projections and Sandoval suggesting he would somehow manage to create a general fund that sticks to spending of no more than about $5.2 billion.
Debate moderator Mitch Fox ran through several possible ways the state could raise revenue and directed each candidate to give a yes or no answer.
A sales tax on services? "No," each candidate responded. An increase in the mining tax? Two more "no" answers. A cigarette or alcohol tax? "No" from both. Fuel tax? "No," and "No," again. The response was the same on room taxes.
The only point in the exchange where the two candidates differed was on the creation of a state lottery. Sandoval said no to a state lottery, but Reid said he would consider it to fund education, quickly adding that it would require a change to the state constitution.
After the debate Reid was asked about his response to the tax questions in light of a previous statement he had made. If the Legislature presented a budget with increased taxes, he might sign it, he said earlier in the campaign.
"I will sign my budget. I believe in it," Reid said, forcefully emphasizing his words. "I'm going to stand up in front of Nevada with a specific plan and advocate for its passage. And then I will sign it. Period."
On immigration, Sandoval said he supports a controversial new Arizona immigration law but doesn't believe it's needed in Nevada.
If an Arizona-style law were proposed here, Sandoval said he would talk to law enforcement officials and other stakeholders to determine whether such a law would work for Nevada.
Reid said comprehensive immigration reform should be handled at the federal level and that "immigration law needs to be tough but fair."
The two candidates also sparred about higher education funding.
"Brian wants to cut higher ed by 12 percent," Reid said.
Sandoval responded, "The very budget you presented calls for cuts in education."
Sandoval called for more autonomy for individual colleges in setting their own fees and tuition, a position Reid has also taken. In the debate, Reid went into more specifics and added he thinks state universities should be considered an opportunity to raise revenue through research and improving the work force.
Political observers who watched the debate said Reid seemed to have more specifics and substance while Sandoval didn't appear to say or do anything that would turn voters away.
"I think Brian did a really good job in saying nothing," said Ronni Council, a Democratic strategist. "I think Rory did prove at the beginning he has a better agenda for where our state needs to go."
Robert Uithoven, a Republican strategist, said Sandoval avoided mistakes and raised doubts about whether Reid's budget ideas are realistic.
"I thought Brian Sandoval was more of the aggressor tonight," Uithoven said. "The clock is running down and Rory Reid needs help."
Fred Lokken, a political science professor at Truckee Meadows Community College in Reno, said Reid seemed to pack more substance into his remarks. But he also said Reid never seemed to knock Sandoval off his stride.
"He came across as a confident and competent candidate" Lokken said of Sandoval. "He didn't get goaded by Rory Reid into pontificating on any plans or making new promises."
Lokken added, "He seems to have emerged as our Teflon candidate in Nevada."
The event was the second of four scheduled debates. The last two will take place in Reno and Elko in the final week of October.
Thursday's debate was sponsored by the Nevada Broadcasters Association and held at the studio of Vegas PBS.
Review-Journal writer Lynnette Curtis contributed to this report. Contact reporter Benjamin Spillman at bspillman@reviewjournal.com or 702-477-3861.
Nevada Gubernatorial Debate – Oct. 7, 2010