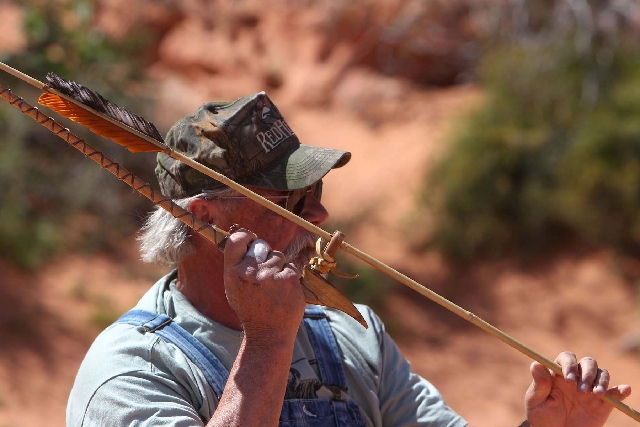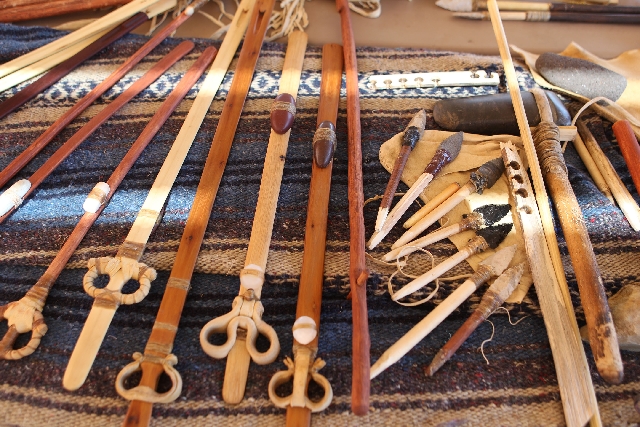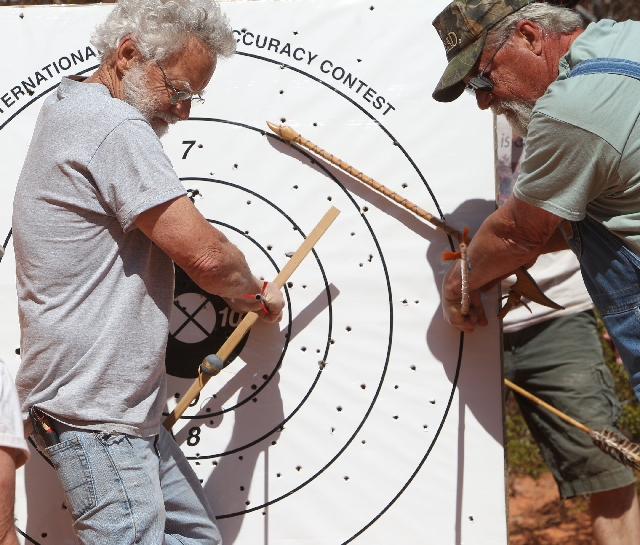 VALLEY OF FIRE STATE PARK
Brent Davis stood like an Ice Age hunter with his arm cocked and holding a flat, notched stick above his shoulder.
The schoolteacher from Gypsum, Colo., paused for a moment before he took aim at a fake deer target. Then, using the stick, he catapulted a 6-foot-long, spearlike dart through the sky at Valley of Fire State Park.
The dart's tail feathers held it on course for about 15 yards before it whisked over the deer target's back and stuck into the powdery, burnt-orange sand behind it.
It was a miss, but he was satisfied the dart had gone the distance.
"I kind of like the idea of what people used to do to survive," he said, smiling at his wife, Judy, who was standing at the base of Atlatl Rock, pronounced "aht-LAHT-'l." The towering landmark 50 miles northeast of Las Vegas is where Anasazi hunters etched images of these throwing sticks in the rock wall's black varnish more than 2,000 years ago.
"I have visions of grandeur of being a great hunter who can deliver a glancing blow," Davis quipped. "I said, 'Honey I've taken a mastadon down before with an atlatl.' I think she believed me."
In reality, Davis was new to the sport that for 22 years has drawn veteran dart hurlers from the World Atlatl Association to the park for their annual contest.
Some were competing in rounds Friday not far from where Davis and a dozen visitors participated in a demonstration.
The event continued with final rounds Saturday in which Carey McCormack was named grand champion. About 40 men, women and children took part in the contest.
The venue traditionally draws contestants from the United States and abroad.
"We've got the only Atlatl Rock in the whole world," said park Ranger Amber Heman, who ran Friday's demonstration. "There are other atlatl petroglyphs, but this rock is the only namesake for it."
Heman said hunters from the vanished Anasazi tribe etched the rock art about 2,000 years ago. The petroglyphs depict an atlatl with its basketmaker-style finger loops and a hunter preparing to throw a long dart at a bighorn sheep.
She said Atlatl Rock was either a popular place to camp before hunts or where bighorn sheep were plentiful.
"We don't know," she said, adding that the Anasazi hunters no doubt used atlatls because bows and arrows didn't arrive until about A.D. 500.
One of the top competitors, Ray Madden, of Joplin, Mo., got hooked on the sport as a youngster.
"I'm 76 years old and grew up at a time when you whittled wood to make your own toys," he said.
A self-taught atlatl maker, he learned the craft after seeing pictures in National Geographic books of Eskimos in Alaska and Aborigines in Australia using them and thought he would give it a try.
"My granddad had already gotten me into bows, so it was a natural progression," he said.
Hunting with atlatls is allowed in Missouri .
Madden has killed squirrels, rabbits and carp with them.
Derek Brockway, 64, a retired casino dealer from Las Vegas, said Nevada prohibits hunting with atlatls because "most people don't think they will kill game animals. The challenge is getting close enough to make accurate throws."
Chris Henry, a board member for the 1,500-member World Atlatl Association, makes 7-foot-long darts out of Tonkin or river cane from the bamboo family. They have hardwood foreshafts tipped with steel field points and wild turkey fletchings or feathers attached to the cupped end of the dart for stability.
"These will take down the largest game on Earth," Henry said. "I've taken deer, wild pig and mako shark by throwing from a boat with a special line attached. Sharks are primitive so when you hit them with a spear they twitch and keep swimming, but when you gaff them they explode. They go nuts," he said.
In target events, each competitor gets five throws at 15 meters and five throws at 20 meters to hit a white circle the size of a salad bowl surrounded by a black, bull's-eye ring as big as a dinner plate.
An X marks the center. A competitor scores 10 points each for a dart that pierces the black ring or hits inside of it. Ties are broken by how many fall in the X area.
Ancient hunters used atlatls in all corners of the world. Remains of wood and antler parts from a Cro-Magnon hunter's atlatl found in France date back 19,000 years.
Carved antler parts were used for seating the dart's cupped end, allowing the thrower to get a steady grip on the shaft positioned between the thumb and index finger.
Eskimo hunters killed whales and large animals with such throwing boards.
Aborigines have used them from 10,000 years ago and still hunt with them, but they are called "woomeras," according to a paper by University of Colorado anthropologist Marcia Tate.
Contact reporter Keith Rogers at
krogers@reviewjournal.com or 702-383-0308.