Cosmo celebration pulls out all stops
January 2, 2011 - 12:00 am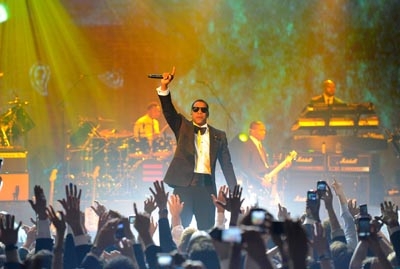 Wrapping a night of nights, Jay-Z stated the obvious when he told a New Year's Eve crowd "You will never get to see this again."
With Coldplay and Jay-Z each reportedly receiving $1 million for the night, they delivered and then some for the grand opening bash of The Cosmopolitan of Las Vegas.
Consider the bang-for-their-buck add-ons for the audience of 1,200: Kanye West, John Mayer, Beyoncé and Coldplay's Chris Martin.
Beyoncé and Jay-Z teamed up on "Young Forever" and she threw in an acoustic duet with Martin of her hit "Halo."
That after Coldplay had opened with a 12-song set. Jay-Z and friends added another two hours before closing with Jay-Z, West and Martin getting together.
STANFORD BOOSTER
Secretary of State Ross Miller was unabashedly showing his true colors Thursday when Stanford University ended the University of Connecticut women's basketball team's 90-game winning streak.
Miller, a 1999 Stanford grad, used to scrimmage with the Cardinal women's team.
That's not the only connection: "I coached Stanford guard Lindy LaRocque at basketball camp when she was 8 so I take full credit for the win vs. UConn; Go Stanford," he said in an e-mail.
LaRocque, who hit her first two three-pointers to help Stanford set the tone in the 71-59 win, joked on Facebook that she owed it all to Miller, a family friend. Miller spoke on her behalf at her freshman orientation at Stanford.
LaRocque finished with six points. She set numerous Nevada basketball records during her prep career at Durango High, where she was coached by her father, Al.
HERSHISER HITCHED
ESPN baseball analyst Orel Hershiser, MVP of the 1988 World Series, married Las Vegan Dana Deaver last Sunday at Red Rock Resort.
They met a couple of years ago in Dallas, where she was attending a convention as a literacy specialist for Clark County.
Members of their blended family participated in the wedding: Hershiser's sons Quinton and Jordan and Deaver's daughter Sloane and son Spencer. Jordan Hershiser is a pitcher at the University of Southern California and Spencer Deaver is a pitcher at Palo Verde High.
All the flowers from the wedding are being donated to the Nathan Adelson Hospice, where Dana Deaver's mother died a year ago shortly after Hershiser held her hand and promised her he was going to marry and take care of her daughter.
SIGHTINGS
Coldplay band members, Martin's wife, Gwyneth Paltrow, and kids, lunching on burgers and shakes at Holsteins (Cosmopolitan) on Saturday. … Boxing great "Sugar" Ray Leonard, accommodating about 50 fan requests from many countries for photos Saturday at the Va Bene coffee shops at The Cosmopolitan. Boxing interest "is far from dead," said Daren Libonati, former executive director of the Thomas & Mack Center, Sam Boyd Stadium and Cox Pavilion. Libonati was having coffee with Leonard. … Roy Horn, with friends at Milos (Cosmopolitan) on Saturday before heading to the Coldplay/Jay-Z concert. He told friends that Siegfried Fischbacher was vacationing in Mexico. … At Larry Ruvo's New Year's Eve party at his Tahoe ranch: U.S. Sen. John Ensign, R&R Partners' Billy Vassiliadis and Pete Ernaut and Secretary of State Miller, singing Frank Sinatra's "New York New York," with " Babyface" Edmonds serving as choreographer.
THE PUNCH LINE
"Instead of chanting 'We're No. 1,' players chant 'We're gonna cover.' " — From David Letterman's Top Ten Signs the Football Game You Are Watching is Fixed.
Norm Clarke can be reached at 702-383-0244 or norm@reviewjournal.com. Find additional sightings and more online at www.normclarke.com.
More Cosmo & New Year's photos