County seeks Hollywood deal in effort to settle Foxx's estate
February 19, 2010 - 12:00 am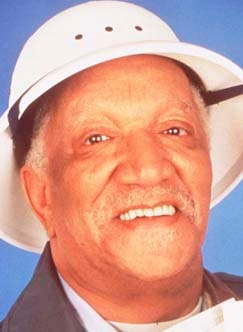 Here's an only-in-Vegas story courtesy of Redd Foxx and Clark County Public Administrator John J. Cahill.
More than 18 years after the comedian and actor died, Cahill announced Thursday that the rights to Foxx's life story would be marketed — with details handled through a probate court.
There have been wildly disparate offers — from $20,000 to $2 million — made for the rights in the past, Cahill said, but the negotiations never got beyond "lunches, meetings and talk."
Foxx lived in Las Vegas and was a showroom headliner here for years. He is buried in the city at Palm Memorial Gardens. Shortly before his death, the IRS foreclosed on his Eastern Avenue home, which is rumored to be haunted, Cahill said.
Whoever lands the rights to Foxx's rags to riches to rags again story will have plenty to work with. Though he is perhaps best remembered for his portrayal of Fred Sanford in the 1970s sitcom "Sanford and Son," Foxx worked the Chitlin' Circuit in the 1940s and '50s. The circuit was the name given to a series of venues considered safe for black performers in the racially segregated Southern and Eastern United States.
Born John Sanford in 1922 — his TV character was named in honor of a brother — Foxx was known in his early years as Chicago Red so he wouldn't be confused with his friend and fellow street hustler Detroit Red, who would go on to become civil rights activist Malcolm X.
While Foxx's Sanford character often clutched his chest to dramatize a fake heart attack while saying "this is the big one," he was felled by a real heart attack Oct. 11, 1991, while filming in Los Angeles.
Foxx died without a will, Cahill said, in debt and in trouble with the IRS. Comedian Eddie Murphy is reported to have paid for Foxx's lavish funeral.
Foxx still owes the IRS $3.5 million, but even if the rights sell for millions, it won't solve Clark County's economic problems. "If a movie producer pays $1 million to tell Redd's story, the county will get about $21,150," said Cahill.
"We have always been confident that the estate owns the rights" to Foxx's life story, he said. "But there have been questions and some confusion in the past. When buyers come to the table it's important that the rights are clear and available."
Cahill said the goal is to "settle Redd's estate, pay all taxes owed and get money for his heirs."
Foxx did not have biological children, but he adopted Debreca Foxx, the daughter of Betty Jean Harris, who was the second of Foxx's four wives. Debreca was once the administrator to the estate. Foxx was also married to Ka Ho Cho for the last three months of his life. She and Debreca are believed to be Foxx's sole heirs, Cahill said.
While it is common for public administrators in Nevada to hold estate auctions, they are usually announced in the local newspaper and are quiet affairs.
Rarely does someone as famous as Foxx die without a will — or so broke — so the services of someone like Cahill are not required. But the IRS lien was still on Foxx's estate in 2006, when a probate judge relieved Debreca Foxx of her duties for unspecified reasons. The court put the estate into the domain of the public administrator.
Cahill inherited the matter when he was elected in 2007. "We were going through things and this popped up," he said. "I noticed not much was going on and asked my staff why it was still open."
Not long afterward a potential buyer and an unidentified Hollywood actor met with Cahill and made a $20,000 offer. Soon afterward a "fast-talking guy" made a $2 million offer. Neither got off the ground, but a seed was planted.
"We had no idea how to sell movie rights," said Cahill, adding in his statement that he is hiring professionals to market the deal. "The deal will be put to auction in the courtroom. The terms, conditions, details and rights will be locked, but the final offer by a qualified bidder will determine who wins. If a deal favors the buyer rather than the estate it could get taken away at court by a higher bidder."
In other words, the rights to the life story of Foxx are being treated as real property. A probate hearing on the petition is tentatively scheduled for 9:30 a.m. April 2.
"Write a lot about this," Cahill said. "I want every producer in Hollywood to read about this."
Somewhere, Redd Foxx clutches his chest and smiles.