County seeks to get a handle on Strip's handbill trash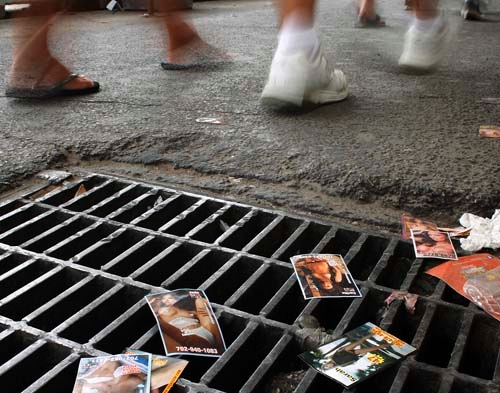 Photos of near-naked women are strewn about the Strip's sidewalks and storm drains.
Hands or colorful graphics barely cover their unmentionables, leaving little to the imagination.
Phone numbers on the cards promise a good time in an area that boasts topless joints and strip clubs.
Down the block, a man clad in a bright orange shirt that reads "Girls!" slaps the cards against his fingers, trying to hand them out to passers-by.
Most people walk by without making eye contact and wave him off. One tourist scolds him because women and children are present. Others take the literature and discard it – sometimes on the street.
The trash left behind is a real image killer, Clark County commissioners say. It's one of the biggest complaints from tourists.
That's why Clark County commissioners Tuesday will introduce an anti-littering ordinance that would force handbill distributors to clean up every 15 minutes the area within a 50-foot radius of where they're standing.
That includes the so-called "smut peddlers," as well as nightclub operators and time share marketers, among others.
It won't be a problem for Ken Horne, a time share marketing supervisor, who hands out show tickets to tourists near Planet Hollywood. There's no trash receptacle in that area, so Horne and his employees bring a small bag to pick up garbage.
"If I'm stopping customers, it looks more professional if I'm not standing in a pile of litter," Horne said. "We do our part to keep our area clean. This is where we earn our money."
When it comes to the sexually explicit cards, Horne said he takes care of it when he sees it.
"I pick it up," Horne said. "I don't want children to see that stuff."
Ariel Pacheco, who works for Horne, said being forced to clean the area around him could prove challenging for business.
"While I'm picking up trash, I could lose customers," Pacheco said. "It's not my fault. I gave it to them, they took it, and it's out of my hands. It's their responsibility. It would annoy me to pick up other people's trash."
The proposed ordinance contends that requiring handbillers to pick up their areas when leaflets are discarded in their presence "does not significantly impact the distributor's ability to exercise First Amendment freedoms and provides a needed service to the community."
The proposal appears to address an issue commissioners have grappled with since unleashing a barrage of new laws aimed at improving the Strip experience for tourists: Are handbill distributors responsible for littering if the person they hand literature to tosses it on the sidewalk, or are those who accept the leaflets responsible for throwing them away in a trash can?
The answer, according to the ordinance, is: Both are responsible.
But Allen Lichtenstein, general counsel for the American Civil Liberties Union of Nevada, said the proposal "makes no sense and is unenforceable."
"It's trying to penalize one person for somebody else's actions," Lichtenstein said. "If I buy a hamburger at Mc­Donald's, walk out, take the wrapper and throw it on the ground, am I responsible or is McDonald's? The most absurd part is the fact that people doing the littering aren't the ones being targeted."
Lichtenstein said if county officials are serious about addressing trash on the Strip, they should provide more trash cans and take care of ones that are overflowing.
"The person who is responsible for littering is the person who throws the handbill on the ground, not someone who gave them something 50 feet away."
The proposal would be the first time county officials have addressed littering on the books.
The punishment could be a mis­demeanor charge, a $1,000 fine and up to six months in jail. State law already makes littering a misdemeanor.
Officer Bill Cassell, Metropolitan Police Department spokesman, said while officers have written tickets for littering under state law, "It's not a common practice."
The proposed ordinance came from a set of recommendations made by the Resort Corridor Workgroup, an advisory panel to the County Commission of gaming and tourism representatives, which proposed ways to "clean up the Strip."
Other laws to come from the group discussion include a law targeting illegal vendors and another setting a curfew for animals on the Strip. The discussion also led to a $581,000 pedestrian study to identify areas where foot traffic is congested. The study is funded by room tax proceeds restricted for transportation improvements in the resort corridor.
"It saddens me to see some people have no regard for the public right of way and that we can let garbage clutter," Commissioner Lawrence Weekly said. "We have information out there so demeaning and so disrespectful to women. You have your children out there, and people are jamming it in your faces."
Weekly said making the county code change a misdemeanor might be "a little too heavy-handed" but that lawbreakers still "should be held accountable."
One tourist threatened to never return to the Strip because of people begging for money, prostitutes hanging out in casinos and graffiti, among other complaints. Commissioners are trying to address those issues.
The tourist wrote earlier this year in a letter to gaming executives, Sheriff Doug Gillespie and Las Vegas Mayor Carolyn Goodman: "Besides all of this, we of course can't forget the doubly obnoxious people who try to force pamphlets on you. … It used to be if you wanted to see the crazy people and smut you went downtown, but now it is all over the entire Strip."
Contact reporter Kristi Jourdan at kjourdan@reviewjournal.com or 702-455-4519.