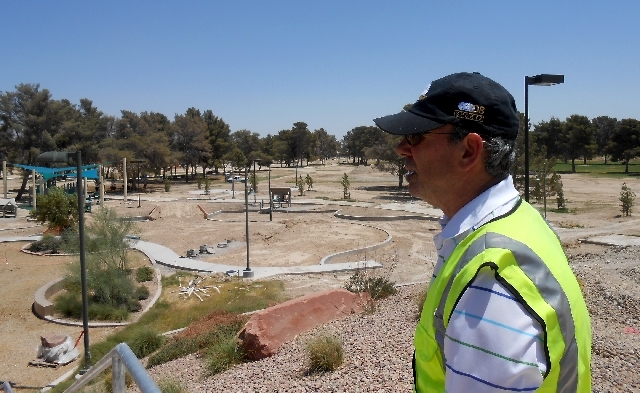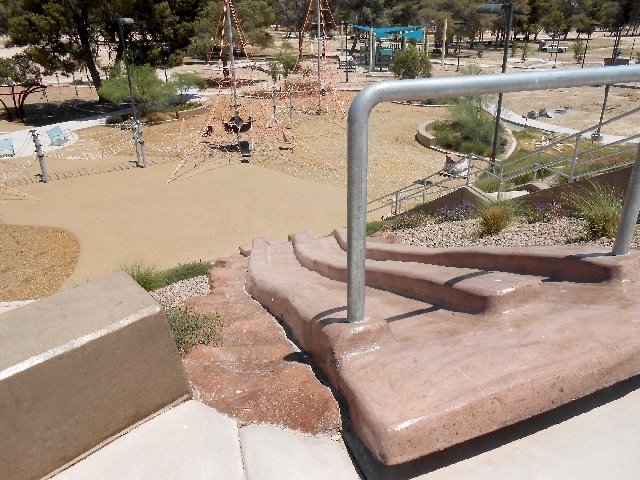 Before the embattled Craig Ranch Regional Park became a $130 million headache for North Las Vegas City Council members, the site served as home to the city's most popular golf course.
For nearly a half-century before that, the 135-acre site at 628 W. Craig Road was, well, a ranch.
First settled by pioneers at the turn of the 20th century, Craig Ranch was farmed by the McFarland family for 20 years before chronic flooding and stubborn soil ran Fred McFarland out of town in 1925, according to a 1975 article in The Nevadan.
George Craig, his wife and four children took a chance on the struggling ranch in the late 1920s, hiring the 11-member Stewart family to help tame the harsh terrain. They lasted exactly as long as the McFarlands, battling the elements for two decades before selling the land to Utah businessman John Stimson, who turned it into Craig Ranch Golf Course by the early 1960s.
Purchased by the city of North Las Vegas in 2005, Craig Ranch barely lived to see its third iteration as a "premier park destination" in North Las Vegas.
This time, it was city fiscal conditions that proved a bit rocky.
"They had kind of a botched attempt at some point where the city had tried to buy it or trade for the land, and that didn't work out," said city spokeswoman Juliet Casey. "Right about that time, they had developed (the Southern Nevada Public Lands Management Act), and that's basically what made it possible."
The state-funded golf course-turned-park located between Commerce Street and West Craig Road is the third chunk of city property to share the name of another Craig: Lois, the late land baroness who also lent her name to Craig Elementary School and Craig Road.
Craig, a renowned cat lover and charter member of the Clark County Humane Society, might like what the city has done with the place.
"You should see it in the morning," said North Las Vegas Parks and Recreation Director Mike Henley. "We've got nested red tail hawk here; we've got coyotes; otter out in the ponds, bluebirds. … It's beautiful.
"Usually when you get so invested in a project you lose the awe factor, but I never, ever get tired of it out here."
Henley, a veteran of parks and recreation departments in Tustin, Calif., and Portland, Ore., is no stranger to big projects.
But Craig Ranch, which has grown to 170 acres, complete with a 65,000-square-foot skatepark, four civic plazas and two planned amphitheaters, is his magnum opus.
With a 5-acre dog park, access to the county's regional trail system and community gardens for adults — as well as burlap sack slides, a water feature and climbing wall for kids — Henley said the park was built to hold everyone's attention.
"It'll be totally unique in the region," the parks director said. "It's not just the character, the feel. There's a lot of parks here that weren't designed for active use, but this was designed for a four-hour stay across 15 age cohorts. Everyone has something to do."
Now around 80 percent complete, the park looks set to survive a third year of steep city budget deficits even as controversy over proposed admission fees, meant to offset roughly $2.2 million in estimated annual maintenance costs, continues to swirl around City Hall.
Henley remains "guardedly optimistic" the park will hit a target grand opening date over Labor Day weekend.
He also expects the city of North Las Vegas to long outlive the stay of Craig Ranch's previous two tenants, thanks in large part to the fortitude of its chronically cash-strapped City Council.
"We've got some challenges, but the council should be very proud," Henley said. "This is something that's going to be here to outlive me, my kids, my kids' kids.
"If it's managed right, it'll be a way North Las Vegas redefines itself."
Contact Centennial and North Las Vegas View reporter James DeHaven at jdehaven@viewnews.com or 702-477-3839.