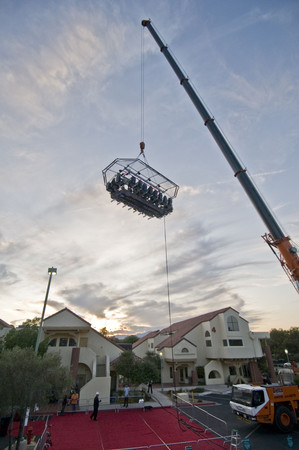 A crane lifts into the air 22 people strapped into padded chairs around a white-linen-draped table.
Their excitement grows as the Strip's neon cityscape comes into clearer view and the scattered lights below brighten in the darkening sunset.
The table stops at 150 feet and rotates slowly to provide bird's-eye views of Las Vegas.
No plastic or glass barriers enclose the patrons, who eat a light gourmet meal and drink wine, champagne or water on this sweltering night.
Each has paid $200 to dine alfresco at a dizzying height.
"It's a smooth ride," says Cherine Zaki, 31, a New Jersey resident. "It's different, it's exciting, it's romantic. How often do you get a dinner in the sky?"
The business, in fact, is called Dinner in the Sky, a concept that a local, family-owned company borrowed from international cities and brought to Las Vegas late last year.
But the lofty culinary experience, which seems a natural fit in Las Vegas, ran into some turbulence when owner Michael Hinden sought to move it from a temporary spot on West Sahara Avenue to a site near Fashion Show mall.
Casino operator Steve Wynn and Boyd Gaming opposed having what they called a mobile vendor so close to their properties. Their resistance influenced Clark County commissioners, who rejected Hinden's proposal.
Hinden now hopes to better serve his customers by moving the sky dinner to the Rio, a plan that is drawing a more favorable response from some commissioners.
PLAN ENCOUNTERS RESISTANCE
Hinden said commissioners were initially receptive to elevated dining on the Strip. Then, at an Aug. 19 meeting, Wynn's opposition emerged.
Wynn's attorney, Todd Bice, likened Dinner in the Sky to a carnival ride and hot dog stand, and argued that it would open the Strip to every type of mobile vendor who could invest a little money to work there. That's unfair to Wynn, who has invested billions of dollars in Wynn Las Vegas and Encore, Bice said.
Bice also told Commissioner Steve Sisolak that Boyd Gaming had similar concerns about the sky dinner being near the Echelon property.
Commissioners shot down Hinden's request, citing safety concerns and arguing that his crane-driven enterprise didn't belong on the Strip.
Hinden withdrew his plan.
"It blew us out of the water," Hinden recalled as he watched the crane hoist a group of guests skyward. "I didn't realize it would be such an adverse outcome. We thought we were doing something good for the town."
Hinden has owned Victoria Wedding Chapel for 12 years. He branched out with Dinner in the Sky to diversify and offer an experience that he felt was sure to find a market.
He told commissioners that any business that charges $200 a plate and attracts well-to-do visitors from around the world cannot be compared to an amusement park ride.
Most commissioners praised the venture as unique and fitting the spirit of Las Vegas, just not on the Strip. However, Commissioner Tom Collins took a swipe.
When Hinden saw he was losing his bid for the Strip, he asked where he might offer elevated eating.
"Anaheim," Collins said, alluding to Disneyland.
"Oh, come on Tom," Commissioner Lawrence Weekly chided.
Hinden said later that he found the comment offensive and uncalled for.
He's not surprised that Wynn carries such weight.
"He is a proven operator in Las Vegas, and we're not," Hinden said.
Wynn's resistance was unfortunate because the sky dinner would have generated business for his casinos, Hinden said.
Hinden wants to move from his temporary site, where he can only operate on weekends, to someplace where he can run his leased crane at least five nights a week.
The Rio was eager to let him operate on its property, but he decided to pursue the site on the Strip because of the greater foot traffic, he said. He is now talking with Rio officials again about renting space near the resort.
Harrah's Entertainment, which owns the Rio, didn't return calls to confirm they are negotiating with Hinden.
If a deal is struck, Hinden must get the commission's blessing before he moves there.
COURTING THE RIO
A couple of commissioners acknowledged that Wynn's and Boyd's opposition had influenced them. They also said they would probably back Hinden's move to the Rio.
If Wynn and Boyd had expressed support, "I think it would've made a huge difference," Commissioner Chris Giunchigliani said.
A couple of her colleagues might have concerns, but she felt comfortable after engineers assured her the operation was safe and did not violate state or federal rules.
Having neighboring casinos welcome the business is important, she said.
"I hope the Rio says, 'Come on down,' " she said. "I think it will help immensely."
Sisolak said he couldn't ignore the sky dinner being at odds with nearby resorts.
"The casinos didn't like it," he said.
During the August meeting, Sisolak grilled Hinden about safety, such as the dining car's stability while dangling aloft, the danger of falling objects and the potential for mishaps. He worried that a fatal accident would give Las Vegas' image a "black eye" from which it might never recover.
Sisolak said he would be much less concerned about safety if the sky dinner was at the Rio because there would be far fewer pedestrians who could wander underneath it.
"I think it's a much more suitable location," Sisolak said.
Commissioner Rory Reid said that even if Wynn had warmly endorsed the sky dinner, he would have opposed putting it along the area's "most valuable street."
This type of portable business doesn't comply with a policy that requires a sizable investment into a site on the Strip, he said. In contrast, Flamingo Road, where the Rio is, is subject to no such policy.
"It's a good attraction, and I think we should find a place for it," Reid said.
IT'S THE VIEW
On a Friday evening, a group of adventurous souls eat dinner while hanging 180 feet from a crane, the daylight giving way to moonlight.
Most are couples enjoying a romantic meal amid a sweeping view that will last roughly a half-hour. They hail from all corners of the continent. Magician Penn Jillette, lounging in a corner seat, is one of the few locals.
A chef, some food servers and an effervescent host stand tethered within compartments in the large table.
"Is everyone comfortable?" host Doug Roland bellows. "I want to welcome everybody to Dinner in the Sky."
Juan Williams and Magdalena Martinez, visiting from Mexico, were celebrating their 22nd anniversary.
"We look for a unique experience, and we found this," says Williams, 48. "The time passes when you are married.
"You see the world different. This is very beautiful."
Across the table, Pamela Turner, 29, looks nervous.
"I'm always up for an adventure," says Turner, who traveled from Texas. "I was just nervous about the unknown — if you have to get strapped in."
Her boyfriend, Derek Golan, 23, sporting a green hat, is enjoying the car having no floor, just pedestals from which he can dangle his feet like a little kid.
Golan, a Las Vegas native, is surprised to hear that county leaders and big casinos deemed the sky dinner unworthy of the Strip.
"I think it's cool," Golan says. "That's what gives Vegas its charm."
Back on the ground, several young women from "Bad Girls Club," a reality show on the Oxygen Network, are decked out in elegant dresses and awaiting their ride skyward. A camera crew shoots their every move.
Hinden says his business draws national attention.
"The media loves us because we're something new," he says.
Contact reporter Scott Wyland at swyland@reviewjournal.com or 702-455-4519.
Slideshow