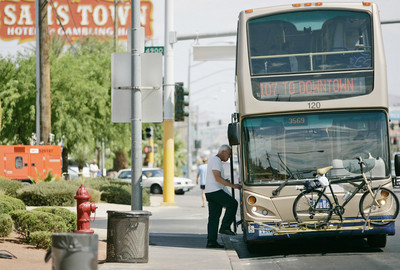 A woman was killed and another seriously injured Monday morning when a pickup truck smashed into a bus stop on Boulder Highway, again raising questions about the safety of the valley's bus shelters.
The women were waiting at the shelter just north of Flamingo Road when the 2001 Dodge Ram 1500 slammed into the structure about 5:35 a.m., Las Vegas police said.
An unidentified 51-year-old Las Vegas woman died shortly after being taken to Sunrise Hospital and Medical Center, while Porshe Hughes, 26, was listed in critical condition after undergoing surgery.
Police arrested the pickup's driver, Steven N. Murray, 44, on two felony charges of driving under the influence. He was being held with no bail at the Clark County Detention Center.
Detectives believe Murray was under the influence of prescription drugs when his northbound pickup jumped the curb, hit the bus shelter and rolled onto its side. They were awaiting blood tests to confirm their suspicions.
The crash was at least the fifth in recent years involving a bus shelter, including the March 2005 crash that killed four people on Smoke Ranch Road. The driver in that case, Veronica Schmidt, had high levels of the anti-anxiety drug Xanax in her system, but the district attorney's and state attorney general's offices declined to press felony charges, citing insufficient evidence.
The Las Vegas city attorney's office pressed charges, and Schmidt eventually pleaded guilty to misdemeanor driving under the influence and was sentenced to 180 days in jail.
"It just blows my mind because we have an inordinate amount of vehicles traveling on the sidewalks here," said Erin Breen, director of the Safe Community Partnership Program at University of Nevada, Las Vegas.
Breen, who chairs the Regional Transportation Commission's Bus Shelter and Bench Advisory Committee, said making bus stops safer has been a much-discussed topic at the committee meetings.
The topic has also been on the minds of commission officials for some time, and they have studied various options to help protect pedestrians waiting for buses.
They discussed putting bollards — posts sometimes made of steel — in front of the shelters. But worries about shrapnel hitting pedestrians in crashes, as well as problems with handicapped accessibility required under the Americans with Disabilities Act, steered officials to another solution.
Transportation officials believe moving the bus shelters farther away from traffic and behind sidewalks is the best way to ensure safety.
That plan was aided last year when the Legislature passed a measure making bus shelters the equivalent of utilities, making it easier to move shelters onto private property or farther onto public property.
Since then, 86 of the Regional Transportation Commission's roughly 2,000 shelters have been moved back, said Jacob Snow, the commission's general manager.
"That seems to be, from the data we've gathered, the most effective safety improvement," Snow said.
Outdoor Promotions, which builds and maintains the shelters in exchange for the right to sell advertising space on them, pays to move the shelters, he said.
Snow would also like to see shelters placed at roadside cutouts where buses pull out of traffic lanes to pick up and drop off passengers. Cutouts tend to be the safest placements for bus shelters, he said.
Transportation officials push for such cutouts in new developments, but many shelters are on long-standing valley roads.
Breen said the commission should focus its efforts on shelters on well-travelled bus routes along busy high-speed roads.
Detective Bill Redfairn, who investigated Monday's crash and the one involving Schmidt, said people at bus stops wouldn't have to worry if drivers followed the rules of the road.
Drivers need to slow down and pay attention to the road, and pedestrians should be aware of their surroundings and pay attention to passing traffic, he said.
Contact reporter Brian Haynes at bhaynes@reviewjournal.com or 702-383-0281.