Democrats launch challenge to Sandoval's budget plan
January 26, 2011 - 2:02 am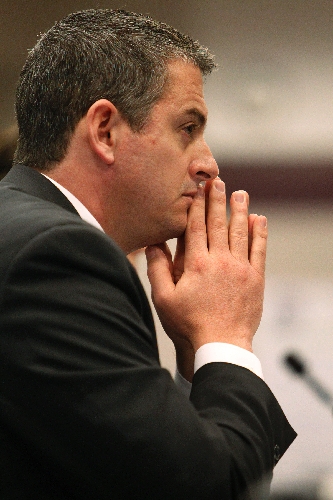 CARSON CITY — Democratic legislators have until June 6 to settle budget differences with Republican Gov. Brian Sandoval, but first they have to be sure they're using the same numbers.
One day after Sandoval used his first State of the State speech to propose major cuts to education and health and human services to reduce general fund spending by 6.4 percent to $5.8 billion for the 2011-13 biennium, Democrats fired back.
A Legislative Commission Budget Subcommittee meeting that lasted nearly four hours made it clear that the two sides have different priorities and don't agree on what numbers should be used as a base of negotiations.
Senate Majority Leader Steven Horsford, D-Las Vegas, questioned Sandoval's Chief of Staff Heidi Gansert and Budget Director Andrew Clinger about how they constructed their budget. Horsford said many comparisons in their presentation soft-pedaled the magnitude of cuts he says will slash teacher pay and university funding. He also said they used "trickery" to balance the budget with borrowing and fiscal gimmicks that total more than $1 billion over two years.
"I personally feel that there is some gamesmanship going on," Horsford said. "We have to agree where we are starting from so we know the magnitude of the problem we are trying to come to agreement to solve."
Horsford and other Democrats questioned why Sandoval's cuts were contrasted with spending levels at the end of the 2010 special session. That session resulted in $334 million in budget cuts to make up an $800 million shortfall. The cuts reduced biennial general fund spending to about $6.4 billion.
Democratic leaders want to compare Sandoval's budget to the biennial budget approved in 2009, which had about $6.8 billion in general fund spending.
"We don't need to understate the problem," Horsford said.
Sandoval's senior adviser Dale Erquiaga said Tuesday that the governor will keep the comparisons to actual spending, not to what was approved in 2009.
If Democrats insist on their own numbers, "they will have to create new documents," Erquiaga said.
By emphasizing the severity of the cuts, Democrats hope to seize control of the message from Sandoval, who now enjoys widespread public support despite his message of austerity and shared sacrifice.
Sandoval's message, coupled with a promise of reform and opposition to taxes, is a challenge to counter, said Democratic strategist Ronni Council.
"Even if you disagree with him, you have to give him respect because he was honest," Council said. But if Sandoval can't deliver reforms with his budget proposal, she said he risks losing that support.
"Unless he can prove it is better for the state and better for them, he is not going to get them back," she said.
Democrats also criticized a proposal to issue bonds against insurance premium tax revenue. It would net the state $190 million up front that must be paid back beginning in 2014, with $24 million in interest.
"It is like taking out a second on my house to pay my bills," Horsford said. "I think a lot of families that have done that, we've seen the consequence of that approach and it has put people in bankruptcy."
Other Democrats criticized Sandoval for continuing to divert 9 cents per $100 of assessed value in property taxes to alleviate state cuts to education.
Assemblyman Marcus Conklin, D-Las Vegas, was particularly critical of continued diversion of highway funds.
"Road construction in my vocabulary, in the vocabulary of my constituents, is jobs," Conklin said during the budget meeting.
Republican consultant Ryan Erwin said Democratic criticism comes with risks.
"When you are just sitting on the sidelines throwing bombs, it is going to hurt credibility," Erwin said.
Although Democrats have begun to target cuts they oppose, they haven't identified new money for programs.
After the budget meeting, Assembly Speaker-elect John Oceguera, D-Las Vegas, didn't call for new or higher taxes but said local governments need the "tools" to deliver services.
"Tools mean money, the authority to get money," he said.
Contact reporter Benjamin Spillman at bspillman@reviewjournal.com or 702-477-3861.