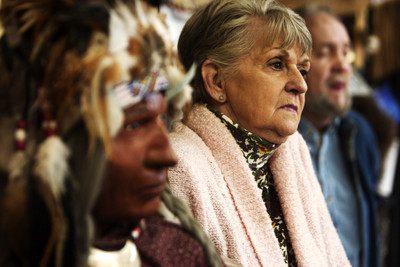 INDIAN SPRINGS — As 66-year-old John Avery shivers under blankets in the Indian artifacts store that he co-owns, he says it could be just coincidence that he developed esophageal cancer after working for 15 years at the Nevada Test Site, where nuclear tests frequently exposed workers to radiation.
Cold blasts of winter air fly from the desert floor in staccato bursts, rattling the windows of Auntie Moe's Trading Post, about 40 miles north of Las Vegas on U.S. Highway 95. Here, Avery and Andree Benton, his 67-year-old business partner and companion, say the fact that Democratic presidential candidates are making Yucca Mountain a campaign issue in the upcoming caucuses reminds them of their days at the test site more than a decade ago.
More than 900 nuclear tests were conducted between 1951 and 1992 at the test site, adjacent to Yucca Mountain. The ridgeline in Nye County about a half-hour drive away is the proposed site of the nation's first long-term geologic repository of spent nuclear fuel and high-level radioactive waste.
"I know the government says that storing all the nuclear waste at Yucca Mountain will be safe," Avery says. "I hope they're doing the right thing. You know they told us what we were doing at the test site with nuclear material was safe, too."
Avery, a former test site mechanic, rubs the scars on his head as he talks deliberately about coincidences in life. The scars are the result of four potentially fatal brain aneurysms, dilated and weakened portions of cerebral blood vessels that are prone to rupture.
Benton, who worked at the test site library where radiated core samples were brought in to be studied, now suffers from dystonia, which causes her neck to suddenly twist to the side.
"I don't know whether radiation could cause that or not," she says.
Avery has tried unsuccessfully twice to get compensation for his cancer under a government program designed to help atomic workers exposed to radiation. His esophagus had to be removed five years ago.
Despite government assurances, opponents of the Yucca project, including the state's entire congressional delegation, think bringing the waste to Nevada will mean transportation spills, radiation leaks and deadly water contamination.
If the Department of Energy is correct and Yucca Mountain is safe, Avery and Benton would like Indian Springs, a town of 1,300 that is home to Creech Air Force Base, to benefit from economic activity the project might bring. At Creech, Air Force personnel remotely control Predator drones that fly over Iraq and Afghanistan.
The Democratic candidates are against Yucca Mountain, and the Republican contenders, with the exception of Ron Paul, support it if experts can show that it will be safe.
But Benton and Avery are sitting out the caucus.
"John and I are Republicans," Benton says. "We're the kind that would like to participate in caucuses. But we're not real trusting of the government right now. I just hope Yucca Mountain doesn't make people run into the kind of coincidences we did."
Interactive Map Slideshow Wednesday, Day 4: Goldfield, Tonopah, Mina Thursday, Day 5: Hawthorne, Schurz, Fallon Friday, Day 6: Imlay, Winnemucca, Mcdermitt