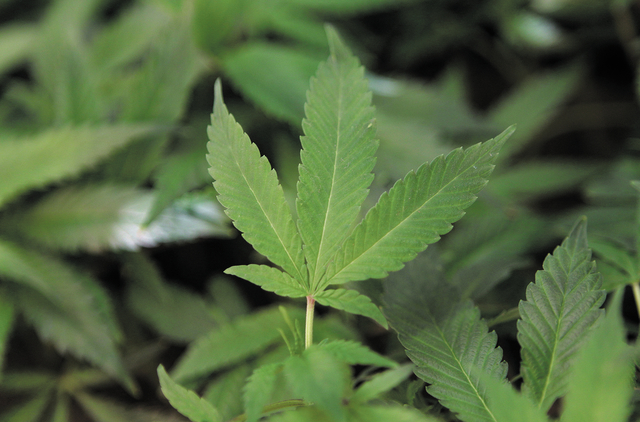 After getting a look at the upstanding citizens elbowing their way like fiends to the front of Clark County's medicinal marijuana business line, I am reminded of a saying favored by an old illegal bookmaker.
Whenever I'd naively lament the juice politics that rules legitimate society here, he'd reply, "No deal is bad — if you've got a piece of it."
So it is with the Acapulco gold rush now under way in Southern Nevada. Business and political leaders who haven't made the slightest peep of public comment about the importance of medicinal marijuana are hustling to invest in the potentially lucrative operations. They've gone from suit-and-tie square to Clara Barton with a bong.
And, hey, why not? No deal is bad if you've got a piece of it, right?
We'll see. If the history of Clark County government is an indicator, any time you mix a pile of potential profit with politics here, there's usually enough sticky-fingered intrigue to generate an FBI investigation and a court-ordered wiretap.
The Clark County Commission these days is taking extra pains to usher medicinal pot shops into existence. What could possibly go wrong?
The stakes are high (no pun intended). In theory, licensed dispensaries might generate millions a year in profits and taxes if they attract not only locals but also card-holding medical marijuana tourists. The fact marijuana use is still illegal under federal law doesn't appear to have slowed the enthusiasm of high-profile locals who also happen to have close relationships with the commissioners they're courting.
One of my favorite jaw-droppers on the long investor list is political power broker Sig Rogich. You know, the campaign Cheshire cat who was pals with the Republican "Just Say No" to drugs crowd and even has a middle school named after him.
Just say no? With Rogich it's, "Just Say How Much." It's only a rumor his middle school is considering changing the name of its mascot from the Rough Riders to the Rastafarians.
Skeptics in a community with a better sense of irony might wonder whether having Sig Roach Clip's name associated with a public school was appropriate. Considering his connections, he'll probably end up honored for his smoking business acumen.
Another investor with the potential to make you roll in the aisles is Las Vegas Sun publisher Brian Greenspun, who beat his critics to the punch recently by announcing his financial fascination with medicinal marijuana in a newspaper column. Greenspun, a graduate of the "open your mouth and remove all doubt" school of journalism, wrote his announcement under the headline, "Preserving my marriage."
What a scream. He meant communicating with his spouse, not morphing into a licensed pot dealer, but by the end of the daffy tale you wouldn't be blamed for wondering if Greenspun has been smoking his Wheaties.
Like some other applicants, Greenspun couldn't quite bring himself to simply admit it was a good deal, and he had a piece of it. Instead he had to try to make it sound like he was doing you a service by bellying up for his juiced-in percentage of the pot profits.
The good news is we've finally found a productive use for the pages of the Sun — rolling papers.
Among the more intriguing characters associated with the cannabis carnival is the ubiquitous juice attorney Jay Brown. He is best known these days as the BFF of Senate Majority Leader Harry Reid. Brown represents several applicants, who will be competing against each other for the limited number of licenses. Word is he's also charging a high "success fee," which I suppose falls short of a guarantee from a king-sized political juice merchant.
Does representing clients who at least in theory are in competition constitute a conflict of interest for the juice lawyer?
Of course not. This is Las Vegas. No deal is bad — if you've got a piece of it.
The fundraising maven has campaign favor with many local politicians. That's legal and a big part of why he's so successful. (Do you think his close friendship with a certain senator from Searchlight also helps?)
There are plenty of other head-scratching investors, to be sure, not the least of whom are former Henderson Police Chief Richard Perkins and ex-Metro intelligence bureau detective and police union leader Dave Kallas. And let's not forget the recently retired District Judge James Bixler.
Who knew they were so hip?
It's not that marijuana doesn't have some medicinal uses. Frankly, anything that helps America shift from its frightening and deadly addiction to prescription painkillers is welcome news.
In 2014, Southern Nevada's pot dealers are moving from the saloons and street corners to the country club and chamber of commerce. Not because they're wannabe medical students, or frustrated herbalists, but because around here no deal is bad — if you've got a piece of it.
Call it just a wild guess, but I'm betting you didn't get a piece of this deal, either.
John L. Smith's column appears Sunday, Tuesday, Wednesday, Thursday and Friday. Email him at jsmith@reviewjournal.com or call 702-383-0295.