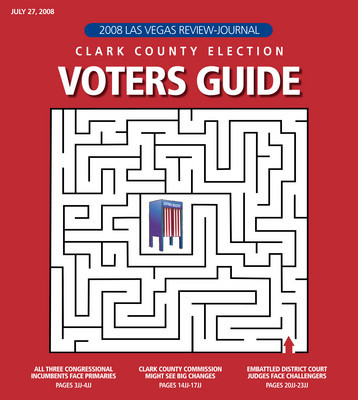 As early voting in a remarkably low-octane Nevada primary ended, turnout remained low, according to figures from the Clark County Election Department.
The two-week early voting period ended Friday. During that span, just more than 48,000 Clark County voters cast ballots, a turnout of 7 percent of active voters.
Another 11,000 absentee ballots had been received through Friday. When those are included in the total, turnout so far is 8.5 percent.
There is no voting over the weekend or on Monday. Election Day is Tuesday, with polling places open from 7 a.m. to 7 p.m. around the valley.
Based on voting patterns in past elections, officials believe total turnout in the primary will be around 15 percent.
The latest statewide turnout figures were not available Saturday. Previously, turnout statewide was similarly low.
Typical turnout in a primary election is around 25 percent. But this year, a lack of high-profile races has resulted in less voter interest.
No statewide partisan races are on the ballot. Only two statewide offices are up for election: seats on the Nevada Supreme Court, which are nonpartisan.
One Supreme Court primary will whittle a field of four candidates down to two who will compete in a runoff in November. For the other seat, there is no primary as only two candidates are running. That contest will be decided in the general election.
The primary ballot also features races for local judgeships and for the parties' nominations for Nevada's three congressional seats and some of the seats in the state Legislature.
A Northern Nevada contest, the battle for the Republican nomination for the Reno state Senate seat held for decades by Majority Leader Bill Raggio, is the primary's most closely watched campaign. Raggio faces a challenge from archconservative former Assemblywoman Sharron Angle.
Contact reporter Molly Ball at mball @reviewjournal.com or 702-387-2919.
ON THE WEB
The Review-Journal's Clark County Election Voters Guide