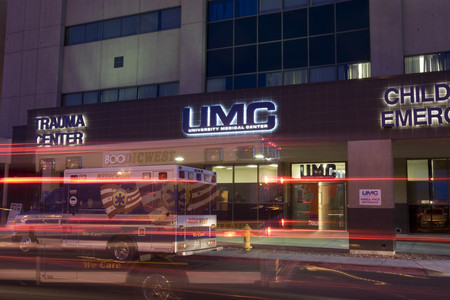 A study on emergency responses to 911 callers by two private Las Vegas ambulance companies found that a small group of "super users" is blitzing the system with serial requests for transports that often aren't paid for.
One individual in the study performed by MedicWest and American Medical Response required ambulance services 57 times in six months in 2008. The study also identified one patient who was transported 22 times in 30 days.
The study, presented Wednesday to the Medical Advisory Board of the Southern Nevada Health District, identified 277 patients who were transported more than 2,100 times to emergency rooms following 911 calls made in 2008 between July 1 and Dec. 31.
Unnecessarily frequent 911 ambulance responses, according to some in the Las Vegas medical community, can increase waits in emergency rooms, delay responses to other calls, increase medical costs for everyone and put motorists at risk.
The study also noted that 50 percent of the time, paramedics believed patients were involved with drugs or alcohol. Thirty-nine percent of the patients transported during the period studied were homeless, and more than 60 percent were uninsured.
The ambulance charges for the study period hit more than $1.8 million. More than half that amount was never paid.
The study did not conclude that the 911 transport system was being abused. However, a key figure in the research effort said paramedics at the scenes found that patients had stable vital signs 90 percent of the time.
Ninety-five percent of the time, patients also were able to identify themselves and talk about their situations.
The study on 911 transports did not include patient outcomes.
"If you have a patient with normal vital signs and without an altered medical status, it would be rare that heroic, life-saving measures had to be taken, " said Tony Greenway, an executive with MedicWest Ambulance.
Greenway said Thursday that the study may indicate a need for people to be better educated about what social and medical services "are available to them without calling 911. We hope to work out a partnership with Clark County social services and other agencies on this."
Greenway said it is important that people not jump to conclusions about the study's findings and push for punishment for abuse of the system.
"Remember, an individual can be profoundly depressed, even suicidal, and still be able to identify themselves and seem OK when emergency responders arrive," Greenway said. "Much more research has to be done before we start talking about taking steps against people."
Dr. Dale Carrison, head of adult emergency services at University Medical Center, said the study touches on one reason why people find the waits in emergency rooms so lengthy.
He also noted that the majority of mental patients are brought to emergency rooms by ambulance.
"We have to medically clear them before they go for mental services," Carrison said. "Two weeks ago, we had 100 of these people taking up beds at hospitals throughout the Las Vegas Valley."
Carrison, also chairman of the state's Homeland Security Commission, believes there could be delays in getting ambulances to true emergencies "if they're off on calls where they are not warranted."
But Greenway said excessive 911 calls do not tie up ambulances, "because in the long run there aren't that many of them, and we have a fluid system where other ambulances come into play."
Linda Lera-Randle El, founder of Straight From the Streets, an advocacy group for the homeless, said the homeless "may feel there is no place left to turn and call 911 to go the hospital. They may mistake a panic attack for a heart attack."
She said, however, that it would be wrong to think that the majority of the homeless want to go to a hospital.
"Most street people don't want to be inside a hospital, a shelter or a jail," she said. "It's urban legend that they want three hots and a cot."
Clark County Director of Social Service Nancy McLane said she wants to study the report closely to see how many frequent users of the 911 transport system receive help from her agency.
The study found that 6 percent of the frequent users took funds from Clark County social services to help pay for ambulance costs.
Greenway said Medicaid, Medicare and Clark County social services pay up to $300 for each ambulance trip for 28 percent of the frequent users of the 911 transport system.
But that is far less than the $900 per trip the ambulance companies actually charge.
"We just have to eat the cost of the uninsured and under-insured," he said.
Greenway said he did not believe the costs of the uninsured and under-insured are passed on to those who are insured.
"Our prices are regulated by the consumer price index for medical services," he said.
It is possible the lack of reimbursement to ambulance companies "might end up in the regulated price," he said.
But both Dr. Allen Marino, medical director of MedicWest, and Carrison said the price ultimately goes up when some people don't pay for medical services.
"That's just the way it is," Marino said.
Intense use of 911 ambulance transports also can create hazards for motorists caught in the path of flashing lights and sirens.
Greenway said ambulances used lights and sirens to arrive as quickly as possible on 90 percent of the calls to which fire department rescue personnel also responded.
While the city of Henderson does not use private ambulances on 911 calls, Clark County and the cities of Las Vegas and North Las Vegas do, responding with private and fire department personnel on emergency calls.
Greenway said the study did not include the reasons the 911 calls were made.
He said if a caller requests an ambulance and does not give a reason, the 911 operator sends an ambulance with lights and sirens.
"It is very well established that there is a danger when emergency vehicles use lights and sirens," said Marino, who oversaw the study with Dr. Edwin Homansky, medical director at American Medical Response.
In 2004 alone, the National Highway Traffic Safety Administration reported that 170 people were killed and 18,772 were injured in emergency vehicle crashes.
Driving experts chalk that up to motorists who don't pull over when they hear sirens and haste on the part of rescue personnel.
The bulk of those killed in emergency vehicle accidents are the drivers and passengers of civilian cars, which often are lighter and smaller than ambulances and other emergency vehicles.
Mike Myers, the Las Vegas Fire Department deputy chief for medical services, said it is true that emergency responders see frequent users of the 911 transport system.
But Myers cautions against being too critical of 911 callers.
"What is an emergency to them — a broken water heater — may not be an emergency to you," he said, adding that some people could have medical conditions that require frequent emergency treatment, such as heart trouble.
Myers also said the department is seeing more people use the 911 transport system because of "mental issues."
"We try to educate them about the area's social services," he said. "The problem is that we're losing social services all the time, and people feel like they need help."
Contact reporter Paul Harasim at pharasim@reviewjournal.com or 702-387-2908.