Fator, ex-manager resolve legal spat
October 27, 2010 - 11:00 pm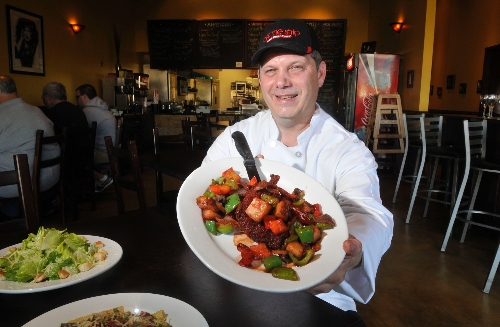 Mirage headliner Terry Fator and former manager John McEntee have settled their lawsuits, it was announced this week.
Fator had hired McEntee after a falling-out with John Raymond, who represented him during the "America's Got Talent" competition in 2007. Fator replaced McEntee with his brother, Jep Fator, last year.
TMZ.com reported that McEntee, who filed in Clark County District Court, was seeking 20 percent on the reported $100 million contract, plus 20 percent of other gigs.
"I appreciate John's work on my behalf … including his contributions that were instrumental in bringing my show to The Mirage," Fator said in a statement.
R.I.P. CHEF AL HUBBARD
Some sad news on the restaurant front: Chef Al Hubbard of Off the Strip — Just Real Food died last week after being diagnosed with lung cancer in February.
Hubbard and half-brother Tommy Goldsbury had beat the odds by turning Off the Strip into a popular eatery after opening as a nasty recession hit.
Not long after they opened the 48-seat restaurant Jan. 9, 2008, in a mall at 10670 Southern Highlands Parkway, the buzz began as foodies made the trek. Among them: R-J restaurant critic Heidi Knapp Rinella, who joked that the joint might be better named "Way Off the Strip." But she was a big fan of the comfort food menu, which featured slabs of meatloaf with gravy for $10.
She gave the place all A's, and about a year later, the half brothers opened a location at 9837 West Tropicana Ave.
Chef Al got his start in the Bronx, N.Y., as a dishwasher. By 19 he was running the kitchen. From there he added to his resume with jobs at Tavern on the Green and Maxwell's Plum in Manhattan and Embers Steakhouse in Bay Ridge (Brooklyn).
In 1988 he opened Al Hubbard's Steakhouse in Bay Ridge, a four-year venture with Goldsbury.
They would reunite in Las Vegas, where Al had worked in the new MGM, Landry's on Sahara and the Sacred Sea Room at Luxor.
After the raves began, Chef Al told his friend, local attorney Alan Cates, "My premise is the old premise: We're not out to re-invent cuisine, but to make things that have been around for many generations."
Goldsbury plans to keep the two restaurants going. Chef Al knew what he was up against, Cates said, and worked with assistant chefs to carry on his work.
THE SCENE AND HEARD
"The Housewives of Beverly Hills" visit the Palms tonight on the reality show's third episode.
SIGHTINGS
At Penn & Teller's 10-year anniversary party and three-year-contract-extension celebration at Rio: Nathan Burton, David Brenner, Carrot Top, former NFLer Melvin Fowler, Bow Wow Wow bassist Leigh Gorman, Ron Jeremy, Amazing Johnathan, Mac King, and Vince Neil and Alicia Jacobs, and Hollywood director Adam Rifkin. … Lady Antebellum singer Charles Kelley and wife Cassie McConnell, dining at Koi (Planet Hollywood Resort). … Dan Aykroyd is autographing bottles of his Crystal Head vodka at Total Wine & More, 730 S. Rampart Boulevard (Boca Park), from 4-6 p.m. Friday.
THE PUNCH LINE
"Is Jack Daniels technically a medication?" — Jimmy Kimmel, on Charlie Sheen's publicist releasing a statement that the actor's Plaza Hotel incident was related to an allergic reaction to medication.
Norm Clarke can be reached at (702) 383-0244 or norm@reviewjournal.com. Find additional sightings and more online at www.normclarke.com.