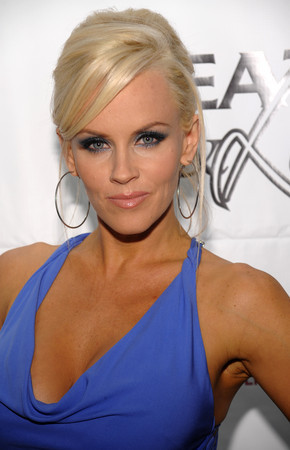 I was lining up with the press Saturday night at club Pure — where we were getting ready to interview Jenny McCarthy — when I saw a celeb I know standing next to me in the media pit: Terry Fator.
Why was the singing ventriloquist on our journo side of the rope, instead of walking the red carpet like the Mirage headliner he is?
Fator was there to give moral support to girlfriend Taylor Makakoa, who was doing an inaugural job as an entertainment journalist.
RawVegas.tv assigned her to interview McCarthy on camera, and Fator was standing by his woman.
Makakoa, 21, is very pretty. Tall. A hula dancer from Hawaii. She studies nutrition at UNLV. She met Fator while working as his "ta-da" assistant but has left his show.
If you've kept up with Norm Clarke's column, you know she's the woman Fator fell for when he and his longtime wife split in January.
Makakoa was a little nervous. Fator and I told her not to worry. Interviewing celebrities is just like talking.
Since we're both hard-core gamers, Fator, 44, and I talked video games, as usual. But I'd never heard him so frustrated. He said he couldn't believe Makakoa beats him in head-to-head matchups in "Super Mario DS" and the new "Wii Sports Resort," among other games.
"'House of the Dead' — she smokes me," Fator said, rolling his eyes but smiling.
Since I know Fator is a good gamer, I asked, "Are you just letting her win?"
"No!" Fator insisted.
Just then, Makakoa, all done interviewing McCarthy, heard us talking games and turned to Fator excitedly.
"Have you played the 100 bowling pins" part of "Wii Sports Resort"? "It's awesome!"
All of this reminds me of a joke Norm Macdonald told on "Saturday Night Live" in 1996: "At the box office, last week's No. 1 movie, 'The First Wives Club,' was knocked out of the top spot by the new film — 'The Hotter, Younger, 2nd Wives Club.' "
This wasn't Makakoa's first exposure via RawVegas.tv. You can see her twist about seductively in a bikini in April's "Girl of the Month" video (http://tinyurl.com/lqvm5x).
NO FARTING FOR FOUR YEARS
Jenny McCarthy used to be the prettiest famous woman who boasted of farting. She fake-farted on camera a few times. When she started her career, she would say she liked to fart on first dates to get that out of the way.
But oh, Jenny has changed. She's more reserved around Jim Carrey, her live-in lover.
"I was so cocky in my youth, saying, 'Oh you have to fart on the first date,' " she told me Saturday at Pure.
"I have yet to do that in front of Jim. I swear. (It's been) four years. Four years! I realized there was some part of me that wants to be a lady in front of him. But I still belch a good one."
Carrey didn't come to Vegas with her. So McCarthy, 36, took 15 girlfriends to Pure for her "seventh time or so" as Pure "host," "a great reason to bring all my friends for free."
She expected her friends to behave fairly sexily.
"Usually, the MILFs are a lot naughtier than the 20-year-olds," she said.
In the 14 years she's been hosting at clubs, the biggest change she's seen is the change in pop drugs, from coke to Ecstasy, though she's never witnessed drug violence at a club, she said.
When she was informed of drug crackdowns in Vegas, she told me and another journo it's impossible to stop drugs but they can be curbed.
"Go back to Woodstock and tell those people they couldn't smoke pot," she said.
"I think it's part of every generation. I think you should try to control it to some extent: Only allow one girl in the bathroom at a time."
As a health nut, she would not be leaving Pure in a wrecked state, she insisted.
"I'll be coming out with small pupils," she said.
Doug Elfman's column appears Sundays, Mondays, Tuesdays and Fridays. E-mail him at delfman@reviewjournal.com. Read his blog at reviewjournal.com/elfman.