Feds win $1.1 billion in settlement to clean up perchlorate in Henderson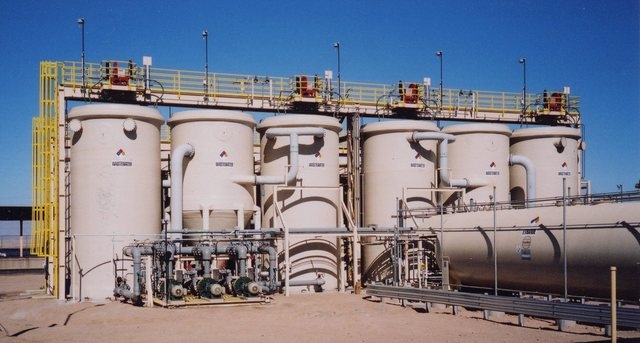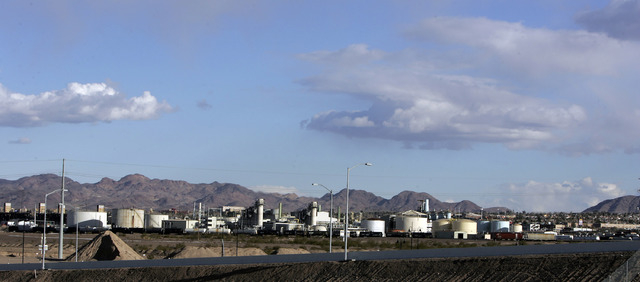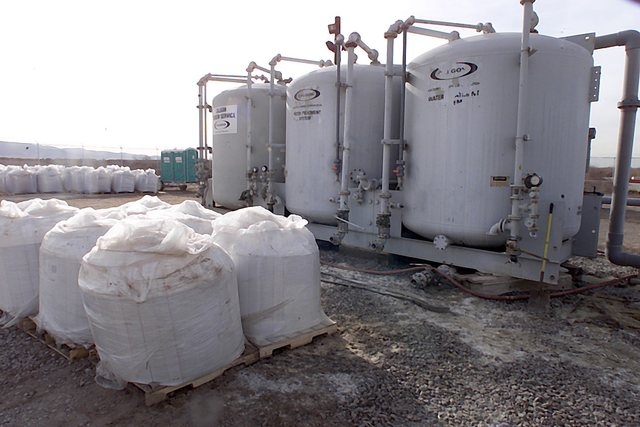 The federal government has secured $1.1 billion to continue cleaning up a former chemical manufacturing site in Henderson as part of a settlement with the site's owners.
The award is part of what the U.S. Justice Department is calling the largest recovery for environmental cleanup ever.
Officials at the Justice Department and the U.S. Environmental Protection Agency on Thursday announced the settlement for the nation's largest perchlorate plume, which is northeast of U.S. Highway 95 and Lake Mead Parkway, site of the old Kerr-McGee chemical plant.
The plume has contaminated Lake Mead, which feeds into the Colorado River, a major source of drinking water in the Southwest. Perchlorate can interfere with the production of thyroid hormones, which are needed for prenatal and postnatal growth and development, as well as for normal metabolism and mental function in adults.
The Nevada Division of Environmental Protection, which has been overseeing site cleanup since 1997, has created a network of wells drilled into the shallow groundwater table to pump out and treat contaminated water to help block perchlorate from reaching the Las Vegas Wash and flowing to Lake Mead.
Perchlorate levels in the lake have declined from about 10 parts per billion in 2001 to 1.2 parts per billion today, an amount so small it can only be detected thanks to recent advances in technology.
California set its own limit of 6 parts per billion in 2007.
One part per billion is equivalent to half a teaspoon of water in an Olympic-size swimming pool, said Bronson Mack, spokesman for the Southern Nevada Water Authority, which helps monitor perchlorate.
Perchlorate is not a federally regulated pollutant, but the EPA has been working on safe drinking water limits. The Las Vegas Valley draws about 90 percent of its drinking water from Lake Mead.
Leo Drozdoff, director of the Nevada Department of Conservation and Natural Resources, said more than 4,000 tons of perchlorate have been removed from the soil and groundwater at the Henderson site.
"This settlement is the culmination of years of hard work by many people, and it means that Nevada will have the necessary financial resources to continue the perchlorate removal efforts vital to Southern Nevada," Drozdoff said.
JoAnn Kittrell, spokeswoman for the environmental protection division, said, "The new settlement amount of about $1 billion will enable the state to continue the remediation and eradication of perchlorate contamination at the soil source, along with ongoing groundwater treatment, all to ensure there is no contaminant migration to Lake Mead and on to the Colorado River."
Before production stopped in 1998, the Henderson plant produced 30,000 tons of sodium perchlorate and ammonium perchlorate each month for rocket fuel. Both chemicals dissolve in water like salt.
The plant is now operated by Anadarko Petroleum Corp. and processes boron for battery applications.
The site is less than two miles from the old PEPCON plant, which also produced ammonium perchlorate prior to its explosion on May 4, 1988.
Gov. Brian Sandoval lauded the settlement as a "monumental development for Nevada."
In 1997, the Metropolitan Water District of Southern California first discovered perchlorate in Colorado River water it delivers to its customers.
Studies since have found trace amounts of the chemical in the Las Vegas Valley's drinking water supply and in lettuce and milk from dairy cows exposed to Colorado River water.
The settlement on the Henderson site is part of Anadarko's agreement to pay $5.15 billion to settle a federal claim for $25 billion to clean up 85 years worth of pollution its Kerr-McGee subsidiary left behind across the country.
Kerr-McGee spun off its chemicals business and old environmental liabilities as Tronox Inc. beginning in 2005. About three months after the transaction was completed, Anadarko offered to buy Kerr-McGee's oil and natural gas assets for $18 billion.
Tronox filed for bankruptcy in 2009 and sued Kerr-McGee over the environmental debt. The federal government, as Tronox's largest creditor, intervened on behalf of the EPA.
Anadarko will pay $5.15 billion in exchange for a release of all claims against Kerr-McGee, a company statement said Thursday. The settlement is subject to bankruptcy court approval.
Kittrell said the Nevada Division of Environmental Protection rejected a settlement offer several years ago that would have provided less than $25 million for the cleanup in Henderson. The state was able to secure $81 million from a bankruptcy settlement in 2010.
The state established the Nevada Environmental Response Trust with the funding to continue to treat contamination, and further negotiated to receive 22 percent of any future settlements with Anadarko, which led to Thursday's $1.1 billion award.
Kittrell said state environmental regulators knew then that a lot more money would be needed to sustain a remediation program that is far from over.
"It will be a few more decades," she said.
Review-Journal writer Henry Brean and Bloomberg contributed to this report. Contact Arnold M. Knightly at aknightly@reviewjournal.com or 702-477-3882. Follow him on Twitter: @KnightlyGrind.