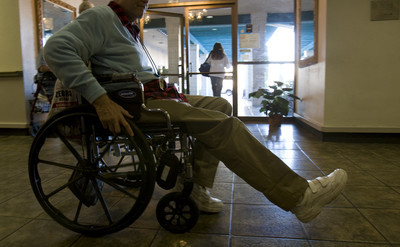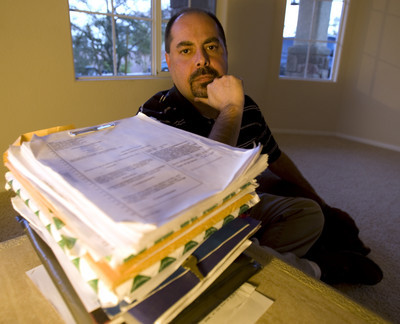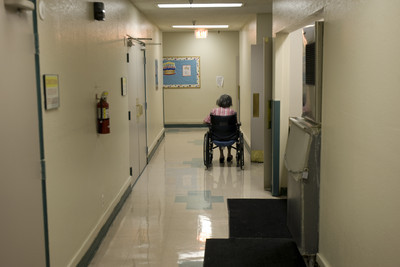 A company with a multimillion-dollar contract to install fire systems at the Strip's massive CityCenter complex is under investigation by the state fire marshal for questionable maintenance at Southern Nevada locations including a Las Vegas seniors home and three hotel-casinos.
At issue is whether the practices of Siemens Building Technologies risked the safety of sleeping hotel guests and elderly people with limited mobility.
State Fire Marshal James Wright confirmed his investigators are talking with the Clark County District Attorney's office about possible criminal charges for Siemens, an Illinois-based company that installs and services complex electronic systems. The focus is the quality of Siemens' past maintenance of fire systems at Charleston Retirement and Assisted Living, Bill's Gamblin' Hall & Saloon on the Strip and Laughlin's Edgewater and Colorado Belle hotels. Systems at the locations have since been repaired or are being repaired, Wright added.
Fire code violations are misdemeanors, while obtaining more than $500 on false pretenses can be fraud, a felony. Whether to prosecute is the district attorney's decision.
Wright would not say if investigators and prosecutors disagree about possible charges: "We're not going in (aiming) to make a felony. We go in saying, 'This is what we found. And these are the statutes we think the violations concern.'"
Siemens is conducting its own investigation.
"We take every allegation very seriously and continue to investigate and cooperate fully with the (Nevada) Fire Marshall's office to ensure that all of our systems fully comply with the codes," said Siemens spokesman Steven Kuehn in a written statement.
Siemens area manager Christopher Reyes, based in Las Vegas, declined comment.
Siemens' $100 million contract at CityCenter also covers installation of systems for energy conservation and security. The firm is part of Siemens AG, a German electronics and engineering company with a worldwide reach.
A former Siemens employee triggered the state's investigation when he went to county fire authorities last June. Whistle-blower Joe Estany, 44, alleged in a written statement that Siemens technicians sometimes failed to repair system malfunctions. Instead, he said, they simply rewired or reprogrammed to mask electronic cues that would identify components that weren't working, potentially leaving a facility with less fire protection than codes require.
"They tricked the system," he told the Review-Journal.
Estany believes Siemens did superficial maintenance to reduce nonbillable labor costs if a client held a full-service contract.
But the company's paperwork indicates full inspections were done and no deficiencies found, according to Estany. Fire departments in Nevada's large urban centers do not routinely double-check the work of private firms licensed to inspect fire systems, such as Siemens.
"High gross margin and profitability were the motive not to go back and repair anything, or for that (matter) write up any discrepancies," Estany wrote to the county fire department. That contact led to a flurry of inspections of sites maintained by Siemens in Henderson, Las Vegas, Primm, Laughlin, and Clark and Nye counties.
Margaret McConnell, an owner of the Charleston home, told the Review-Journal her reaction to a Las Vegas fire department visit last August in one word.
"Mind-boggling," she said, of the news that the facility's fire system was compromised.
Inspectors issued a "fire hazard warning" and ordered a manned watch until the system worked properly.
McConnell said she fired Siemens on the spot.
"Anything they (Siemens) asked us to do, we commissioned. My whole life is dedicated to protecting these people," said McConnell, who has operated the Charleston facility for 24 years. She said Siemens started servicing the site in late 2005.
Harrah's Entertainment, which owns Bill's Gamblin' Hall & Saloon, was not aware of the investigation. "Any comment would have to come from the fire marshal or the county fire department," said spokesman Gary Thompson.
The Colorado Belle and the Edgewater, which have the same ownership, did not respond to phone queries from the newspaper.
Siemens and Estany have been adversaries since well before the state investigation. Siemens laid off Estany in November 2006, then sued him in March 2007, alleging that its former service supervisor — who went to work for local competitors — divulged proprietary information and bad-mouthed Siemens.
Estany, who is representing himself, has been fined for contempt of court because he isn't cooperating with Siemens' lawyers.
Estany told the newspaper that during his time with Siemens he voiced his criticisms to superiors, but did not disparage the company to clients.
"If there was a top five of fire alarms (technicians in Las Vegas), I'd be in it," said Estany, who has worked in the industry for 18 years, about two of those at Siemens.
Estany claims the businesses who quit Siemens' service, and gave their accounts to Estany's subsequent employers, are simply loyal customers who appreciate his work.
Siemens contends Estany made "derogatory statements" to Clark County fire officials in an "elaborate effort to instigate investigations into SBT (Siemens) and its product line, based on false information for no valid reason." The allegation was made in a Nov. 24 document filed in the civil case, which District Court Judge Elizabeth Gonzalez is hearing.
Depositions by two other former Siemens technicians "strongly indicate" that Estany's claims of inferior work are "false and completely inaccurate and motivated by resentment," the company also said in the filing.
An official with the National Fire Protection Association seemed surprised and concerned when told of the maintenance practices described by the ex-employees. The non-profit group creates model fire safety codes, which cities and states across the country then modify and adopt as law.
For example, Siemens sometimes assigned technicians to go alone to test systems at large buildings, according to former technician Jose Barral. In his deposition, he said that forced him to run back and forth between each of numerous components he was testing and the centralized control panel.
"I cannot picture a scenario where you could realistically have one technician doing this kind of task, unless you send them to a (small) one-story building," said Robert Solomon, after a reporter's summary of Barral's description.
Solomon is the association's division manager for building and life safety codes.
Barral also testified that when he found deficiencies in a client's fire system, he would later dictate his findings for another employee to write up. Some reports did not list any deficiencies, he said.
When Barral realized his signature was on the reports, he grew alarmed.
Another legal declaration filed Aug. 21 by Siemens contradicts a July 10 report by county fire inspectors. Both documents characterize the condition of the fire safety system at the Hard Rock Hotel, 4455 Paradise Road.
County inspectors found "no defect, deficiencies or otherwise below-standard automatic detection equipment," when they went to the Hard Rock to respond to Estany's wide-ranging complaint, according to Siemens manager Reyes.
But the fire department report noted several problems with fire alarm equipment there, in places that matched Hard Rock locations specified by Estany in his original statement. The department's report ordered "reinspection of property for discrepancies" within seven days.
The Hard Rock is no longer under scrutiny by state investigators, however, since Siemens swiftly repaired deficiencies when the county documented them, Fire Marshal Wright said.
His office is awaiting further technical information from the Clark County Fire Department, which could result in any of the three hotels also being dropped from the investigation, he added.
Estany, who is currently unemployed, claims Siemens has not only "gagged" him from exposing safety problems, but also harmed his ability to earn a living, by interfering with his subsequent employers through a cease-and-desist letter and phone calls.
In autumn 2007, Estany sold his home and downsized, in order to pay off $25,000 he owed to an attorney who had briefly represented him against Siemens, as well as to pay for a family funeral and other overdue bills.
Estany said he no longer can afford a lawyer.
Estany has refused to pay a $500 contempt sanction that Gonzalez imposed in August for violating an April 2007 temporary restraining order to stop disparaging Siemens.
On Jan. 28, Gonzalez is scheduled to hear another motion by Siemens. It asks the judge to sanction Estany again, either by jailing him or striking his ability to plead that his termination in 2006 was wrongful.
Jorge Ramirez, Siemens' local lawyer, declined comment.
When Estany heard Siemens could face misdemeanor charges, he sighed. "They get a slap on the wrist," he said, "And I get the shaft."
Contact reporter Joan Whitely at jwhitely@reviewjournal.com or 702-383-0268.