Fire chief defends handling of suspect in narcotics thefts
October 5, 2007 - 9:00 pm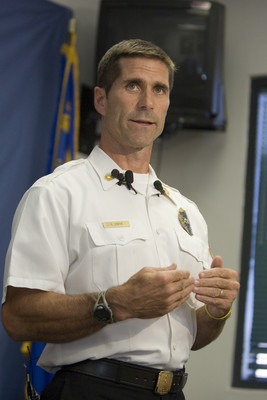 The Clark County Fire Department never tried to prevent police from investigating the paramedic accused of stealing drugs from ambulances and fire stations, Fire Chief Steve Smith said at a news conference Thursday.
"In fact, at every incident we have asked them, encouraged them, to come out and investigate all matters to make sure we are covering all the bases and make sure that we are addressing our security flaws," Smith said.
Smith was responding to a Wednesday Review-Journal article about what appeared to have been a missed opportunity to arrest Samuel Bond at the first of 11 narcotics thefts to which he confessed when he was arrested Sept. 30.
A police spokesman said Wednesday that one of the issues in that first incident was that Fire Department officials apparently did not sign a victim's crime report — the document that would indicate they wanted to press charges against Bond — after firefighters had called police to the Fire Department's training center on July 19.
A firefighter who was reading a book in a fire vehicle at the center had heard one of the vehicle's outside compartments open. He told police he looked out the window and saw Bond inside the Emergency Medical Services compartment. The firefighter heard the sound of zippers opening and saw Bond place something in his pocket, the report notes.
After using a cell phone camera to take a picture of the EMS compartment, "Bond then closed the door and walked away from the area, not realizing" he had been seen, according to the report. The firefighter then checked the narcotics bags inside the EMS compartment and found two vials of liquid morphine, two vials of liquid Valium and two vials of liquid Versed missing, the report notes. The firefighter confronted Bond, who denied taking anything.
When police officers arrived, they advised Bond of his Miranda rights, the report notes. It goes on to say that Bond "was not arrested at the time" because during the time the officers were completing the crime report, "there had been a problem with Clark County Fire Department's inventorying procedures and Clark County Fire Department wanted to handle this problem internally."
Thursday, Smith said those lines should not be interpreted to mean that police were asked to back off from arresting Bond. It was the "inventorying" problem that the department wanted to handle internally, not the crime, he said.
Smith said Bond wasn't arrested because there was insufficient evidence to make an arrest at that time.
Fire officials have a handwritten police report for the July 19 event noting that police did not have enough evidence to name Bond as a suspect. A typed copy of the incident report that police provided to the Review-Journal from Las Vegas police does not show that, however.
Officer Bill Cassell, a Las Vegas police spokesman, said information sometimes is omitted from reports given to the media by police and that the Fire Department might have been able to get more detailed documentation about the case than the media.
The police reports obtained by the Review-Journal do not indicate that Bond was ever searched on July 19.
Cassell said that unless officers believe a person has a weapon posing a threat to them, police wouldn't normally search someone until after the person was under arrest.
Cassell also said that if the officers had probable cause to arrest Bond in the July 19 incident, he would have been arrested — had the Fire Department signed a victim's crime report indicating it wanted to press charges.
"We are not going to make an arrest when a victim does not wish to go forward with the case," Cassell said.
"The information I have been given was that they chose to handle the manner internally," he said.
Fire officials said they were unable to verify whether a victim's crime report had been signed for the July 19 theft.
Smith said a violation of Fire Department protocol muddied the case against Bond at the training center. Paramedics are supposed to check drug inventories every time there is a shift change and sign a logbook reporting what drugs are present. On the day police were questioning Bond, those logs were in error, Smith said.
Four Fire Department employees were disciplined for failure to correctly log drugs, said Russ Cameron, Clark County Fire Department assistant fire chief.