Five workers injured at airport when steel structure collapses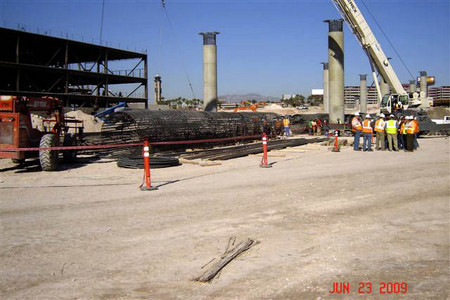 Five steelworkers had to be extricated from a 6-foot-diameter rebar cage early Tuesday when the steel structure suddenly collapsed on the Terminal 3 construction site at McCarran International Airport.
The workers were inside the 70-foot-long rebar cage about 7 a.m. when the collapse occurred.
Clark County firefighters had to cut a hole in the structure to remove the men, who were treated and released from local hospitals for injuries that were not life-threatening, Fire Department spokesman Scott Allison said.
Flights in and out of the airport were not affected. And county Department of Aviation Director Randy Walker said he didn't think the accident would delay construction of the terminal, which is scheduled to be completed in early 2012.
The injured workers are employed by Pacific Coast Steel, a subcontractor for Perini Construction Co. They were working on a piece to be used on a bridge leading into the steel-and-glass, three-level, 1.87 million-square-foot terminal.
Once completed, the rebar column will weigh 30,000 pounds and be inspected before being placed vertically into the ground, Walker said.
The company has constructed more than 1,000 such rebar cages since it began working on the $1.2 billion project in February, and this was the first accident of its kind on the project, Walker said.
Officials said the cause of the collapse is not known.
The Department of Aviation and the Nevada Occupational Safety and Health Administration will investigate.
"We don't take any accident lightly," Walker said.
Allison said the workers' injuries did not appear to be life-threatening.
All of the men were conscious when they were transported to the hospitals and two were complaining of chest pains, Allison said.
This wasn't the first serious accident to occur on the Terminal 3 project.
On Feb. 23, 25-year-old Byron Souza of Las Vegas died while working on the project for the Las Vegas Paving Corp. The incident involved a motorized earth-moving shovel. He died of blunt force trauma to the head in what was ruled an accident. OSHA is investigating his death.