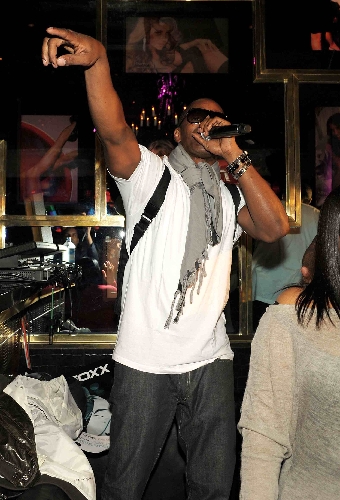 Jamie Foxx turned 43 at the Palms after midnight Monday . He celebrated by taking a huge entourage of friends and family to eat at N9NE. Then they went up to the Playboy Club, where he sang songs from his upcoming album, "Best Night of My Life."
I asked Foxx — the Oscar-winning actor, Grammy-winning singer, former athlete and classically trained pianist — whether he ever plans to go into politics.
He shook his head, "No."
"I watch what President Obama goes through. Having met him personally, to see how great of a person he is, he really just wants everyone to have a good life. And everybody turns on him.
"It's weird. In politics when you are nice, and you do want to do great things, they persecute you more.
"And when you are shady, and shifty, and steal, and show the worst of what politics could be — we give them a parade."
So, as you can see, Foxx is interested in politics, just not professionally. I asked: What does he wish people would understand?
"I think people have to understand we live in a society that's capitalistic. But we also have to be compassionate.
"No matter how much money I make, it doesn't matter. Every time I drive down the street or into a neighborhood that doesn't have as much, you feel for them.
"Even when you look at health care, it's like: How can a country this great not have health care? How can a country this great not have a great education system? … Yet we're No. 1 in greed. We're No. 1 in steal-as-much-as-you-can.
"I think what we gotta get away from is, making the person who is the common man feel bad about himself. … Everyone matters.
"Somebody might say, 'Maybe I just want to (deliver) the mail or work at the factory.' We shouldn't make them feel bad about that. The more we get away from that, we'll never get this thing turned around."
Foxx recorded songs for his album "Intuition" at the Studio at the Palms. He said he celebrated his birthday at the hotel, because he and his folks hang out in Vegas a lot, since they like the city's energy.
SIGHTINGS
KLUC-FM, 98.5, said Monday that DJ Chet Buchanan had corralled nine vans full of toys — including 1,000 bikes — from more than 50,000 MGM employees, delivered by performers from "Lion King" and "KA," the dance troupe Jabbawockeez, plus New York-New York mascot Vinny. The toys go to HELP of Southern Nevada's toy pantry. Go get 'em, Chet. … While here this weekend, Foxx saw Jabbawockeez at Monte Carlo and went to Bellagio's Picasso. … Ray J partied at club Rio on Saturday. … Club guru Victor Drai was at club Bank Sunday. … Holly Madison and Playmate Claire Sinclair took five ladies to the opening of Johnny Rockets restaurant at Flamingo. … Eating separately at Mr. Lucky's this weekend: Jared Padalecki, Sully Erna and Serj Tankian . … Zach Braff and Donald Faison checked out "KA" with a group of friends Saturday. … At Saturday's One Step Closer Foundation charity poker tourney at The Venetian: Cheryl Hines, Jennifer Tilly, Mekhi Phifer, Shannon Elizabeth, Sean Astin, Sam Simon, Jacob Zalewski, Jennifer Elise Cox, Jeremy London, Omar Gooding, Al Santos, Miko Hughes, Sergio Martinez and Joe Stapleton; and someone donated $5,000 to sit between Playmates Stacy Fuson and Lauren Anderson.
SAY WHAT?
"It's very hard to keep away from Phil's ass." — Jennifer Tilly, after I told her I saw her holding onto the rear of her man, Phil "Unabomber" Laak, at the poker tourney.
Doug Elfman's column appears Sundays, Mondays, Tuesdays and Fridays. E-mail him at delfman@reviewjournal.com. He blogs at reviewjournal.com/elfman.