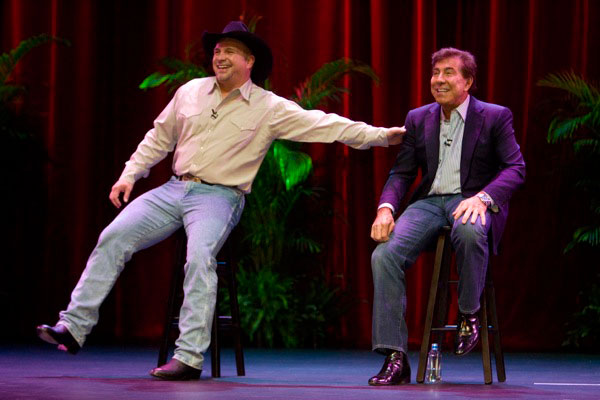 Country music superstar Garth Brooks will come out of retirement Dec. 11 to launch a five-year residency of weekend acoustic shows at Wynn Las Vegas.
For 15 weeks a year through 2014, Brooks, accompanied only by his guitar, will perform 8 p.m. concerts Fridays through Sundays in the Encore Theatre, with a 10:30 p.m. show added on Saturdays.
Tickets for the initial five sets of shows (Dec. 11-13, Jan. 1-3 and 22-24, and Feb. 12-14 and 26-28) go on sale by phone or through the Internet at 8 a.m. Oct. 24 at 702-770-7469 or wynnlasvegas.com/boxoffice.
All seats are $125, plus $18 tax and fees.
The residency ends Brooks' retirement from music, which he announced in 2001 to become a stay-at-home father to three daughters.
It also marks the permanent replacement of Danny Gans' show. Gans performed in the 1,500-seat theater until his death in May. Brooks, BeyoncŽe and Larry King have each performed briefly there since.
"This is Garth Brooks' home," said Wynn Resorts CEO Steve Wynn at a news conference at the theater Thursday.
He and Brooks wore matching jeans and cowboy boots.
"I told him he couldn't afford me," Brooks said. "I was wrong."
Wynn would not reveal how much the deal cost.
"If I were to tell you that, I would probably lose my job with the stockholders," he joked.
However, Wynn said, "I confess, I had to buy him a jet plane."
That Challenger aircraft will take Brooks to and from Oklahoma, where he drives his youngest daughter, 13, to school every weekday morning.
In addition, Brooks said, start times of some shows might change to accommodate more important obligations, such as soccer tournaments.
"My life is not gonna change for the next five years," said the 47-year-old, "except I'm gonna get to play music."
The show, 90 minutes, will be a musical retrospective of Brooks' multiplatinum career. Occasional guests are possible, especially his second wife and occasional collaborator, fellow country star Trisha Yearwood.
Brooks admitted he wanted cheaper tickets. He charged $35 for his first Las Vegas show, in 1991 at the Desert Inn, which stood where Wynn Las Vegas does now.
"This is where we really went at it," Brooks said.
Wynn said he told Brooks: "If you charge $25, someone in Las Vegas might think there's something wrong with you, you lost your voice or something."
Brooks eventually caved. But he made Wynn promise to set every seat for the same price and to reserve only 200 seats per show for hotel and casino VIPs.
"I've always been a one-ticket price person," Brooks said.
To thwart scalping, advance tickets will not be available in person at the Wynn box office. They can only be picked up the day of show by customers showing a valid ID.
Brooks has sold more than 128 million albums in the United States, according to the Recording Industry Association of America. He was one of the most popular concert attractions during the 1990s.
Contact reporter Corey Levitan at clevitan@reviewjournal.com or 702-383-0456.
video and slide show