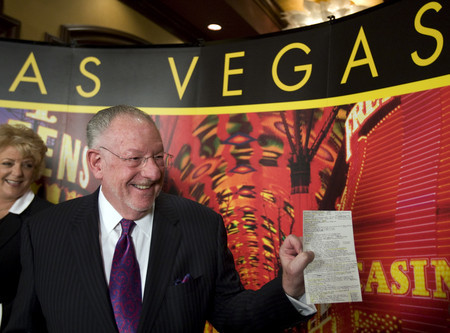 Mayor Oscar Goodman channeled James Brown at the beginning of the Las Vegas State of the City speech Tuesday, crowing, "I feel good!" as he came on stage.
He did not, however, do the splits.
Instead, he insisted there is plenty to feel good about, even though current events compelled him to also discuss the city's budget problems and the likelihood of employee layoffs if wage concessions can't be reached.
"That's the last thing in the world any of us want to do," Goodman said, speaking downtown in the Golden Nugget casino's showroom. "We have to do business differently. Only a dummy would stand up here and not tell you that, and I'm no dummy."
In his list of positives was the Golden Nugget itself, which recently opened a new hotel tower and has been adding on and upgrading for years. He also pointed to the under-construction Smith Center for the Performing Arts, the soon-to-come new city hall and the interest developed in Las Vegas by the Cleveland Clinic.
That means the city has achieved two out of three on his list of what makes a "world class city" — culture and cutting edge medical facilities. All that's left is a sports arena, and he talked about that as though it's been decided that the NHL or the NBA is on its way, even though no team has committed and the would-be developer is still studying the project's feasibility.
"It's my nature. I am a half-full guy, when it comes to the glass," Goodman said. "They know that Las Vegas is a great place for an arena. I don't believe that they want to miss an opportunity."
The city has immediate challenges to meet, but Goodman also reiterated two of his longer-term goals Tuesday — gaining home rule for local governments and, consolidating governments or services in Southern Nevada.
About 87 percent of the city's operating revenue is dispensed and controlled at the state level, Goodman noted, which means the city has little flexibility when revenues go south, as they have for the past two years.
It's also imperative that consolidation gets a good, hard look, he said.
"There's so much duplication. There's so much that we could do together as a megalopolis that we can't do together as independent little municipalities working with the county that treats itself as a municipality," Goodman said.
"That discussion has to take place. It's long overdue."
Contact reporter Alan Choate at achoate@reviewjournal.com or 702-229-6435.