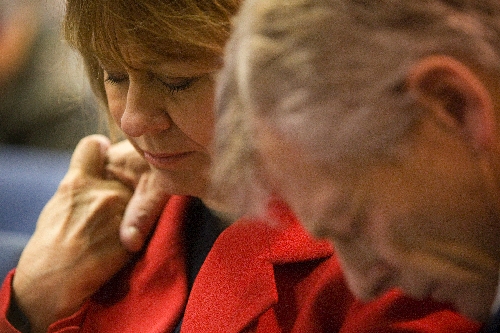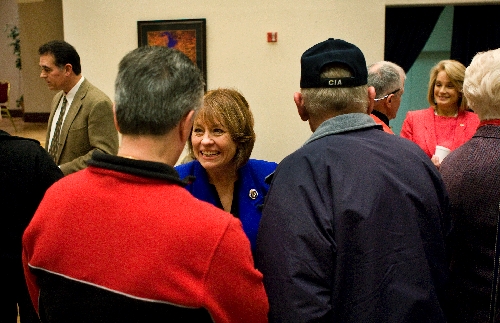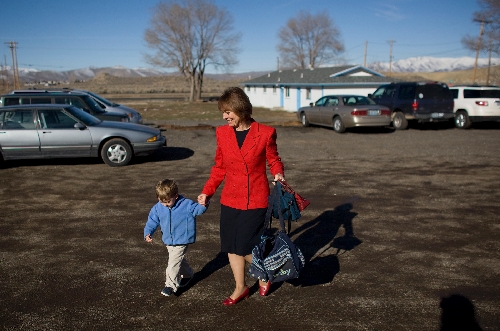 Editor's note: This story is one in a series of profiles of candidates in the Republican U.S. Senate primary race.
Sharron Angle was turning cartwheels to amuse her son when she felt a stitch in her side. Later, her legs went numb, one foot dragged. For months, doctors couldn't find anything wrong until a specialist dropped a bomb: A tumor was blocking her spinal fluid. She was heading toward paralysis.
The doctor gave her a 50 percent chance of living through an operation to fix the problem, and a 20 percent chance of ever walking again. Angle's husband, Ted, prayed over her, and the nurses cried.
"I said, 'I'll be healed here or in Heaven,'" Angle recalls of the medical crisis in 1977 that led to her conversion, which was political, not religious, in nature. After her recovery, a friend told Angle she had seen Deborah from the Bible in a dream about her, though she didn't know what it meant.
Angle knew.
"Deborah was really the first woman politician," Angle says of the judge, prophetess and heroine of the Old Testament who inspired the longtime teacher to get into politics.
"When you see God move in these kinds of ways, you see God is real," Angle says. "Every breath I have taken since 1977 has been a gift. All of a sudden I was changed. My life had a purpose."
Now, the former Reno assemblywoman sees her purpose as running in the crowded GOP primary for the chance to oppose Nevada's most powerful politician, U.S. Sen. Harry Reid, in the general election. Holding up her beliefs in God and gun rights and her legislative record of fighting taxes and attempts to expand government, Angle is clearly the most conservative Republican in the race.
But polls show Angle, 60, is running a distant third behind two better funded opponents: casino executive and former state Sen. Sue Lowden, and former UNLV basketball star and businessman Danny Tarkanian. The same polls show her ahead of Reid.
One of Angle's biggest problems is that more than four of 10 voters don't recognize her name, according to the latest Mason-Dixon poll commissioned by the Las Vegas Review-Journal. It showed her making little progress as of late February, more than three months before the June 8 primary.
Most voters don't know Angle's personal story, either. She's not the hardscrabble Reid, who grew up in a small hard-rock mining town. She's not the former beauty queen, TV anchor and casino maven Lowden. And she's not the star athlete with the famous family name Tarkanian.
Born in Klamath Falls, Ore., Angle was 3 when her family moved to Reno. She has three brothers and all of the kids earned one silver dollar a week each by making beds at the 12-room motel their parents managed. Some Sundays they went to Pyramid Lake or Lake Tahoe.
"We thought we had plenty, but my mom and dad struggled some years," Angle says, recalling the children all got one pair of new shoes when school started each year and one present each at Christmas and for birthdays. "We were in that motel for 15 years."
Angle attended the University of Nevada, Reno, where she got a degree in fine arts and dreamed of becoming a fashion designer, but instead she met her husband and they married at age 21 in their senior year. She waitressed at Bob's Big Boy, and he worked at the Dairy Queen to get spending money.
The couple, who had a son and daughter, lived in several Nevada counties as Ted Angle moved for his Bureau of Land Management job. Sharron Angle taught, mostly as a substitute and once in a one-room Christian school. Her first foray into politics was on the Nye County school board, from 1992 to 1995.
Surprisingly, the compact Angle has won weight-lifting trophies as an adult. She relaxes by target shooting. And she's an amateur artist with several of her paintings hanging on her walls at home.
One of her favorite things to do when not on the campaign trail is to sit with the youngest of her 10 grandchildren, 2½-year-old Jaxn, watching the popular cartoon movie "Veggie Pirate" and listening to her favorite silly song — "We Don't Do Anything" — that reminds her of Washington gridlock.
"We are the pirates who don't do anything," the cartoon vegetables sing in nasal tones.
"We just stay home and lie around.
"And if you ask us to do anything.
"We'll just tell you, we don't do anything."
Jaxn rolls around on the carpet in her Reno home as they sing the song together over and over.
"I know it's silly, but I never get tired of hearing this song," she says, laughing.
This is Angle uncut, a woman who at home wears a Betty Crocker-style apron to prepare a simple dinner of green beans, salad and steak, while in public she campaigns on red meat Republican issues.
She attends the Fellowship Community Church in Reno regularly, prays daily and says grace before each meal.
"I've never been a Sunday only kind of Christian" says the Southern Baptist.
A student of the Constitution, she opposed tax increases while in the Nevada Legislature from 1998 to 2006 and fought a tax hike case up to the U.S. Supreme Court. In 2004, she won a conservative medal named after former president and Republican icon Ronald Reagan for her efforts.
A gun rights defender, Angle sometimes packs a .44 Magnum revolver as she travels the state campaigning in her 1989 GMC pickup, and the locked gun cabinet in her Reno bedroom is full of rifles owned by a family of avid hunters.
"Whether I'm carrying or not is up to me to know and for the bad guys to find out," says Angle, who has a concealed weapons permit.
But these same conservative credentials that give her a loyal following among a select GOP group also raise doubts she can broaden her appeal enough to win the primary let alone the general election. Bring up her far right status and Angle's smile dims into a grimace, then a flash of temper.
"They always try to marginalize me, treat me like I don't exist," Angle complains of political analysts and mainstream Republicans even as the party shifts to the right in 2010. "They say, 'You're too conservative.' Was Thomas Jefferson too conservative? I'm tired of some people calling me wacky."
Angle's level of frustration has grown after two straight primary losses against Republican establishment candidates. In 2006, she narrowly lost the nomination in the 2nd Congressional District to Dean Heller, who went on to win the seat that had been held by Jim Gibbons for a decade. And in 2008, she failed to unseat state Senate Minority Leader Bill Raggio, R-Reno.
Angle sounds particularly annoyed that Glenn Beck, a popular FOX News conservative TV host, praised Tarkanian recently, calling him a "Tea Party radical" in reference to a growing anti-tax, anti-big government political movement that's expected to be a factor in this year's election.
"They're calling him the Tea Party guy — Danny," says Angle dismissively, noting she has attended several Tea Party events where Tarkanian wasn't present and she followed the Tea Party Express bus through several Nevada stops this past summer and fall.
"These are the real grass-roots voters. I listen to them. And when you don't listen to the grass-roots, you're in trouble."
grass-roots efforts
Angle is the grass-roots.
On a recent weekend, she makes the political rounds, working Republican Party meetings in Carson City and Virginia City to help organize precinct walks, the vital door-to-door canvassing that identifies party strongholds and gets people registered to vote and to the polls on Election Day.
She is greeted with hugs and kisses and shouts of "Hey Sharron!" across the room. They know her. She has come to train volunteers in Virginia City where the Comstock Lode played itself out, leaving a small town of saloons that cater to tourists instead of traders.
Inside Carson High School, Angle walks from table to table, greets people wearing "precinct volunteer" T-shirts and asks for their votes. Dressed in a black business suit, she hands out a four-page, self-published tabloid, "The Angle Examiner," that prints stories about her on the issues.
"Sharron has on her best smile today," says retired photographer Joe Morawski, 67, as he snaps her picture.
"There sure are a lot of them. I don't even know them all," he says of the GOP field.
The Senate race has turned into a political pileup of candidates from the far left to the far right, with about half of the two dozen hopefuls competing in the Republican primary.
The more the merrier, says Reid, as the GOP and third-party candidates, including Tea Party interloper Jon Scott Ashjian, could splinter the vote and help the senator win.
Angle rallies the Carson City crowd by telling them the stakes are high this year for Republicans in Nevada and in the nation as the GOP attempts to remove the Democratic Party in power.
"If we can take Harry Reid out, we can take our country back," Angle says to the gathering of 150 people stoked on coffee and donuts. "I'm not here to preach to the choir. I'm here to organize the army."
On the road, Angle is an army of one, driving herself around, carrying briefcases and boxes full of pamphlets and volunteer sign-up sheets.
She has a campaign team that handles media, scheduling and finances, but she often is out on her own meeting people, especially outside of Southern Nevada.
"Voters are looking for somebody who isn't the establishment, who isn't part of the machinery," says Angle, who somehow manages to be part of the Republican organizing machine while still being regarded as an outsider by GOP leaders in Reno, Las Vegas and Washington.
Angle is a ball of energy, driven by a desire to return the Republican Party to what she sees as its true conservative roots, based on pure constitutional principles and a small federal government, and hoping to ride a wave of discontent with Washington's inability to solve the nation's economic crisis.
"There are new people who got into politics after Obama won," Angle says, noting that many of them are Republicans who feel as she does that the GOP nominee for president, Arizona Sen. John McCain, wasn't conservative enough, contributing to his 2008 loss to Sen. Barack Obama, D-Ill.
"He's not a true Republican. He's not a Ronald Reagan Republican," she adds, although she voted for McCain, whose vice presidential running mate and former Alaska Gov. Sarah Palin was seen by some as a drag on the ticket then but has since become a Tea Party and far-right Republican darling.
What a difference two years make. That's what Angle is counting on. She argues that she's the clearest straight-up conservative GOP alternative to the long-serving senator.
"If there was another good candidate in this race, I wouldn't be in it," Angle says. "I'm conservative and people know where I stand. They can trust me to do what I say I'm going to do. I'm predictable."
Angle sounds like the competitive weight-lifter she once was in the late 1980s and early 1990s in Tonopah. She won three first place trophies in her 113-pound weight class, one each for dead lift, bench and squat. She still works with weights and goes to the gym three or four times a week.
"You start low, below the top weight you can lift. Then you look at your competition and see what they can lift," Angle explains about her strategy for victory. "Then you raise the bar until you win."
David Damore, a political science professor at the University of Nevada, Las Vegas, believes the political bar is too high for Angle to win the Senate race, and that she's in danger of being tagged a loser after a third election in a row where she might end up defeated in the primary election.
"She has a tough time expanding her constituency. They love her. They absolutely love her," he says of her core constituency. "But she's becoming a perennial candidate."
And Angle's got the scars to show for it. She and her husband have both been bitten by dogs over the years while campaigning door to door.
"She is so involved in her calling, which is politics. This is her talent," Ted Angle says on a Sunday after the couple sat for a sermon with the message that people must use their God-given gifts.
At Fellowship Community Church, Pastor Frank Bushey mixes a bit of Bible wisdom from the parable of the talents, Matthew 25:14-30, with modern day advice about managing resources during economic hard times as Nevada faces record unemployment and home foreclosures.
"God loans you what you have and you get to manage it," Bushey says to the congregation, which responds with head nods and a few calls of "Amen." "We thought we had it all, didn't we? How many people have lost their jobs? How many people have lost their homes? I'm OK with that, if that's what it takes for God to get our attention."
It's a harsh message, but also one steeped in conservative values where people must work hard for what they get and not count on government or anybody else to bail them out.
"We are bailing everybody out," the pastor complains, raising his voice in disapproval. "Did you get bailed out? No? GM got bailed out. The banks got bailed out."
Angle opposes the big business and banking bailouts implemented to prevent the recession economy from falling deeper into trouble.
"Government is not the answer," she says, arguing for drastically trimming federal spending.
The Angles stay after the sermon to visit with friends and eat a $5 hot dog, chips and soft drink lunch to help raise money for the church youth to attend a choir meeting in Sacramento, Calif.
The pastor's wife, Diana, tells Angle she got an automated phone call she thinks came from the Tarkanian campaign, which has been busy attacking GOP front-runner Lowden, who has been counterattacking him on issues ranging from taxes to bailouts to business practices.
"They are just going at it," Angle smiles, referring to her top two GOP opponents. They have all but ignored Angle, a tactic they might regret if she overcomes long odds and makes a primary comeback.
The GOP warfare somehow reminds Angle of the book she wrote and self-published called "Prairie Fire." It centers on the tragic death of a member of her German-speaking immigrant family several generations ago after they moved to South Dakota from Europe following the Civil War.
Those settlers used to live in dugouts, or sod houses, that were essentially buried underground, protecting them from the cold in winter and the heat in summer.
A fire raged across the prairie one day. Most of Angle's ancestors survived by huddling in the sod house as the blaze overran it. But her great grandmother burned to death while trying to salvage a few pieces of laundry from the clothesline before the fire engulfed the dry grasses.
"The fire got her," says Angle, whose best hope might be to let the GOP primary flames ravage the exposed competition, leaving her the sole survivor, gathering up enough votes to win.
Contact Laura Myers at lmyers@reviewjournal.com or 702-387-2919.
Watch the video