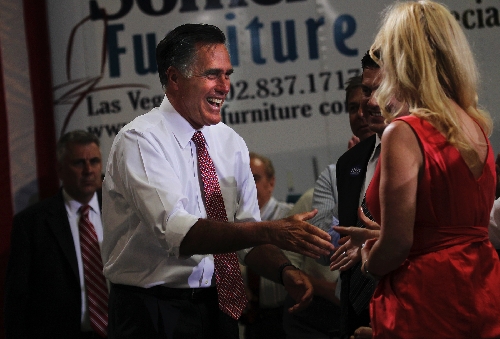 When the Republican Party's national political director Rick Wiley visited Las Vegas on July 2, he learned Nevada Democrats had once again outdone the state GOP in registering voters.
And not by a little bit.
Democrats added 9,849 voters to the rolls compared with 4,651 for Republicans – a 2-to-1 margin – during June and the last week of May, the Nevada secretary of state's office reported. That bumped up the Democrats' edge over Republicans to 41 percent to 37 percent, or by more than 44,000 voters statewide.
"I'm not concerned," Wiley said in an interview with the Review-Journal about the party's election-year strategy. "We're getting ready to put a voter registration plan on the ground here in the next couple of weeks."
Since May, the Republican National Committee has opened three "Team Nevada" offices, one in Las Vegas, one in Henderson and one in Reno. Wiley said the GOP plans to open at least a dozen Team Nevada offices as it ramps up through August, mostly in Clark County, where 70 percent of the population lives.
"Right now this team is clicking on all cylinders," Wiley said. "They have it going on right now."
But the Republicans are playing catch-up, working quickly to put in place an election-year machine they hope can beat the sophisticated one U.S. Sen. Harry Reid, D-Nev., has built over years. It's a Democratic operation that registered 100,000 new voters in 2008 to help President Barack Obama win Nevada and the White House. Two years later, it helped Reid win re-election in a year when Republicans made big gains across the rest of the country.
This year, GOP presidential nominee Mitt Romney is counting on Nevada Republicans to help him win the White House. And U.S. Sen. Dean Heller, R-Nev., is hoping a united Republican Party effort will help him beat U.S. Rep. Shelley Berkley, D-Nev., who is Reid's proxy in the 2012 political war playing out in Nevada.
Asked if he thinks the GOP machine can beat the Obama-Reid operation, Heller said, "That's a good question."
"Clearly the Obama-Reid machine is solid. And I'm not arguing against that," Heller said in an interview. "I will tell you this – that my team will be good enough. You know, it'll be tough to compete against the organization that President Obama has, but this (Team Nevada) organization will be good enough to win."
If not, the political careers of both Romney and Heller might end in November. And Nevada's status as a blue-trending state – thanks to a growing urban and Latino population – may become more assured with the GOP having to fight harder to win the seats of political power here.
Wiley said Republicans know the GOP needs to turn things around in Nevada. It's among only a handful of swing states that will decide who occupies the White House come January 2013.
"This is a battleground state," Wiley said. "We've got to battle out here."
For months, however, the battle was within the Nevada GOP during the primary campaign as Romney bested U.S. Rep. Ron Paul of Texas for the Republican presidential nomination. Defiant Paul supporters took over leadership of the Nevada Republican Party and the Clark County GOP. And they dominated the state GOP convention, electing 25 Paul supporters to the state's 28 delegate slots going to the national convention in Tampa in August.
To get around the infighting, the Romney campaign and the Republican National Committee set up the Team Nevada operation, sidelining the state and Clark County parties and taking over strategy.
Wiley insisted the party has hardly lost a step and Republicans are flocking to Team Nevada.
"The bottom line is we have activists coming in here, wanting to defeat this president," Wiley said. "We do have a cohesive group of people with one goal and that is to win these elections. And I think we have the right leadership in place to do that."
For the first time since President George W. Bush's 2004 re-election, Republicans in Nevada are closely coordinating efforts for the presidential, U.S. Senate, House and legislative campaigns, according to Wiley and GOP insiders. Bush won Nevada twice, with roughly 40 percent of the key Hispanic vote as well.
Inside the busy Team Nevada office in Las Vegas, staffers for Romney and the national GOP worked together last week as operatives from campaigns such as Heller's came in and out, sharing in­formation.
Chris Carr, the Romney campaign's Nevada director, is an experienced hand in the state. Carr ran the Bush 2004 "victory" operation in Nevada and is the former executive director of the state GOP as well.
Darren Littell, the communications director for Team Nevada, recently worked for the office of U.S. Rep. Joe Heck, R-Nev., a longtime Romney supporter. A freshman, Heck is facing outgoing Nevada Assembly Speaker John Oceguera, D-Las Vegas, in his swing 3rd Congressional District in Southern Nevada.
Ryan Erwin, a top GOP operative in the state for Romney, manages Heck and U.S. Rep. Mark Amodei, R-Nev. Erwin also advises GOP Lt. Gov. Brian Krolicki, a frequent surrogate for Romney's campaign in Nevada.
Mike Slanker, a top Heller campaign adviser, also handles GOP Gov. Brian Sandoval. The popular Republican leader of the state has been fundraising for candidates and reaching out to Hispanic groups. Slanker has been running campaigns for more than a decade in Nevada, including for former U.S. Sen. John Ensign, R-Nev.
Mac Abrams, Heller's trusted chief of staff in Washington, is on the ground in Nevada running the campaign.
Republicans behind Team Nevada and the candidates argued the GOP is more energized to win in 2012.
"Team Nevada and the coordinated effort is remarkable," Slanker said. "Top-notch talent, remarkable volunteer involvement, all the major players at the table. It is a winning combination unlike anything I've seen in Nevada for a long time. More Nevada wins represented at the table than I can count."
Whether the pool of GOP talent can turn out voters and expand the Republican base is the big question.
The Democrats have a deep talent pool as well, including some of the same players behind the successful 2008 and 2010 efforts for Obama and Reid. The Obama campaign already has a dozen offices across the state. And the past two election cycles were successful test runs for 2012. Democrats have been keeping computerized records of how Nevadans voted, when they voted and why they voted the way they did, according to one operative.
The Republican Party is building a voter database, having saved nothing from the 2008 GOP presidential caucus.
"The idea that out-of-state Republican operatives think they can parachute into Nevada months before an election to re-create what Democrats have spent eight years building would be laughable if it wasn't so delusional," said Zac Petkanas, a Democratic spokesman and Reid veteran. "On top of their lack of preparation, their candidates – from corporate layoff specialist Mitt Romney to Wall Street Republican Dean Heller – simply do not have a message that resonates with the electorate in an election about who is standing up for Nevada's middle-class families."
This past week, Team Nevada began firing up the engines four months ahead of Election Day.
On Wednesday, 450 GOP volunteers from across the state went to Fourth of July parades, pancake breakfasts and other public events to promote Republican candidates, according to Heller.
In Boulder City, Heller stood four feet from Berkley – he served pancakes, she poured juice – as Republicans and Democrats campaigned for voter support – from Las Vegas, Pahrump and Beatty to Reno, Ely and Elko.
"I was really excited about yesterday, just talking about the organization," Heller said the day after the holiday. "It's really fun to see this whole Team Nevada thing come together, my campaign come together. And having more than 400 volunteers on a single day out there campaigning on a holiday like the Fourth of July, was fun to see."
On Saturday , Republicans in Nevada and nationwide organized their first "Super Saturday" to knock on doors, make phone calls and identify GOP voters in a trial-run get-out-the-vote effort. Wiley said the party and the Romney campaign plan to conduct one Super Saturday run each month until Election Day on Nov. 6.
Wiley said the party also would focus a lot of work on registering voters and identifying Republicans who want to vote early, either by absentee ballot or during the two-week period ahead of the Tuesday election. In Nevada, more than half of the electorate votes early. Wiley said it could be as high as 80 percent in 2012 with the right push.
He said the Republicans conducted a trial effort November through January in Nevada to track more GOP voters who have either moved into the state or around the state to ensure they register and vote this year.
"We had a little bit of success – not great success, but we didn't put a lot of money behind it," Wiley said.
Money won't be a problem from now on, he said, without revealing how much the RNC might spend. The party and Romney have been breaking fundraising records of late, raising $100 million in June alone, for example.
"We have to get more people on the rolls," Wiley said. "I can't speak to the goals, but we have to run an aggressive voter registration effort, there's no doubt about it."
The GOP plans to target independent voters "to try and flip them" to register Republican, he said, as well as college-age voters and people who moved here as the home foreclosure crisis put houses on the market.
To help, GOP supporters from out of state – say Utah, where Mormons want to help Romney win in neighboring Nevada – will use new social media tools the Republicans have to run phone banks from home, he said.
Wiley said Republicans also will court more Latino voters, although Democrats and Obama hold a big edge. Obama won Hispanics by a 3-to-1 margin in Nevada four years ago.
National Republicans hired a Hispanic coordinator in January and in March added a Latino outreach worker in Nevada, Elsa Barnhill. She used to do the same job for Ensign, who resigned amid scandal.
Barnhill is adding more staffers to reach out to the Latino community, Wiley said. The party also is recruiting bilingual speakers because Nevada has a large immigrant community that speaks mainly Spanish.
"We need a presence in the Hispanic community that we just didn't have," Wiley acknowledged without putting a goal on how much of the Latino vote Republicans need to win in November. "I can't talk percentages, but we're going to compete, there's no doubt about it."
Contact Laura Myers at lmyers@reviewjournal.com or 702-387-2919. Follow @lmyerslvrj on Twitter.