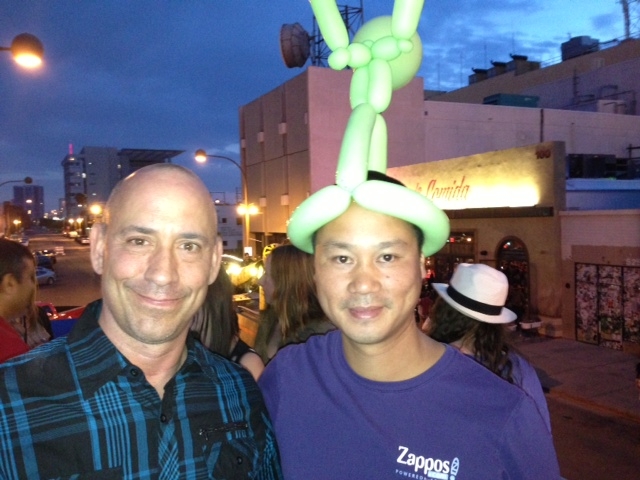 Downtown redeveloper Tony Hsieh is fired up — a man on a mission — as he pours
$350 million into the run-down epicenter of early Las Vegas.
His latest pet project? Inspired by his fire-breathing, 35-foot-high praying mantis, Hsieh wants to create a fire-lit corridor from East Fremont to Maryland Parkway.
"There is no city that 'owns' the concept of fire as art/entertainment and as a way of connecting people together," said Hsieh, CEO of Zappos, an online shoe and apparel company that tops $1 billion in annual sales. "I think there's an opportunity for downtown Vegas to be that city. Imagine if fire art was a way to discover downtown at night."
Last summer, Hsieh (pronounced shay) purchased the praying mantis, a popular attraction in recent years at the Burning Man festival .
Hsieh's plan is to park the mantis, with its futuristic green laser eyes and flame-shooting antennas, at the entrance of Container Park, a retail and nightlife center at Fremont and Seventh streets. It's part of a dramatic downtown transformation, one of 75 projects in the works or being explored by Hsieh's Downtown Project, a passionate army of community-building followers.
Why fire?
"It's primal. As we have evolved, we've always gathered around fire, passing stories from generation to generation," he said.
He was nursing a midnight shot of Fernet at the newly reopened Gold Spike, one of the Downtown Project's many makeovers.
Life around Hsieh is apparently never dull: Tuesday night's Downtown Lowdown ended in a blizzard of crowd-surfing blowup dolls. Today at 5, Hsieh and about 100 of his disciples and will join a llama parade that starts in front of The Beat, 520 Fremont. They will trek to a tailgate party at Cashman Field before taking in a 51s game.
Why llamas? "Because they are funny," said Hsieh, a fun-loving genius who chooses to wear balloon hats.
THE SCENE AND HEARD
"Celebrity Apprentice" contestant Penn Jillette is moving ever closer to a possible $250,000 jackpot for Opportunity Village. He's one of four finalists going into Sunday's episode, which will leave two standing. …
A tribute to pioneering drag star Kenny Kerr, who died April 28 at the age of 60, will be held tonight at Piranha. The lineup of entertainers includes Shannel, Chad Michaels, Kenneth Blake, Coco Vega, India Ferrah, Sammy Gonzales, Larry Edwards and Crystal Morris. Doors open at 9 p.m. …
Tonight's the season finale of "Vegas," the CBS drama based on the life of legendary Clark County Sheriff Ralph Lamb.
SIGHTINGS
Baseball Hall of Fame member Reggie Jackson, ordering chicken nachos at Rockhouse (The Grand Canal Shoppes at The Venetian) on Wednesday. … Former French President Nicolas Sarkozy, Duke basketball coach Mike Krzyzewski and Hollywood director Oliver Stone, among a couple of dozen big names at the SkyBridge Alternatives (SALT) conference at Bellagio.
THE PUNCH LINE
"Why do I feel this somehow ends with Michael Jordan being forced to fly to Pyongyang to sign the 'Space Jam' poster hanging over Kim Jong Un's bed in order to prevent nuclear Armageddon?" — Jimmy Kimmel, on former NBA player Dennis Rodman asking the North Korean dictator to release American prisoner Kenneth Bae.
Norm Clarke's column appears Sunday, Wednesday and Friday. He can be reached at 702-383-0244 or email him at norm@reviewjournal.com. Find more online at www.normclarke.com. Follow Norm on Twitter @Norm_Clarke. "Norm Clarke's Vegas," airs Thursdays on the "Morning Blend" on KTNV-TV, Channel 13.